Key university statistics
RMIT is a global university of technology, design and enterprise in which teaching, research and engagement are central to creating life-changing experiences for our students.
One of Australia's original educational institutions founded in 1887, RMIT University now offers postgraduate, undergraduate and vocational programs and has 84,000* students.
The University enjoys an international reputation for excellence in professional and vocational education, applied and innovative research, and engagement with the needs of industry and communities world-wide.
With three campuses in Melbourne (City, Brunswick and Bundoora), two in Vietnam (Hanoi and Ho Chi Minh City) and a centre in Barcelona, RMIT is a truly global university. RMIT also offers programs through partners in Singapore, Hong Kong, mainland China, Indonesia and Sri Lanka, and enjoys research and industry partnerships on every continent.
RMIT has a 5-Star QS ranking for excellence in higher education and is ranked 14th in Australia in the 2017–18 QS World University Rankings. In the latest QS Top 50 Under 50 index, RMIT is 16th in the world among universities less than 50 years old.
RMIT is 17th in the world (highest ranked in Australia) in Art and Design, and 28th in the world (fourth highest in Australia) in Architecture and the Built Environment. We are among the world's top 100 universities in Business and Management; Communication and Media; Development Studies; Education; Engineering (Civil and Structural); and Engineering (Electrical and Electronic).
(2016 QS World University Rankings by Subject).
From program content to work experience opportunities and applied research, RMIT works closely with industry partners to equip students with the knowledge and skills that enable them to excel in their chosen professions. As a result, RMIT graduates are valued by employers around the world for their work readiness.
*All enrolments including Foundation Studies and Open Universities Australia

2016 statistics at a glance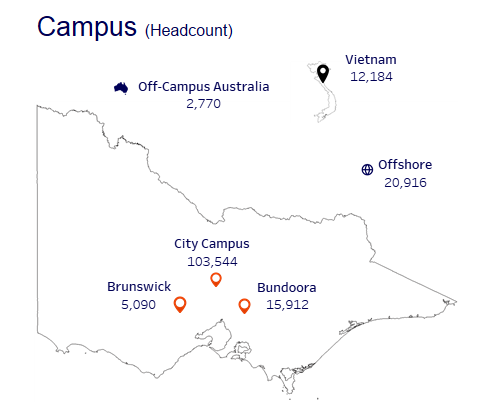 2016 summary information on RMIT students and staff within key categories such as gender, age, campus, level, college, attendance load, fund source, completions, student diversity and outcomes
Read more2016 statistics at a glance