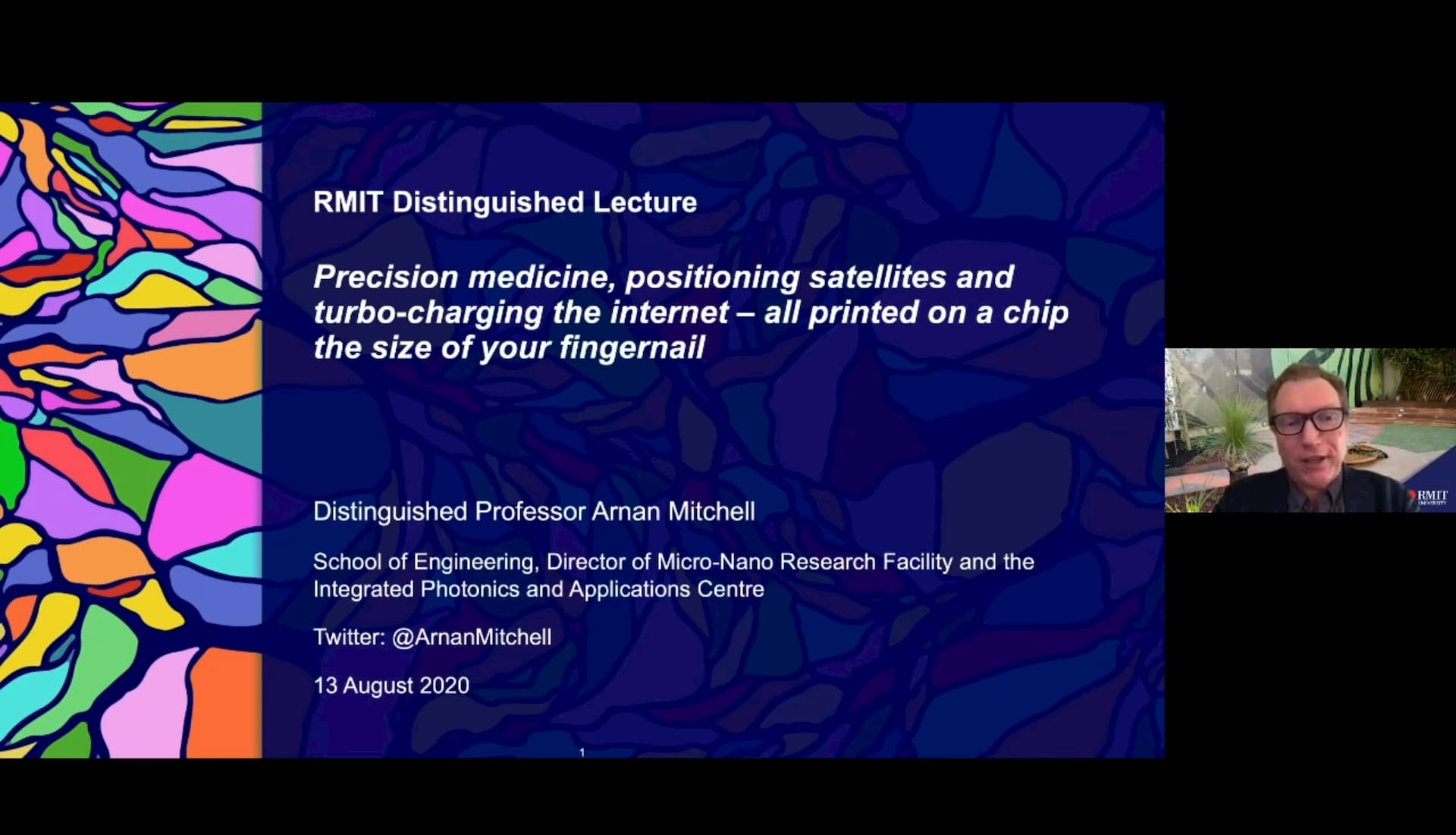 Precision medicine, positioning satellites and turbo-charging the internet - all printed on a chip the size of your fingernail
Precision medicine, positioning satellites and turbo-charging the internet - all printed on a chip the size of your fingernail
Transcript of Distinguished Lecture by Distinguished Professor Arnan Mitchell held on 13 August 2020
Welcome:  Distinguished Professor Xinghuo Yu
Hello, good afternoon, welcome everyone to the RMIT Distinguished Lecture.
I'm Xinghuo Yu and I'm the Chair of the RMIT Professorial Academy and I'm the host of this event.
Firstly, I would like to acknowledge the people of the Kulin Nation on whose unceded lands we are meeting today. I respectfully acknowledge their Elders past and present.
So today we shall hear from one of RMIT's Distinguished Professors, Arnan Mitchell, who will deliver his lecture on some exciting work he's doing.
This is a part of the Academy. The Academy has a role of advocator, thought leader and ambassador for RMIT. In particular, we are actually organising a number of other events, for example, forums, and the writing of Discussion Papers on issues of importance to RMIT.
But, before we start, let's get through some housekeeping. This is actually a Teams Live event. You are not able to directly ask any questions during the lecture, however, on your right-hand side there is a Q&A panel. You can leave your questions there and at the end of the lecture I will, on your behalf, ask those popular questions to the Presenter.
Without any delay, please join me to welcome Arnan. Arnan, over to you.
Arnan:   Can you hear me?
Xing:    Yes
Arnan:   Thank you Xing.
Lecture:  Distinguished Professor Arnan Mitchell
I'd also like to acknowledge the Wurundjeri-Willam people of the Kulin Nation on whose unceded land I actually have my home and this is where I'm talking to you from today. I would like to add my acknowledgement of their ancestors, past, present and future.
And I'm greatly encouraged by the discussions in the last weeks about a Treaty in the Victorian Parliament.
Thanks for inviting me to give this presentation today and I titled it 'Precision medicine, positioning satellites and turbo-charging the
Internet'. So, I kept a lot of my options open, but really I'm going to talk mostly about the turbo-charging the Internet part of it. I'll say a few things about precision medicine and positioning satellites at the end.
But first off, I wanted to discuss why I love light. I've been interested in light since I was a very young child. Particularly looking at television programs by people like Carl Sagan and hearing about Einstein, and I was particularly fascinated by the stars and space.
But it wasn't actually the stars themselves that fascinated me, it was the fact that light could come from these stars, travel across space over millions of kilometres, traveling hundreds, maybe thousands, even millions of years to get to us, and they could actually retain all the information about the stars that they came from, so that we could see the stars.
I've got here a picture of the Milky Way and this is from Alice Springs.
But I've also got a picture of a star and the star is being blotted out here. But you can actually see - this is aggregated over 7 years – they are actually exoplanets – these are planets that are orbiting this star and this has taken
130 years to get to us. So somehow the light has managed to travel across space and hasn't lost its information. That hasn't faded out and gotten scrambled along the way. It has managed to actually retain all that information, and this fascinated me.
Also, you can look inside with light and so light can tell you an enormous amount about how our bodies work. For contrast here, I've decided to look into the eye and this is a picture of a retina and you've got a microscope image
through the eye of the retina. But if you then take a cross section of the retina, you can see all the structure of the retina and then if you do confocal microscopy, light can tell you actually about the structure of the cells and actually even what's inside the cells. And what this tells me is that a beam of light can have an enormous amount of information in it. So one
beam of light can have all of the information about thousands, maybe millions, of cells at the same time. Putting those two things together, light is a really good medium for communication. And so what I've got here is probably one of the most basic means of communication you can have. This is a signal lamp and the means of communication here is very simple. It's essentially like Morse code, so you have the light pointed at the person you're trying to send a signal to and then you open the shutters and close the shutters to make the light go on and off. And this is still used in the Navy today. A very basic form of communication. But it really would only go over the horizon and
so this is really sort of a last resort means of communication.
But, fortunately, there are some other properties of light that we can use to make communication more effective. Anyone who's been swimming would have seen the effect of total internal reflection. And you can see here somebody in a swimming pool and their reflection in the top of the swimming pool because the
water has a higher refractive index than the air above it. It's possible for the light to reflect perfectly off that interface.
And you can see here the same effect but with a laser beam. There's a laser beam bouncing off the surface of water in a drink bottle, and then the same effect here. But now you have a stream of water coming out of a hole in a bucket and there's a laser beam being shone into that and you can see that the laser beam is bouncing off the sides of this and actually following the stream of water down. And so this is sort of a classic undergraduate physics experiment to teach students about total internal reflection.  But it's the basis on which optical fibres are working.
Here's a very nice picture of some optical fibres of the sort that you would often see associated with stories about photonics and light-based communication, but the actual optical fibres that we use are much less beautiful. They look a bit more like this and you can see here, there's a single optical fibre, and that's about the width of a human hair. And actually the light travels in, just in a very, very small part in the middle of it and then it's wrapped in plastic and other protective coatings. And actually when they are out in the field, they look even less beautiful. So you can see here some optical fibre coiled under a manhole and this is the sort of thing that you might find if you opened a manhole on a street corner in many streets in Melbourne.
The question that I'm going to answer today is how am I talking to you? I'm presenting to you a video and you're able to see me. You are able to see my slides. You're able to hear me. So how does this work?
I'm not assuming any prior knowledge here, I'm starting at a very basic level,
and I encourage you to ask questions in the chat function, as Xing suggested.
I'll start at the basics and hopefully we will all get through there. So my video is turned into bits of data. The video is actually made up of zeros and ones and to just illustrate how much data there is, going right back to basics, this is the ASCII code, that text is represented in zeros and ones. Here's the letter A and here's the binary sequence that corresponds to that in the ASCII code. Similarly, this is how text is coded into binary. Here's a photograph of me from a few years ago and, if it's not too horrifying, I've zoomed in here on my eye so you can see the pixels and each one of those pixels, each square, the representation of red, green and blue is actually given about 8 bits each. There's 24 bits total for each of those pixels. And then let's say you've got a million pixels in a photograph like this, that gives you about 24,000,000 bits of information.
So just to give some idea of magnitude and some context, a single character we
talked about ASCII codes 8 bits an email maybe 7000 words, that seems to be the average email, that's about 500,000 bits or 500 kilobits. A photograph like I just showed you, a megapixel photograph, is about 24,000,000 bits, so 24 bits per pixel in a million pixels.
A Teams call like this one, on average this is sort of medium resolution, it's about out 10 billion bits per hour, so that's 10 gigabytes per hour, or about 3 million bits per second. So 3 megabits per second.
A 4K Netflix video, you've really got to have about 25,000,000 bits per second to watch a 4K video. And the top rate you can get on the NBN at the moment as a domestic customer is about 100 megabits per second, so that's 100 million bits per second.
I was curious to see how my house was connected to the optical fibre network in Melbourne. So the video that I'm talking to you at the moment, the laptop that I'm talking to you on, is turning that into a sequence of zeros and ones
and then sending it wirelessly to my wireless router that you can see here. Now that's connected by a cable to my NBN modem and I'm on hybrid coax here so that goes on a copper cable - but it's an upgraded copper cable. Not like the phone line, it's cable television quality. And then it goes to this NBN box here and then actually goes out to the telegraph pole. You can see the
sort of mess of cables up here, which is where everyone's Internet goes onto the network.
I wanted to follow this down to the end of my street and see when it connected to an optical fibre. I went to the end of the street and sure enough, on the corner of my street there's a manhole cover and under that manhole cover there will be optical fibres and probably a few lasers as well to convert the electronic signals from the copper cable into optical signals. However, I couldn't see how it was connected to the cable on the telegraph pole, so maybe that happens somewhere else - the mysteries of hybrid fibre coax!
Anyway, let's assume that happened very close to the corner of my street. So what happens then? The lasers under that manhole cover are being basically switched on and off by the electrical signals and the pulses of light - the bright pulses for a one and dark for a zero - travel down the fibres and
travel at the speed of light.
Now, these optical fibres are a bit like highways or freeways and this is the freeway up to the airport in Melbourne and they're very very good at getting the information from one point to another, but they're not great at rerouting it. If you need to have an intersection, for example, you really need to sort of go into another electronic circuit and then come back out again on optical fibre - let's just think about the light getting from one point to another on the freeways. There are these fibres going all over Melbourne and so my video is coming down this fibre and somehow gets to you and gets converted back into an electronic signal with the detector and then enters your house and probably reaches your laptop via Wi-fi.
But what if you are watching this video and maybe some of you are watching this video from outside Melbourne or perhaps you're even outside Australia? You might be at RMIT Vietnam or elsewhere overseas. I've given a talk about a month ago in Canada and I've got a talk at the end of this month in Mumbai in India. So how will my presentation get there?
If we look at this, this is a road map of Australia, so this is where all the major roads are around Australia and you can see there's a major road between Melbourne and Sydney - the Hume Highway. And right next to it I've got the
major optical fibre links around Australia. And you can see here this is actually provided by Aussie Broadband which is the provider who I'm with and you can see there's this major link here between Melbourne and Sydney. And it's got about 100 gigabits per second capacity. That's not the capacity of the fibre link, that's the capacity that's available to Aussie broadband. The fibre link has a bit more than that.
So first my video is turned into zeros and ones in my laptop, then at the
corner of my street it's turned into light and sent down an optical fibre, then somehow that fibre connects to the major trunk line between Melbourne and Sydney and gets to Sydney. So then what happens if my talk is overseas, for example? Is this a fibre here under the water? It looks like there might be one between Melbourne and Perth under the water!
This got me thinking, are there fibres under the ocean? And sure enough, there are! This is a picture of a fibre laying ship. This ship is loaded up with optical fibre cable and it's actually completing the optical fibre that leaves Sydney in Coogee Beach in Sydney and actually goes all the way around Australia - 4000 kilometres - and comes out in Perth.  This is the 'Indigo' fibre network and it was actually only opened last year. This is a pretty modern piece of infrastructure.
The fibres would have to be pretty robust. You can see this is a pretty substantial cable that this guy is pulling up the beach here. That's much bigger than a human hair, so what's going on, why is it so big? You can see here various different grades of fibre and so probably this is the sort of fibre that person was carrying, and so you can see right in the middle there are two fibres, there's two fibres in the middle and then they're surrounded by metal and then there's actually a copper casing, and that copper provides a little bit of protection. Most of this is armour just for strength, but the copper actually provides power because there's going to be some amplifiers and repeaters along the way here. Then, there's some more amour and it can be quite substantial armour depending on where the cable was going to be.
Google discovered that sharks bite the fibres. Apparently, they don't often get through them, but they can actually be attacked by them so this is a this is a video that you can find on YouTube if you're interested to see the whole piece of footage.
There is indeed a cable running under the ocean here and this was only really put in there maybe a year ago. But, how's my talk, is there one that goes all the way to Mumbai in India?
This got me thinking about, OK, which fibre is my talk going to go to when I do speak to India? There's actually a website that you can look at – I'm going to show this now - this is a website which is like Google Maps but for optical fibres under the ocean. I'm just going to do an experiment here … hopefully you can see that … so this is the Indigo fibre network that was installed in 1999, but if we look over here, there's a number of fibres coming off Perth and going off to the rest of the world. If I click on this one, you'll see the longest piece of optical fibre in the world. This is 40,000 kilometres long and it's probably the largest piece of infrastructure ever created. So this is just mindboggling that there's a continuous piece of fibre that my video is actually going to travel down and actually end up in Mumbai. But it could go all the way through the Middle East and end up here in Germany along the same piece of fibre. Now this piece of fibre is pretty old by Internet standards. It was ready for service in 1999. They actually started building it a lot earlier. It was finished building in 1997 so this I thought was quite remarkable and it made me think "What was it like? What was this fibre like back in 1997?" (So I'll make this go away … )
The Internet was pretty different in 1997, so back in 1997 I was a PhD student at RMIT. I remember there wasn't any web browsers. Web browsers existed, they'd been invented maybe five years before, but they hadn't really caught on. I remember going to the library and most of our literature was still paper, so the papers literally were made out of paper, but there were some computers in the lobby and you could actually every month a box full of CDs would turn up and you could actually look at some of the papers digitally. But the Internet just was not fast enough to actually bring you the papers that we just take for granted - let alone videos.
This I thought was quite interesting. This is one of Amazon's first websites, so you can see this is from February 1997. It's almost devoid of pictures, so mostly text. This is the sort of content that was being sent down that optical fibre when it was first built. Later on that year Amazon did upgrade their website, so it's a little bit better. There's a few pictures, but still the pictures have been kept to a minimum, so you think most of Australia was on
dial-up. This is really what that fibre was dealing with at the time, but really, thinking 20 years into the future.
So the capacity upgrades for this cable and the cable, by the way, is called SEA-ME-WE 3. This is SouthEast Asia, Middle East and Western Europe, and it's the third iteration of that cable. The first 2 iterations didn't make it out to Australia. When it was first installed in 1999 it was about 20 gigabits
per second. That's 20 billion bits of information every second. That's about 40,000 emails, so probably enough for most of the people on dial-up. About 6000 Microsoft Teams meetings.
Now that's the capacity for the entire world. This makes you think about what we take for granted as bandwidth today versus what was available 20 years ago. In 2008, this was upgraded to 960 gigabits per second, so significantly faster, so 320,000 Microsoft Teams calls. And then in 2015 it was upgraded again and it was 4.6 terabits per second. Now a terabit is 1000 gigabits. So that's 1000 billion bits of information. That's enough for 1.5 million Microsoft Teams calls, which still, if you think about that, serving the world is probably not quite enough. So, this is actually getting a bit 'long in the tooth' - a bit old.  
Just for comparison the Indigo cable, the new one that was just installed between Sydney and Perth is about 36 terabits per second, so that's about 15,000,000 Microsoft Teams calls, which is probably enough for Australia.
So how did it get faster? How did it go from only being able to do 40,000 emails simultaneously a second to actually being able to cope with what we sort of expect today? And part of my talk to Mumbai will go down that fibre.
So to make it faster, well, the obvious thing to do would be to put in more fibres - and actually (I'll just pull up that website again), you'll see that if you zoom in here there are actually a couple of new fibres. There's the Australia-Singapore fibre that goes to Singapore. And there's another fibre which actually is the other half of the Indigo fibre network that went from Sydney to Perth, now goes from Perth to Singapore. So yes, people are doing that and as they're doing that, you can put in new technology so you can sort of improve the fibre so that it can have more capacity. And one of the things that people are interested in doing is actually looking at putting multiple cores in these fibres and so this is the records for capacity on any sort of fibre ever, so you can see that the most recent capacities are actually over 1000 terabits, that's a petabit, so these are getting very fast indeed. But if you want to put this in, you've actually got to lay a new cable, and so maybe this will happen in another 20 years.
The other thing you can do is you can just switch the light on and off faster, so if you if you imagine that your laser at one end, you're switching it on and off, you could just switch that faster, but there's a limit to how fast you can do it, and it's limited to some extent by the drive electronics. You may have noticed (or I noticed and maybe people who are as old as me would have noticed) that computers stopped getting faster around about the year 2000. Up until then, they were doubling in speed about every two or three years, but around about 2000 that stopped, and they've sort of stabilized, and similarly the actual electronic drive for information transfer that has also sort of plateaued. So, we really have to look at optical techniques to improve things.
Another technique that works really well is to use wavelength multiplexing so
basically what you can do - and I've just got a picture here of a prism and fans of Pink Floyd would recognize this, but basically if you have a beam of white light here actually that white light can be made up of all the different colours of the rainbow and you can separate them out using a prism or some other techniques and actually you could have multiple laser lines – all these different colours as separate lasers - and then use something like a prism to combine them together and then send them all down one optical fibre. This is how you can increase the capacity and an analogy is like adding multiple additional lanes to a freeway. Using this technique, you can probably have about 80 different wavelengths on the sort of fibre that was laid back in 1999.
But there's some other techniques that you can use, and actually the cable that was laid, the SEA ME WE 3 cable laid in 1999, was already playing some of
those tricks. It was already modulating pretty fast, and it was already using some wavelength multiplexing. But to get the capacity up, we need to do some other sort of techniques. You can try and use a bigger alphabet. That's another opportunity, so here is a picture. This is called an 'eye diagram' (don't be put off - I'll try and explain what it is!). This is basically a measure of the light, so the light that you're measuring at the output and if it's up here, it's bright, it's a one, and if it's down here, it's dark, it's zero. You can imagine the light switching between bright and dark, and so these are all the different options for switching, from staying 'off' or staying 'on', or switching from 'off' to 'on', or switching from 'on' to 'off'.
What's important, at this point, is you can tell the difference between a 'zero' and a 'one', as this gets noisier or there's other distortions, maybe that eye will close and it'll be hard to tell the difference between them, but you can see there's a lot of space here, so for a really low noise system perhaps there's a lot of wasted space here, so you can actually use more levels in between. That's what you can see over this side. This is what's called 'PAM4' and it's four different levels of intensity, so you've got completely 'off' here and completely 'on' here and then you've got a little bit 'on' and then mostly 'on' and as long as you can tell the difference between those four different levels you can see there's a little bit of an eye opening here and an eye opening here - as long as you can tell the difference, you can actually now send an alphabet of four different symbols so you can send instead of just a 'one' or a 'zero', you've got four different symbols here. Now you can increase that to 8 different levels here so you can see that as an eye diagram and you can also, so that's changing the intensity of the light. You can also change the wavelength of the light and this is sort of an analogy to frequency modulation, so this is like AM radio and this is like FM radio and you can do both of those things together and actually end up with 64 different possibilities here and so you can see each one of those spots represents a different letter in the alphabet that you're sending, and as long as you can tell the difference between them, as long as they don't crash into each other, then you can successfully transmit those. These are the sorts of tricks that people have used to increase the capacity, and this is called coherent communication.
In summary, how do you upgrade an old fibre to make the Internet faster? You add more fibres, that's the obvious thing to do, and they are, but they're really expensive. They take many years to build. They cost billions of dollars. They are more substantial than actual roads so people are doing that, but it's a big undertaking, and you probably want to be able to get about 20 years of life out of your fibre.
You can switch the lasers faster. Maybe there was a 4 times increase over the time between when the fibre was installed in 1999 and now, but it's pretty much plateaued – the electronics has pretty much reached its limit. You could add more wavelengths so there were several wavelengths upgrades on that fibre during its lifetime. There's a total of 80 available and with some tricks you can probably get that up to 160. But the biggest difference that was made really was making the alphabet bigger so you can have 32 times or maybe 64 or even 128 additional letters in the alphabet. This is really where the real improvement is, but the challenge here is you need 80 lasers and each of those lasers needs to be really low noise, both in intensity and in wavelength in order to be able to play these tricks. You need really, really, really good lasers.
The question I'm asking is "OK, that's great for these multi-billion dollar fibres that are going across the ocean where people are really trying to get as much value out of that investment as possible over a couple of decades, are we going to see these sorts of speeds in Melbourne coming to our homes"?
And, it's worth considering what sort of infrastructure you actually need at
each end of the fibre, so this is what you would find at the Sydney end of the 'Indigo' fibre. This is actually I took this image from the NextDC which is the data centre company that actually has the contract to terminate that fibre. This is from their annual report in 2020, and they highlight the Indigo subsea cable coming in and they've actually built this multi-story data centre to accommodate the data coming in from that fibre. This huge building is what that fibre goes into. The fibre itself actually plugs into this enormous machine here. For scale, that's about the size of a pizza box. So this is the equivalent. This is basically the modem that their data centre has to talk to that undersea cable and this is a product today, this is brand new. If I wanted this sort of capacity … in here there would be 80 lasers and 80 detectors, and all the electronics to drive them … if I actually wanted that in my home, I'd want to make this about the size of this, that's the challenge - I need to shrink that enormous piece of infrastructure and make it the size of the modem that I have in my house and so how do I do that? How would I shrink 80 lasers with the quality that they need to have and make it possible that it could fit under my television.
I now want to describe some of the work that we're doing on photonic chips to try and achieve exactly that goal. Here's a photonic chip.  This is the complete chip. This is a $2 coin, just for reference, here's a chip and you can see there's all this printed circuitry on the surface. This is all actually optical components that are printed on the surface, but it uses the same sort of technology as silicon electronic chips and you can see down in the corner here there's a ring and here's a zoom in on that ring you can see.
This is, it's like an optical fibre going around the corner here. It's a lot smaller than optical fibre and it's printed on the surface of a chip and then there's this ring that goes there around here as well, and so that ring is about a millimetre across. So you can just about see it. Just to illustrate what's happening here, if you have a laser beam that comes into this ring then most of the laser light will actually just propagate through on this waveguide
that keeps the light traveling along here. But a very, very tiny amount of the energy is coupled into the ring and goes around and when it goes round once a little bit more light will couple in and then it'll go around again and then two times that amount of light will couple in and then it'll go around again and so on and so forth. Now the light - I mentioned at the beginning that light can propagate for hundreds of years across space without losing the information that's on it - here it's actually propagating through a sort of a glass like material that we printed on the surface of a chip, but using all of the technologies that have been developed for computer circuits. This material is almost perfectly pure and it has very, very few defects, and so the light can propagate around and around that ring, maybe a million times, maybe even 10 million times all the while, every time it goes round building up more and more and more power so the power on the on the ring can be quite extraordinary.
If you think about a wine glass and when you sort of rub your finger around the surface of the wine glass, it starts to resonate and it sort of produces a note. And if you're careful and you stay within the resonance, the note will get louder and louder and louder so that's what's happening in the ring, but it's going around about a million times building up an enormous amount of power, and it resonates not just with one note. It resonates with the whole 'comb' of notes so it's like a chord of musical notes but we call this an optical frequency comb because it can have hundreds of different lines that will come out all determined by the geometry of this ring. You come in with one laser line, let the ring resonate and the resonance produces all these extra wavelengths that are essentially clones of the original laser line and have all of the properties of that original laser line and all the spacing
between them is actually defined by the geometry of the ring printed on the chip.
We can produce 80 lines this way and they have sufficient quality for us to use each one as an optical communication channel. And this is the way that we can achieve 80 lasers with the required communications bandwidth.
Here is the rainbow of 80 wavelengths we got out of this chip. We then used this and we started it at RMIT and needed to test that we could actually achieve the high-speed transmission using each of those wavelengths as a communications channel. We modulated information onto each of those laser lines and then actually sent it around a circuit out to Monash University and back to RMIT and showed that we could actually do this transmission. This is a piece of infrastructure that we set up to do these sorts of very high speed tests across Melbourne and it's actually using optical fibres that are already in the ground about the same sort of age as the undersea optical fibre - about 20 years old but we were able to actually achieve the world record Internet speed using this very old fibre because of the excellent quality of the laser lines that were coming out of this ring. And just as a caveat, this is the world's fastest Internet qualified from a single chip. This is the fastest that anyone's demonstrated using a single chip as a source and we've got a lot of media coverage from this. It was covered by the BBC, The Conversation, The Independent, and we were particularly pleased with the coverage we got in their physical newspaper in The Australian.
You can see, Bill Corcoran, who's from Monash who led that work, Dave Moss, who has a long history from the genesis of using combs for these sorts of things and myself in the InPAC lab here at RMIT. We're really pleased with that.
So, what's next? We are in the process of talking to a number of different industries about what to do with this chip, particularly, we're having some conversations with NBN Co. and they're actually interested in what the future of this Indigo cable might be. So, could we use some of our technologies to try and improve that Indigo cable? But maybe we could use some of these technologies for some of these lesser optical fibre lines here, so you can see the Indigo cables 100 gig. This one's only 30. The one out to Darwin is only 10. So maybe we can use some of the technologies to improve that.
In the last few minutes that I've got left, I'd like to spend just a few moments talking about some of the other things that these chips can do. We've shown that we can use chips to achieve 80 laser lines in a very, very small footprint with very very, low energy. We've recently, only last month, it's been announced that we have a successful project to develop gyroscopes based on these chips, so you can use these photonic chips to actually measure very, very tiny movements, and the company that we're working with they are a company that works in movement sensors and they also work with another company called Airsight that does this sort of Lidar Imaging and the intent is that these gyroscopes will actually go on their drones and the drones fly around and map space and, for example, they can create a map and make sure that the tracks of the railway line are in good condition. This can potentially avoid derailments in the future. We think if we can integrate this technology using our microchips this would be an excellent opportunity to put similar structure on spacecraft and satellites because they will be very, very small, very, very lightweight, very, very energy efficient without compromising precision. You can also use this sort of technology for biosensing and so here you can see one of our photonic chips and using the photonic chip technology we're actually able to coil up the light is trapped in this in this trace on the surface of the chip and goes round and round and round this coil and comes back out again. And so you could imagine if you put a droplet of fluid on there, the light will interact with that fluid over a very long distance and so you can use this as a very, very sensitive sensor. In principle it's possible to use these sorts of sensors even to detect individual molecules in biological media. So we combine this chip with some of our microfluidics  (that's probably a topic for another presentation) we have the ability to make very, very sophisticated microscopic plumbing and we can combine this chip for fluids with a chip for light and actually make a lab on a chip system for interrogating biological fluids. And this chip, for example, was actually made for testing for Cardio Troponin but a very similar chip was also made for measuring antibiotics as contaminants in seawater.
The last couple of slides I just wanted to say, it might surprise you, and it certainly surprises a number of our collaborators, that we actually have all of the capabilities to prototype these chips. Certainly in Melbourne, now at RMIT, we actually have all of the tools to take a completely blank wafer -  we have all of the simulation tools, the design tools, the fabrication tools - to make fully functional chips and we can do that in a few weeks from start to finish at RMIT.
And this is exciting a lot of potential collaborators because we can now start looking at using some of these technologies and custom design chips for their needs and try them out. You have an idea, try them out a few weeks later, see what's wrong with them and iterate very rapidly in coming up with a solution.
But I think we can go one step further, one step further than doing this sort of research. I think we can have a manufacturing base in Australia and that sounds perhaps a little bit ambitious because the usual mode of manufacturing chips means that you're making millions, maybe even hundreds of millions of chips in order to achieve the economies of scale that really require the investment. But now the infrastructure is becoming a lot more accessible. You don't need to spend a billion dollars on a fabrication facility. Really you can get a lot of pieces of equipment and we have many of them already at the MNRF. They're accessible to sort of university size groups, so we can afford to, and we can work very quickly and make things. There's a lot of direct right tools that can actually make things from a computer design straight into a chip in a couple of days as where it used to be a very long exercise to sort of make these. We can actually make bespoke prototypes quite quickly, and I think that's really where the value is. So, we can make a few very high value prototypes and accelerate the development cycle to give lots of different Australian industries a competitive edge internationally.
I'm enthusiastic about it, if you're enthusiastic about this as well, I'd love to talk to you. There's my email there, there's our website. We are looking forward to moving that onto the new RMIT Research website and you can also follow me on Twitter. Thank you!


3 September 2020, Presented by Distinguished Professor Arnan Mitchell
My team works with technologies that have the potential to help every Australian stay healthier, safer, and more connected than ever. They are developing systems to diagnose and treat diseases, they're turbo-charging the internet with ultrafast fibre optics and they are creating technologies for precise positioning of everything from self-driving cars to satellites.
How are we doing it? We're using integrated photonics - the successor to microelectronics - where both electricity and laser light can be captured and controlled on a chip the size of your fingernail, all at a price of only a few dollars.
This technology is surprisingly adaptable and yet scalable to mass manufacture. In this lecture I will show how this technology is also accessible to even quite small companies, right here in Australia and I will share my vision of building a technology manufacturing base to advance our position as global leaders not just in science and technology but also industrial commercialisation.