Labour is one of the biggest challenges facing the agriculture sector in Australia, with the industry facing chronic labour shortages that have led to farm workers being added to the regional skills shortage list1. According to the National Farmers' Federation (NFF), Australian agriculture is facing an immediate labour shortfall in excess of 101,000 full time equivalent workers2.
This is concerning for all farmers, but particularly growers whose labour needs increase exponentially during harvesting season. According to the National Survey of Vegetable Growers by the University of Adelaide and the University of Sydney, 40% of those surveyed had not been able to recruit sufficient pickers and graders during the past five years3. This meant 63% of them had to leave vegetables unpicked4.
It's clear that labour shortages are already impacting farm profitability, with the NFF's 2019 Farm Workforce Survey finding single-farm losses in Australia due to labour shortages could be as high as $2 million5.
Therefore, for farmers, finding solutions to the lack of workers has become a top priority.
"Even for those farms that can currently find enough workers, we know it's going to be a problem in the future because labour is becoming more and more difficult to source and increasingly expensive," says Kilter Rural Agronomist Johanna Morgan.
Kilter Rural is a specialist manager, dedicated to investment in Australian real assets of farmland, water and ecosystem services. The company is also an organic producer and produced Australia's first organic tomato field crop at scale during the 2018-19 harvesting season.
Like many farms, Kilter Rural has begun looking to technology as a way to offset labour shortages in the future, investing in sophisticated solutions that improve productivity while also giving it the ability to operate with fewer casual employees. These include automated irrigation systems, normalised difference vegetation index (NDVI) mapping, variable rate technology (VRT), farm management software, satellite aerial imagery and drones to track changes in the landscape and photograph paddocks to help convey real-time impact. The company is also waiting for delivery of a Garford Robocrop InRow weeder, which uses video image analysis to locate individual weeds in an established planting paddock to mechanically remove them without disturbing the plants.
Additionally, Kilter Rural conducted a field trial of an artificial intelligence (AI)-powered robotic prototype from Thingc.co to remove weeds growing in crops. This led to its orchards being set up for robotic picking for when the technology becomes available, with its organic tomato crop tipped to follow in the future.
"Technology is advancing significantly in the agriculture sector and a lot of this innovation is being driven by labour shortages. Robotics and automation, in particular, have become hot topics because they can reduce labour costs quite a lot," says Johanna.
"As an industry, we're not there yet in terms of autonomous robotic equipment but we think it's important to be at the forefront of technology. That's why we've set up our orchards to be ready for when the technology becomes viable."
Advanced autonomous robots with enhanced sensors and dexterity that can augment human labour and smart irrigation that automatically adjusts watering schedules to real-time conditions have long been touted as the future of farming. However, because these systems act based on data coming in from the environment, connectivity is a key component.
This was one of the biggest challenges Kilter Rural faced in implementing its digital solutions.
To ensure the company could access a good, reliable internet connection, Kilter Rural General Manager of Farmland and Ecosystems Michael Neville says the company spent approximately $50,000 to set up their own system that beams NBN from a radio tower to their own tower.
"With the old ADSL system, we were putting in programs for automated irrigation and the system was jumping out all the time. So, we invested a significant amount to build a solid system where we can program the irrigation and walk away knowing that it's going to be done. We now have a sub-surface drip irrigation system that automates watering, with farm staff able to set, track and monitor activities via a hand-held device," says Michael.
"It was a considerable cost for us to set this up, but automation saves so much labour. We're spending around $1.5 million on casual labour in our businesses at the moment so we saw the expense as an investment that would bring down our costs long-term."
With all the talk of saving on labour costs it seems inevitable that there would be fears from staff about job losses, but Michael says it's actually been the opposite.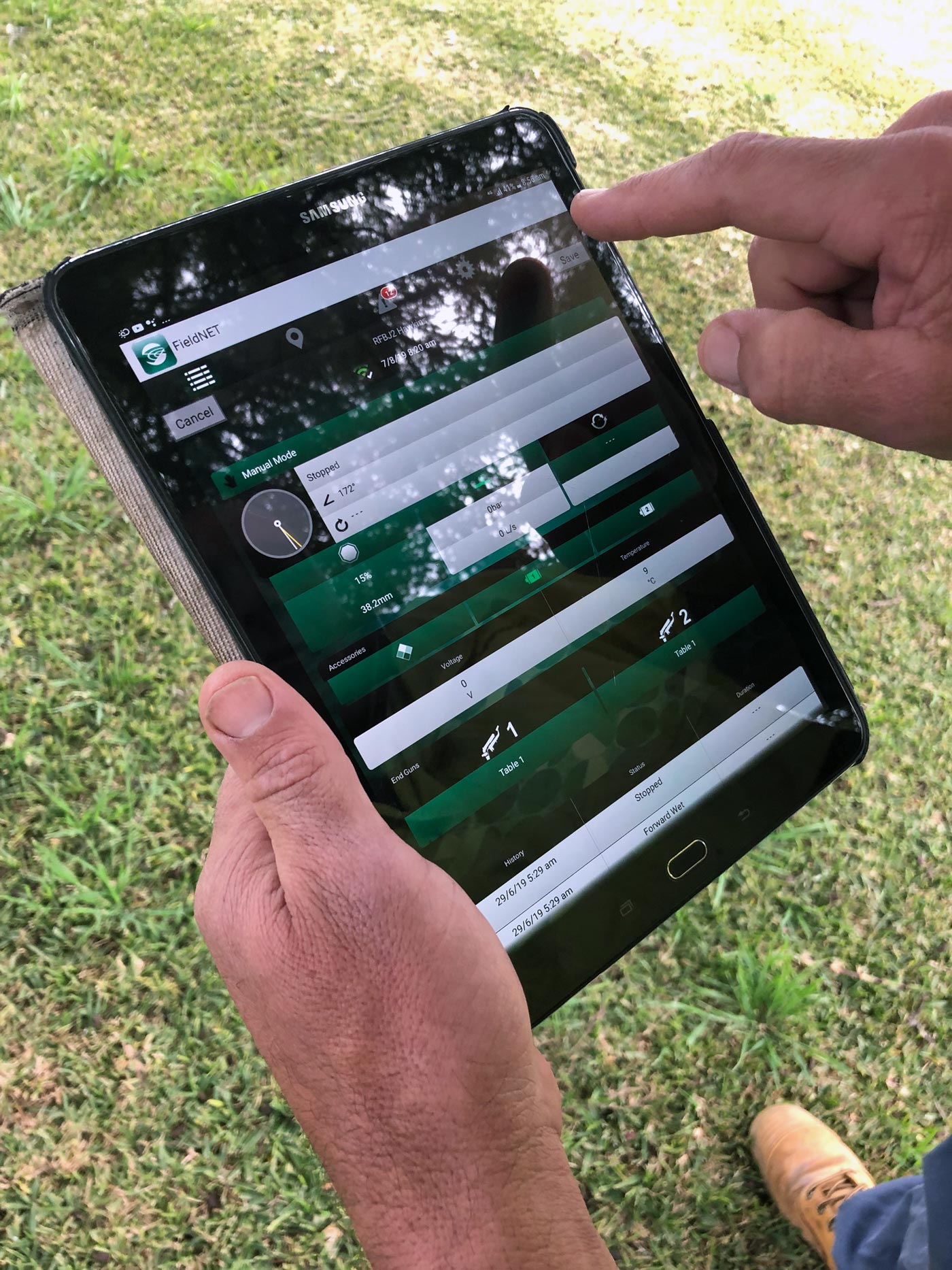 "We've approached this as a development program from day one where we're upskilling our existing staff to work with these systems to complement their roles. Robotics and automated systems are only part of our plans for the future of the farm and staff have been very supportive."
This seems to be a common theme among businesses that have successfully implemented digital change and new technology solutions into their operations. By taking staff on the journey with you from the beginning and seeing the implementation of new systems as an opportunity to upskill staff, it's more likely that staff will be supportive of the change. This in turn makes it more likely that your digital transformation will be successful.
Michael says the other key to farms successfully implementing new technology is not to invest in hardware.
"You've got to dip your toe in the water and get involved with new technology, but because technology is constantly changing it just doesn't make sense to invest. You could buy a bunch of hardware today and spend a lot of money, but it will very quickly become worthless because there's always something better being developed.
"The best thing to do is lease the equipment and systems you need, and then finance for upgrades. That way you can stay up-to-date with new technologies without pouring significant quantities of capital into it. This makes it much easier for your business to be flexible and adaptable to change."
Visit Kilter Rural
www.kilterrural.com
References
1 Koziol, M 2019, 'Win for Nationals as farm workers added to regional skills shortage list', The Sydney Morning Herald, viewed 1 August, <https://www.smh.com.au/politics/federal/win-for-nationals-as-farm-workers-added-to-regional-skills-shortage-list-20190310-p5133a.html>.
2 National Farmers' Federation 2018, 2030 Roadmap - Australian Agriculture's Plan for a $100 Billion Industry.
3 Wallace, L 2019, 'Worker shortage holds farmers to ransom', Austalian Farmers, viewed 1 August, <https://farmers.org.au/news/worker-shortage-holds-farmers-to-ransom>.
4 Ibid. 5 Martinello, A 2019, 'Survey uncovers multi-million-dollar cost of farm labour crisis', Austalian Farmers, viewed 1 August, <https://farmers.org.au/news/survey-uncovers-multi-million-dollar-cost-of-farm-labour-crisis>.
5 Martinello, A 2019, 'Survey uncovers multi-million-dollar cost of farm labour crisis', Austalian Farmers, viewed 1 August, <https://farmers.org.au/news/survey-uncovers-multi-million-dollar-cost-of-farm-labour-crisis/>.