Members of the Centre for Construction Work Health and Safety Research have completed a study on work health and safety (WHS) risk perceptions of construction project stakeholders.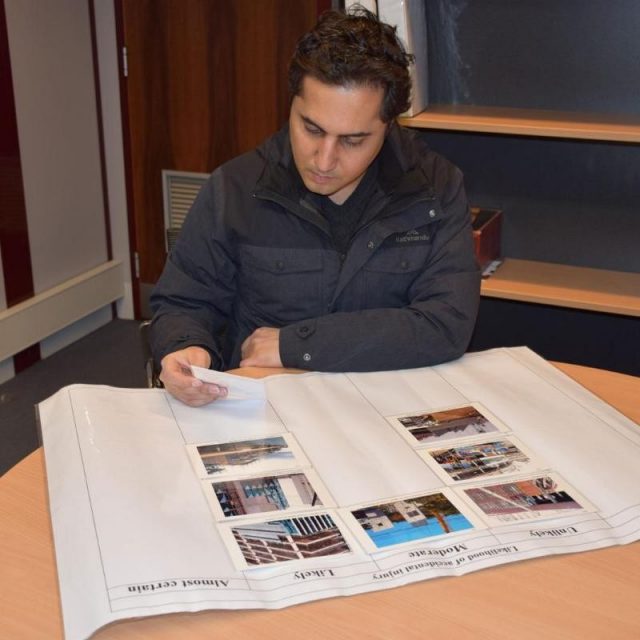 Project dates: June 2012 –January 2015
Aim
Following on from the aims of the broader research project (incorporating phases 1 and 2), the second phase of the project aimed to explore the similarities and differences in construction stakeholders' WHS risk perceptions.
Methodology
The research adopted an innovative image-based tool for data collection. Participants were asked to sort a set of photographs based on the extent to which they presented a WHS risk. The photographs depicted different commonly used construction methods for the four building elements: i) facade; ii) roof; iii) building structure; and iv) building services. The research used façade systems and roof systems as examples to demonstrate the data collection and analytical procedures.
Findings
The research found neither absolute within-group homogeneity nor absolute between-group differences in stakeholder groups' WHS risk perceptions. Participants from the same stakeholder group may perceive WHS risk differently, while participants from different stakeholder groups may share similar WHS risk perceptions. The results imply that risk perception is not entirely shaped by the education, training and norms associated with a particular profession, but influenced by a complex interplay of technical, psychological and social-cultural factors.
The research provides evidence to endorse the use of a multidisciplinary approach to WHS risk management in the construction project environment. Using a technical approach alone to WHS risk analysis does not adequately reflect the complexity of perceptions and judgements made by project participants. The research results also have implications for the practical application of Construction Hazard Prevention through Design (CHPtD). It is possible that a design solution perceived to be safe by one participant group may be perceived to be associated with a high chance of injury by another participant group. Therefore, it is recommended that all relevant project participants' risk concerns be communicated and considered in the design stage in order to achieve equitable and satisfactory WHS risk-control outcomes.
Key people
Dr Rita Zhang, Professor Helen Lingard, Professor Nick Blismas and Professor Ron Wakefield
Partners
This project, funded by US National Institute of Occupational Health and Safety, was conducted in collaboration with Virginia Tech (US). 
Publications
Zhang, P., Lingard, H., Blismas, N., Wakefield, R. and Kleiner, B. 2015, 'Work-health and safety-risk perception of construction industry stakeholders using photograph-based Q methodology', in Journal of Construction Engineering and Management, vol. 141, no. 5, pp. 1–13.