Local students
International students
You're viewing program information for local students.

RMIT considers you a local student if you are:

a citizen or permanent resident of Australia, or
a New Zealand citizen, or
a Temporary Protection visa (TPV) holder.

If you are unsure or hold a different visa type, please contact

Info Corner

for more information.

You're viewing program information for international students.

RMIT considers you an international student if you are:

intending to study on a student visa, or
not a citizen or permanent resident of Australia, or
not a New Zealand citizen, or
not a Temporary Protection visa (TPV) holder.

If you are unsure or hold a different visa type, please contact

Info Corner

for more information. Welcome to Australia.

Not an international student?
2018 Research Awards Recipients
Vice-Chancellor's Award for Research Excellence
Professor Leslie Yeo
Professor Leslie Yeo, a former ARC Australian Research Fellow and Future Fellow, is a pioneer in the field of acoustically-driven microfluidics, having discovered and elucidated many new physical phenomena in the field, including a new class of sound waves—the first such discovery in over 60 years, and having advanced their translation into real practical applications. Among these include a portable, handheld nebulisation platform for inhaled administration of next generation vaccines and therapeutics, for which he received the 2017 Johnson & Johnson World Without Disease Quickfire Challenge award. He was also the recipient of the Young Tall Poppy Science award 'in recognition of the achievements of outstanding young researchers in the sciences including physical, biomedical, applied sciences, engineering and technology'. Professor Yeo has been at the forefront in establishing the microfluidics community in Australia and New Zealand, and is currently Editor of the American Institute of Physics journal, Biomicrofluidics.
Vice-Chancellor's Award for Research Excellence – Early Career Researcher
Dr Luba Sominsky
Dr Luba Sominsky is a Vice-Chancellor's Postdoctoral Fellow in the School of Health and Biomedical Sciences. Her research expertise is in the fields of neuroendocrinology and neuroimmunology, with a particular focus on the roles of inflammation, diet and stress in reproductive health. As an Early Career Researcher, Dr Sominsky has an excellent track record in publishing high-quality research papers, attracting research funding and media attention, as well as editorial responsibilities. Her research expertise has been recognised by multiple national and international talks and colloquia, travel awards and publication/presentation prizes. Dr Sominsky is also Chair of the Communications Committee for the international Psychoneuroimmunology Research Society.
Vice-Chancellor's Prize for Research Excellence – Higher Degree by Research
Dr Bin Dixon-Ward
Dr Bin Dixon-Ward's PhD research investigated how the city grid could be re-imagined to expand our experience of the urban landscape. Through making jewellery and objects, her research revealed four states of the city grid, with the outcomes drawing connections between the city and digital grids through jewellery and objects. This research brings a distinctive lens to contemporary jewellery through the grid and provides a new way to understand and engage with our urban fabric and the role of digital technologies in jewellery; advancing new and innovative knowledge context of jewellery and craft. The contribution that this research has made goes beyond the discipline, pushing the boundaries of jewellery and aesthetics.
Vice-Chancellor's Award for Research Supervision Excellence
Professor Jiyuan Tu
Professor Jiyuan Tu has demonstrated outstanding leadership in HDR supervision and junior researcher mentoring, through passionate and innovative research educational practice, that has generated sustained records of well-rounded HDR graduates across Australia and overseas, and has led to significant research outcomes. Professor Jiyuan Tu has excelled in all aspects of research supervision that have been recognised within RMIT and in national/international platforms. His passion, dedication and extraordinary leadership skills can be seen from the successful practice of his large group meetings where HDR candidates, junior researchers, overseas visiting students and scholars, and talented undergraduate students, all benefit from the dynamic research environment. The large number of high quality co-publications with the group demonstrate Professor Jiyuan Tu's dedication to research training and the effectiveness of his supervision practice in a global community.
Vice-Chancellor's Award for Research Supervision Excellence
Associate Professor Linda Williams
Associate Professor Linda Williams has made an outstanding contribution to RMIT in both research and research training. A cultural historian and theorist who has collaborated with many artists engaged in practice-led research at RMIT: as a doctoral supervisor, exhibition curator and in research collaborations such as an international ARC project. Linda leads the Art & Environment research network, providing HDR students and staff with a network to enable collaboration with more senior artists and scholars in their field. Linda provides opportunities to enhance the experience of being an artist and an academic, including postgraduate students and other RMIT colleagues in major exhibitions, mentoring students to coordinate their own exhibition with an established artist, and developing collaborative HDR workshops investigating cross-school doctoral research methods.
Vice-Chancellor's Award for Research Impact
Professor Sujeeva Setunge
Professor Sujeeva Setunge is the Deputy Dean, Research and Innovation in the School of Engineering. Sujeeva is a Civil and Structural Engineer with research expertise and skills in predicting degradation, optimised asset management and disaster resilience of infrastructure and other assets. She has worked in partnership over the past 10 years with Australian local government sector delivering outcomes for optimised management of local council infrastructure comprising of buildings, road structures, drainage, parks and seaports. The smart asset management systems she has developed are currently being used by ten local councils including the City of Melbourne. She is also currently leading a team developing vulnerability models for critical road structures under natural hazards of flood, bushfires and earthquakes.
Vice-Chancellor's Award for Research Impact – Early Career Researcher
Dr Kyle Berean
Dr Kyle Berean is the co-inventor and leader of the human clinical trials and the commercialisation of the human ingestible gas-sensing capsule (Atmo Gas Capsule) from RMIT. He is co-founder and CTO of the start-up company Atmo Biosciences which has been licensed to commercialise the intellectual property from RMIT. He was recently awarded the Johnson & Johnson Innovations Victorian Quickfire Innovation Award, an award that recognises game-changing, early-stage medical device technologies that have the potential to make a major difference to people suffering from the world's most pressing healthcare challenges, and was also awarded a 2018 NHMRC development grant.
Vice-Chancellor's Prize for Research Impact – Higher Degree by Research
Ms Leah Heiss
Leah Heiss' PhD research involves collaboration across design, textiles, engineering, healthcare, and audiology to create the Smart Heart cardiac monitor necklace and Facett, the world's first self-fit modular hearing aid. Facett won the 2018 Good Design Award, the 2018 CSIRO Design Innovation Award, two 2018 Best in Class Good Design Awards, three 2018 Victorian Government iAwards and a Gold Melbourne Design Award. To distinguish Facett from traditional hearing aids, Leah sought inspiration from the mineralogy collection at Museums Victoria. Facett's distinctive geometry seeks to shift the stigma of hearing aids and move them from disability to desirability. The design work was exhibited in the Augmented Humans exhibition at the Melbourne Museum in 2018, drawing an audience of 100,000 people.
RMIT Award for Innovative Research Supervision
Associate Professor Oliver Jones
Associate Professor Oliver Jones is an analytical chemist based at the School of Science. His research group conducts cross-disciplinary research in analytical methods and technologies for a range of applications in biological, chemical, environmental and forensic sciences, and he recently helped develop a mobile app to help teach chemistry. Jones' innovative approach to supervision has facilitated excellent HDR outcomes by developing skills required to succeed in whatever career path is pursued. By providing candidates with opportunities to interact with academics and industry professionals; utilising cross-disciplinary supervision; and promoting dissemination of research outcomes and student exchange, Jones' supervisory techniques expose HDRs to an innovative learning environment leading to high quality outcomes. Jones is a member of the Australian Academy of Science National Committee for Chemistry; President of the Australian and New Zealand Metabolomics Network; and a board member of the Australian and New Zealand Society for Magnetic Resonance and the Metabolomics Society. Jones is a regular presence in mainstream media and the impact of his work is evidenced by several awards, including the 2015 Sir Paul Callaghan Medal.
RMIT Research Excellence – Team Award
Environmental Biotechnology Group: Distinguished Professor Andy Ball, Dr Arturo Aburto Medina, Dr Esmaeil Shahsavari, Ms Nagalakshmi Haleyur Seetharam, Ms Eman Koshlaf, Mr Leadin Khudur
The Environmental Biotechnology Group (EBG), located within the School of Science at RMIT University, is a world renowned research group with the mission to develop the emerging field of environmental biotechnology with an emphasis on bioremediation. The team's research is focused on the sustainable remediation of contaminated environments. The team applies cutting edge tools to resolve environmental issues, with a focus on urban environments and the understanding of the role of microbes in the biogeochemical cycling of elements in the environment and the impact of environmental contamination.
Distinguished Professor Andy Ball, Dr Arturo Aburto Medina, Dr Esmaeil Shahsavari, Ms Nagalakshmi Haleyur Seetharam, Ms Eman Koshlaf, Mr Leadin Khudur
RMIT Research Excellence – Team Award
Chronic Infectious and Inflammatory Diseases program: Prof Melissa Churchill, Prof Steven Bozinovski, Assoc Prof Janine Danks, Prof Paul Gorry, Assoc Prof Anthony Jaworowski, Dr Jonathan McQualter, Assoc Prof Samantha Richardson, Assoc Prof Stavros Selemidis, Prof Ross Vlahos
The Chronic Infectious and Inflammatory Disease (CIID) program constitute an outstanding multidisciplinary team with unique and synergistic expertise in chronic infectious and inflammatory diseases including HIV and HIV-associated co-morbidities, respiratory viral infections, chronic obstructive pulmonary disease (COPD), with a strong emphasis on translational research and drug discovery. CIID is committed to the globalisation of the research efforts of RMIT University by building upon its current international collaborations and networks, and the international standing of its members to facilitate the generation and dissemination of knowledge. There is extensive research experience and an established culture of collaborative gain. Together the team forms an extremely strong and productive academic research environment aimed at better health outcomes and a strong environment to foster young academics and graduates with world-class research training.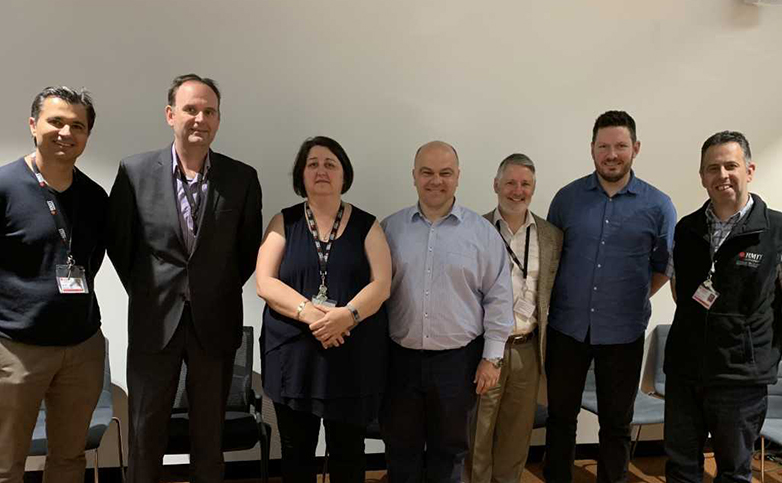 Prof Melissa Churchill, Prof Steven Bozinovski, Assoc Prof Janine Danks, Prof Paul Gorry, Assoc Prof Anthony Jaworowski, Dr Jonathan McQualter, Assoc Prof Samantha Richardson, Assoc Prof Stavros Selemidis, Prof Ross Vlahos
RMIT Research Excellence – Team Award
Bio Inspired Digital Sensing-Lab Team: Assoc Prof Adrian Dyer, Dr Jair Garcia, Prof Andrew Greentree, Ms Scarlett Howard, Mr Phred Petersen, Dr Mani Shrestha
The Bio Inspired Digital Sensing-Lab (BIDS-Lab) team is a consortium of researchers investigating the development of innovative digital solutions. Using a comparative approach of insect and human brains provides insights into what type of neural architecture enables complex decision making. Studying the honeybee as a model it has been possible to understand how numerical rules, like the concept of "zero", can be acquired in brains of different animals, providing insights into how the technological thinking that enabled our modern economy could have developed in human culture, and how innovative new computing solutions can be created. Honeybee colour processing investigated using physics combined with detailed neuroanatomical maps enables the development of novel algorithms for how drones with cameras can operate better in complex natural environments under constantly changing conditions. The team's approach has broad implications for contemporary problems such as food production with a decline of traditional pollinators and the effect of continuously increasing urban environments.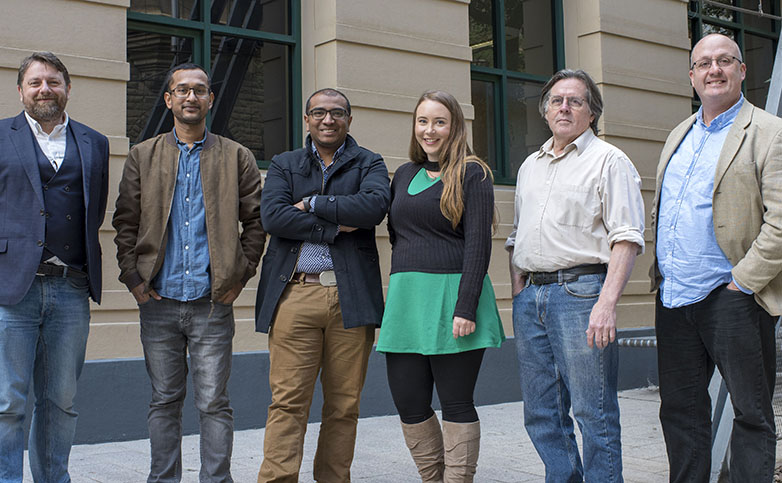 Assoc Prof Adrian Dyer, Dr Jair Garcia, Prof Andrew Greentree, Ms Scarlett Howard, Mr Phred Petersen, Dr Mani Shrestha
RMIT Award for Excellence – Graduate Research Leadership
Professor Gary Bryant
Professor Gary Bryant has been involved in the supervision and mentoring of Higher Degree by Research (HDR) candidates for over 20 years. His own HDR candidates have benefited from his close mentorship, and many have gone onto outstanding careers. His contributions to the mentoring of the wider body of HDR candidates has taken many forms: he was closely involved in the development of RMIT's modern HDR management policies; he has been a champion of the HDR milestone process, which facilitates progress and completion, but also develops presentation skills, which are vital for the modern scientist; he developed the Science PhD Research Methods course from scratch, and has been delivering it since 2014, with high candidate satisfaction. Bryant's many initiatives have led to an improved intellectual climate across the School, and more broadly across the College of Science, Engineering and Health and the University.
RMIT Award for Excellence – Industry Engagement in Graduate Research
Professor Kandeepan Sithamparanathan
Professor Kandeepan Sithamparanathan leads the Networks research group within the Communication Technologies Research Center at RMIT, and is the Chair of the IEEE Communication Society VIC Chapter. He has over fifteen years of experience in R&D and has published more than one hundred and twenty five scientific papers including a scholarly book titled 'Cognitive Radio Techniques: Spectrum Sensing, Interference Mitigation, and Localization' published by Artech House, New York.
Sithamparanathan's key research areas are communication engineering and signal processing, and developed several algorithms and techniques for next generation wireless, mobile and UAV communication technologies for dynamic spectrum access and energy efficient communication systems. He works with many industries in delivering communication technology solutions and engages many of his higher degree by research candidates in such industry based research projects for training them in conducting both fundamental theoretical and applied research for meeting industry needs.
RMIT Award for Research Excellence (Design)
Associate Professor Anastasia Powell
Tackling the underlying attitudes, cultures and structural inequalities that lay the groundwork for violence against women is what Associate Professor Anastasia Powell has committed her career to pursuing. Her extensive research has paved the way for law reform, policy work and the prevention of violence against women through promoting gender equality and respect. With a background in criminology and a focus on cybercrime, gender-and image-based abuse, Anastasia explores the ways in which technology has shifted the patterns and experience of sexual violence, in order to seek justice for victim-survivors and contribute to a societal change.
RMIT Award for Research Excellence (Enterprise)
Associate Professor Lauren Rickards
In a world heavily impacted by the devastating outcomes of climate change, Rhodes Scholar, Associate Professor Lauren Rickards explores the social and cultural tipping points that leave her optimistic about the future of our world. Pursuing her deep interest in the big, profound questions that environmental change forces us to confront, Lauren challenges society to work together through communication and proactive change.
RMIT Award for Research Excellence (Technology)
Professor Andrew Greentree
Professor Andrew Greentree is one of Australia's leading theoretical physicists, with interests spanning quantum optics, quantum information, the properties of diamond and its fluorescent colour centres, and recently the psychophysics of bees. Specific breakthroughs include his prediction of novel states of light, new methods for quantum transport, and a new proposal for a diamond magnetometer.
His publications have been cited over 8000 times with an h-index of 47. Greentree is an Australian Research Council Future Fellow, Chief Investigator of the Australian Research Council Centre of Excellence for Nanoscale BioPhotonics, member of the Australian Research Council College of Experts, member of the Australian Institute of Physics, and Fellow of the Institute of Physics (UK).
RMIT Award for Research Excellence – ECR (Design)
Associate Professor Roland Snooks
Associate Professor Roland Snooks is internationally recognised for his research that explores the design implications of emerging technologies to rethink architectural form, structure and organisation. The calibre of his research is demonstrated through international recognition, significant outputs, and funding success. Snooks is recognised internationally as a pioneer of behavioural design methodologies - an approach that draws on the logic of swarm intelligence and multi-agent algorithms. He is also a recognised leader in architectural robotics within Australia and has made pioneering contributions internationally to applying large-scale polymer 3D printing to architecture. Snooks' research has been exhibited widely and acquired for the permanent collection of some of the world's leading museums of modern art and design, including the Centre Pompidou in Paris. Snooks leads a number of significant research projects including the $7.9M IMCRC Design Robotics project and is regularly invited to lecture at the world's leading schools of architecture.
RMIT Award for Research Excellence – ECR (Enterprise)
Dr Beni Halvorsen
Dr Beni Halvorsen is a Lecturer and Early Career Development Fellow in the School of Management. Halvorsen's research falls under two broad categories: Human Resource Management and Organisational Behaviour. Specifically, Halvorsen's research focus is on migrant, minority, and under-represented employees' experiences in the workplace, diversity, diversity management practices and their effect on organisational performance with a particular focus on employee turnover and retention.
As an Early Career Researcher, he has published his research in top-tier academic journals, and presented his research at national and international conferences. The impact of his research has seen him appointed to Diversity Council Australia's Panel of Experts as a specialist in cultural and ethnic employee outcomes on their project called 'The State of Inclusion: A National Index of Workplace Inclusion'.
RMIT Award for Research Excellence – ECR (Technology)
Dr Sumeet Walia
Dr Sumeet Walia's work is internationally recognised for its innovation in materials engineering to unlock novel properties in ultra-thin materials and deploying them to demonstrate fascinating next-generation applications in electronics and healthcare. From fabricating future semiconducting materials for electronics, to chips that can mimic the human brain for storing and recalling past information, smart sensors for health monitoring and miniaturised energy sources, Walia's contributions to physical science have amalgamated multidisciplinary innovation onto functional application-oriented, futuristic platforms for implementation across the breadth of technology.
RMIT Prize for Research Excellence – HDR (Design)
Dr Kathy Waghorn
Dr Kathy Waghorn is striving to expand our thinking about the potential of architectural intelligence. More than simply the production of buildings and objects, it is the spatial and social relationships between things, people and places that coincides with broader relational activities. Kathy's research focuses on engaging performative and material exploration to construct a practice that shares its borders with both art and architectural knowledge.
RMIT Prize for Research Excellence – HDR (Enterprise)
Dr Darcy Allen
Dr Darcy Allen's thesis, The Private Governance of Entrepreneurship: An Institutional Approach to Entrepreneurial Discovery, developed a novel contract-theoretic approach to the early stages of new technologies. This profound shift from the ordinary choice-theoretic approach to his contract-theoretic approach opens up entirely new analytical vistas, which emerge out of his recognition that property rights are social relationships, not relationships between people and things.
With this insight Allen investigates the innovation commons which provides a landscape upon which entrepreneurs can operate, transforming that landscape in economically valuable ways by constructing relationships among interested participants. Further, through his examination of blockchain technology in various forms, Allen conclusively demonstrates that economists have heretofore under-appreciated the ability of the private ordering of economic interaction to promote innovation throughout the range of economic activity.
RMIT Prize for Research Excellence – HDR (Technology)
Dr Alsharif Abuadbba
Dr Alsharif Abuadbba's PhD work is centred on solving a major privacy exposure issue of the huge collected data on cloud including sensors, smart meters and biomedicals. Abuadbba developed a novel resilient data protection for high sensor and smart devices streams in the computer cloud environment without hindering direct process of these streams. These outcomes have been published in A* journals such as IEEE Transactions on Biomedical Engineering and IEEE Transactions on Smart Grids. Abuadbba received a nomination for a Student of the Year in the State of Victoria 2014, publication Awards 2015-2016 and the Eureka International Innovation Award 2018.
RMIT Award for Research Impact (Design)
Professor Paul Carter
Professor Paul Carter is an internationally acclaimed academic and artist and has an outstanding track record as an industry collaborator, creative researcher, design mentor and public lecturer. He is Professor of Design/Urbanism at the School of Architecture and Design at RMIT University and has excelled in disciplinary and interdisciplinary research across social and cultural geography, performance studies, urban behavior, cross-cultural poetics, acoustic ecology and public space design.
Carter has held ARC Professorial Research Fellowships at University of Melbourne (1994-2003) and won a number of ARC Discovery grants. He was also Professor and Chair of Creative Place Research, Faculty of Arts and Education, Deakin University (2009-2013), where he founded and directed the Centre for Memory, Imagination and Invention. Carter is an interdisciplinary scholar who has produced an exceptional body of work across a range of disciplines in which he explores and uses public space.
RMIT Award for Research Impact (Enterprise)
Professor Anthony Forsyth
Professor Anthony Forsyth chaired the Victorian Government Inquiry into the Labour Hire Industry and Insecure Work in 2015-16, through a research partnership between RMIT and the State Government. The Final Report to the Premier exposed widespread non-compliance with workplace and other laws by labour hire contractors, particularly in the horticulture, meat processing and cleaning industries.
Anthony's recommendations have been implemented through the Labour Hire Licensing Act 2018 (VIC), which introduces a licensing scheme to improve the integrity of the labour hire industry and protect vulnerable workers from exploitation. Labour hire providers must now show they operate a legitimate business, can pay minimum award wages and comply with superannuation, safety and accommodation requirements. The impact of this research is shown through its contribution to state law reform and potential influence in national reform, and Forsyth's widespread engagement with the media, invited speaking engagements and dissemination of the research in academic journals.
RMIT Award for Research Impact (Technology)
Associate Professor Flora Salim
Associate Professor Flora Salim's research in understanding the patterns of human movement, habits and activity from data has been utilised for movement prediction, energy and demand forecasting, and intelligent assistants. With work that focuses on behaviour recognition and tracking through spatio-temporal data analytics, Flora is motivated to ensure that her methods are put to good use and are able to make an impact on our world.
RMIT Award for Research Impact – Early Career Researcher (Enterprise)
Dr Miranda Lai
Dr Miranda Lai's research focuses on resolving practical issues relating to the interpreting profession and interpreter education, in particular in areas of police interpreting, interpreter vicarious trauma and pedagogy of deaf interpreting. She is a recipient of a Research Excellence Award in 2016 from the RMIT School of Global, Urban and Social Studies.
Lai's research has raised awareness within the legal field of the problem of court interpreters suffering vicarious trauma and she is a pioneer in investigating Deaf Interpreting. With the introduction of the National Disability Insurance Scheme (NDIS), the industry is experiencing exponential demands of hearing and Deaf interpreters and as a result, Lai's exceptional research capability in solving practical social needs is highly renowned.
RMIT Award for Research Impact – Early Career Researcher (Technology)
Dr Adrian Pudsey
Dr Adrian Pudsey's research broadly covers the area of high-speed flight, propulsion and systems technology. He is currently lead chief investigator and project manager of two Cooperative Research Centre Projects totalling $4.45M; the first focuses on Hydrocarbon Fuel Technology for Hypersonic Airbreathing Vehicles and the second investigates Responsive Access to Space. The success of the latter project will revolutionise atmospheric cruise flight and access to space with a more efficient propulsion system, bringing Australia to the forefront of the new space race.
The impact of Pudsey's work is becoming global as he was invited as plenary speaker at the International Conference on High-Speed Vehicle Science & Technology in Moscow, Russia in November 2018. His experience in the Australian Defence Force and in the discipline of Aerospace Engineering provides a complementary, real-world approach to the research and creation of innovative technology that could change the future of hypersonics and access to space.
RMIT Prize for Research Impact – Higher Degree by Research (Design)
Professor Alisa Andrasek
Professor Alisa Andrasek is recognised for her work on the convergence of design, computer science and exponential technologies. Bringing AI and robotics to the forefront of architectural design and construction, she is Professor of Design Innovation at RMIT University, the founder of award-winning design laboratory Biothing, a partner of Bloom Games and co-founder of AI Build.
Andrasek's work has been exhibited and is part of permanent collections around the world including the Centre Pompidou Paris, New Museum NY, Storefront NY, FRAC Collection Orleans, TB-A21 Vienna, Beijing and Sydney Biennial, among others. In recognition for Professor Andrasek's contributions to advancing architectural and design science, she received the prestigious "Europe 40 under 40" Award, the Metropolis Next Generation Award, and the Far Eastern International Digital Design Award. The author of Biothing (2011), Andrasek's writings have been published worldwide and she has lectured extensively around the globe.
RMIT Prize for Research Impact – Higher Degree by Research (Enterprise)
Ms Jozica Kutin
Jozica Kutin is a PhD candidate in the School of Economics, Finance and Marketing. Her thesis examines economic abuse in young adult intimate relationships. Jozica used mixed methods to determine how economic abuse manifests and how it can be prevented within the young adult cohort. Kutin's research has been readily sought after and used by the finance, government and community sectors. Her research results have also attracted significant radio, TV, online and print media coverage.
Kutin has presented her research at several national and international conferences. Her first published journal article was one of the journal's 20 most downloaded articles, and is listed in the national judicial "Domestic Violence Bench Book" as key literature used by practitioners, policy makers and researchers. In 2017 Kutin won the RMIT 3 Minute Thesis competition and is currently developing a post PhD research translation co-design project in collaboration with the Foundation for Young Australians.
RMIT Prize for Research Impact – Higher Degree by Research (Technology)
Mr Mohammad Taha
Mohammad Taha is a PhD candidate in the School of Engineering in the Functional Materials and Microsystems Research Group (FMM). His thesis focuses on harnessing electrical and optical properties of materials to engineer new applications. His research involves a self-modifying coating that can be used on surfaces such as glass. The coating allows regulation of temperature and radiation by automatically letting in more heat when it is cold and blocking the sun's rays when it is hot. The use of the coating in 'smart windows' can lead to major environmental benefits and significant financial savings.
Taha's research allows him to engineer this coating in a novel way that increases its production potential. The coating also has applications in sensors, wearable electronics, memory devices, optical modulators and infrared camouflage for stealth technologies. Taha has current multidisciplinary collaborations in memristors, 2D materials, microfluidics and optoelectronics showing his capability in applying his skills and knowledge in a multitude of ways.
Malcolm Moore Industry Research Award
Dr Jonathan Kolieb
Dr Jonathan Kolieb's partnership with Australian Red Cross, produced a project designed to increase awareness of, and respect for, international humanitarian law ('the laws of war') – primarily enshrined in the Geneva Conventions (1949) – amongst Australian companies doing business in conflict-affected areas around the world.
Through direct engagement and both scholarly and practical business-oriented outputs, the project aimed to integrate international humanitarian law into governance systems and management practices of Australian businesses. It is envisaged that this will allow these companies to act in a more responsible and humane manner – benefitting both the company itself and the communities in which they operate.
Malcolm Moore Industry Research Award
Dr Mladenko Kajtaz
Dr Mladenko Kajtaz's industry-partnership research project with the Royal Children's Hospital Melbourne and Evok3D, a 3D printing company from Melbourne, involves the development of a design process that allows fabrication of a novel ankle-foot orthosis using additive manufacturing.
The ankle-foot orthosis is used for children with neuromuscular disorders including cerebral palsy, acquired brain injuries and spina bifida. The new design will allow the hospital to produce a more therapeutically effective orthosis that improves the quality of life of their young patients by increasing their functional capabilities and allow them to better interact with their friends, families, and the world around them.