Get more from uni life with your new RMIT app.
ONLY AVAILABLE IN LIMITED BETA RELEASE
Students selected as beta testers will receive an invitation by email.
Registrations for beta testing have now closed.
Thank you for your interest, we've had an overwhelming response!
However you can still leave your details to be put on the waitlist as more testing spots open up.
Dive into uni life with tips and guidance from your personal digital assistant. Designed with students, for students, the first (beta) release of the app will help you navigate through university life.
Find your way around campus, get tips for new students, organise your calendars and get help fast in an emergency.
Visitors can use the guest profile to explore our campuses.
Why a beta version?
This is the first (beta) release of the official RMIT app. We will continue to build it with students throughout 2018 before making is available to all students mid-2018.
Your feedback will help shape new and improved features.
Find your way around campus, get tips for new students and organise your calendars.
Interactive maps of the City, Bundoora & Brunswick campuses. Directions to RMIT University buildings and key points of interest on campus such as:
Cafes, food, and retail
Student services and facilities
Public transport and security offices
Libraries and study spaces
Tips for new students to make your transition to University life easier. Get a head start on study, help and social options at RMIT.
Scheduling: Get your calendars in one place to help manage your timetables, and find important University dates and events.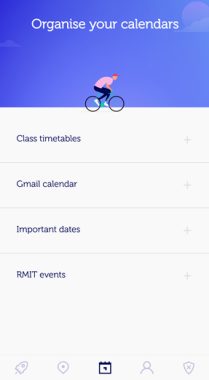 Emergency: Connect to campus security services in case of an emergency or unsafe situation on campus.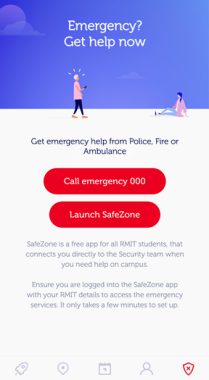 How do I download it?
The app is currently only available in a limited beta release. Approx 2,000 students will receive invitations to download the app as testers.
What devices and operating systems do you support?
The app is designed for mobile phones that run iOS or Android operating systems. (We currently don't have the app available for tablets.)
The app is available in Apple iTunes store and the Google Play stores in closed beta release only.
When will it be available to everyone?
The app is being tested by a small number of students for the first release and we anticpate rolling out a more complete version of the app to all students by July 2018.
Help, I can't log in to the app
The app uses RMIT's CAS authentication system, so you will need RMIT credentials to log into the app. For help, visit the password help page.
I don't have my student credentials set up yet.

You can use the app in 'guest' mode that will you full access to the wayfinding feature.
Who can login, what do they see?

Anyone in the beta pool of testers with RMIT credentials may login. It is designed for students, however anyone with RMIT credentials may login and use the same functions as students.
Users without RMIT credentials may use guest mode as it does not require a login.
I received an invite to become a tester from the app store, but I'm having trouble downloading
Log a request in the Service and Support Centre portal and one of the app team will get back to you. Ensure to leave your contact details. If your issue is with passwords, visit the passwords assistance page.

I want to report a technical bug, fault or issue
Log a request in the Service and Support Centre portal. Please give as much detail as possible including the device type, version and operating system e.g. iPhone X OS Version 11 (screenshots will also be very handy).

I'm a beta tester and want to leave feedback
Please leave all testing comments on our feedback form in the app.

I'm not a beta tester but have a question or comment for the app team
Leave your questions and comments by logging a request in the Service and Support Centre portal.

I want to be involved in beta testing or shaping the future of the app, where do I sign up?
You can leave your interest in participating in testing or attending a student co-design session via the feedback form (for beta current testers), or log a request in the Service and Support Centre portal.