Maybe you are studying accounting but love performing, or you're just looking for a place to meet other like-minded creatives.
You may wish to take center stage, or work behind the scenes, there are places for anyone.
At RMIT we offer students a range of performing arts events and activities where you can participate as an actor, backstage, or even as director.
Your interests may also lie in production and lighting - all creative talents are sought!
Find out how you can be involved - join our Performing Arts Club facebook group.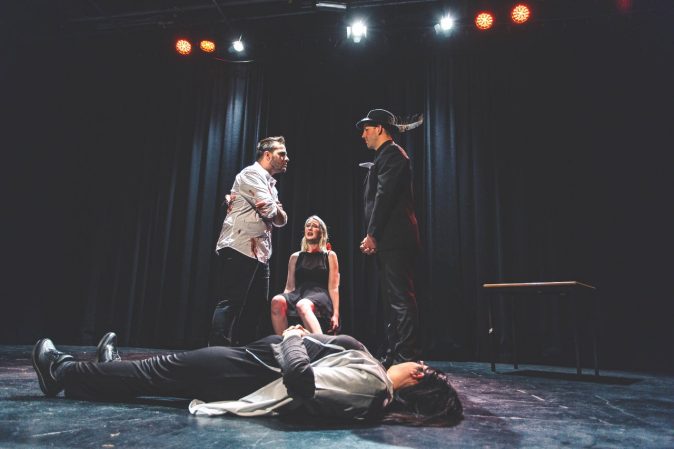 Upstaged is RMIT's performing arts funding program. It is open to all students to support non-study based performing arts projects.
Providing grants up to $500, Upstaged is here to help develop your ideas and make them come to life.
Funding is currently open for Semester 2, 2017 and will close once all the monies have been granted.
For more information visit the Upstaged page and read the application guidelines or contact our Performing Arts Officer: ben.andrews@rmit.edu.au.

Snatches
Snatches is a night of infinite entertainment possibilities, showcasing short theatre, dance, music, poems and short films, all written, directed and performed by RMIT students.
Celebrating its sweet 16th during Semester 2, 2017, Snatches has a proud tradition at RMIT supporting emerging student writers and artists from various courses and disciplines.
Intro to Improv
A relaxed weekly drop-in class run by celebrated Melbourne comedian Andy Balloch (The Sparrow Men).
This free workshop is open to everyone, and will help you build confidence, performance skills and quick thinking.
The Fourth Wall
The Fourth Wall is a program to help students engage with contemporary performance art and experience professional productions showing in Melbourne throughout the year.
Attending these shows can be expensive! The Fourth Wall offers subsidised costs for RMIT's Performing Arts Club members, offering more than 50% off the normal concession price of tickets.
Free ukulele classes
It's like a guitar, but smaller.
The Ukulele is perfect for anyone who doesn't (yet) play an instrument to build their musical muscles.
Easy to play, easy to learn, and easy to transport, the Ukulele sounds great, and offer a great way to begin songwriting and singing along with your friends.
Bring your own, or buy one of our high-quality, subsidised instruments.
Turn it Up busking program
Turn it Up is a busking program for any student with a performance talent and passion for entertaining crowds.
Occupying high traffic areas of RMIT campuses, this roster of student performers will benefit from increased exposure, performance experience, and the added possibility of a little cash and fame!