Are you studying accounting but love performing, or just looking for a place to meet other like-minded creatives?
You may wish to take center stage, or work behind the scenes - there are places for everyone.
At RMIT Performing Arts we offer students a range of events, workshops and performances where you can participate as an actor, writer, director, hair and makeup artist, set builder, lighting and sound technician or in some new way that we haven't even thought of yet! All creative talents are sought!
Find out how you can get involved - join our RMIT Performing Arts facebook group.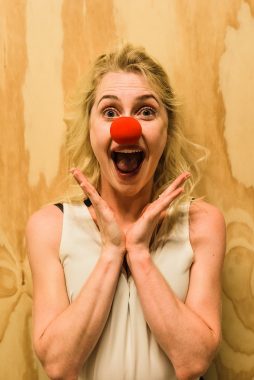 Were you forced to learn music as a child, and now want to return to it on your own terms? Want to join a band? Want to start a band? Wish to perform to others? We have something for you!
Take part in one of our free lunchtime music classes, try your hand at busking, meet new friends and have fun making music!
A relaxed weekly drop-in class run by celebrated Melbourne comedian Andy Balloch (The Sparrow Men).
This free workshop is open to everyone, and will help you build confidence, performance skills and quick thinking. It is also extremely silly, so be ready to laugh!
Sync or Swim
The concept of lip-syncing is simple. Make the audience think you're singing it. Doing it is harder.
That's why we're bringing in Melbourne Drag personality Edie Centric, who spends most of her time pretending to sing, to turn you all into glowing divas.

The Fourth Wall is a program to help students regularly engage with contemporary performance art and experience professional productions showing in Melbourne throughout the year.
Attending these shows can be expensive! The Fourth Wall offers discounted tickets in partnership with the venues, as well as sussing out the best free shows. Don't have a friend that is into going to the theatre? Make some new ones in our group and join us for a drink after the show as we discuss what on earth we just saw!

It's like a guitar, but smaller.
The Ukulele is perfect for anyone who doesn't (yet) play an instrument to build their musical muscles.
Easy to play, easy to learn, and easy to transport, the Ukulele sounds great, and offer a great way to begin songwriting and singing along with your friends.
Bring your own, or buy one of our high-quality, subsidised instruments.
Playing with others as part of a Drumline - a marching percussion ensemble - you will develop skills that will send you well on your way to becoming Keith Moon

Turn it Up busking program
Turn it Up is a busking program for any student with a performance talent and passion for entertaining crowds.
Occupying high traffic areas of RMIT campuses, this roster of student performers will benefit from increased exposure, performance experience, and the added possibility of a little cash and fame!