Accountability
Responsibility and Leadership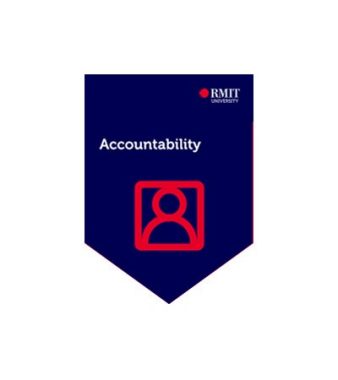 Learning accountability is an important step to becoming ready for the workplace. Being able to take proper ownership of your actions and decisions is a key aspect of professional achievement – it makes you more likely to complete tasks on time, take on leadership roles and foster creativity and innovation.
By undertaking this credential you'll gain insights into the demands of workplace accountability, and learn about taking responsibility for your decisions and actions, and for the consequences they bring.
To be eligible for this badge the earner will have completed the RMIT Ambassadors program (5 hours training, 15 hours volunteering). They will have attended all training mandatory requirements of the program and completed at least 15 hours of on campus volunteering.
Assessment
Assessment will be the submission of a reflection of a time the earner has demonstrated Accountability as an Ambassador. Students will use the STAR model to frame their reflection and all reflections will be graded against a rubric. Submission will be reviewed by the RMIT Champion co-ordinating the Ambassador Program