Creative Thinking Essentials
Solve real world problems creatively
Explore creative thinking as an approach to problem solving, with tools and techniques that can solve real world problems.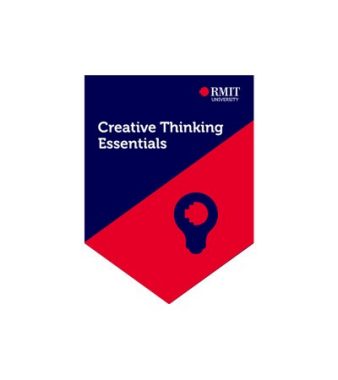 Co-designed with top-tier digital agency Isobar, this module will develop your creative confidence and teach you how to use creative thinking to solve real-world problems. Using a variety of creative thinking tools and techniques, we'll show you how to create innovative solutions to unlock complex problems. The credential is informed by current industry practices.
This Credential earns you a digital badge.
Assessment
Successful completion of this credential will require you to:
Demonstrate the development of creative ideas and solutions to real world problems, using techniques such as; Sketching, Diversity and Sequencing. A score of 18/20 is required to pass this credential.
What are RMIT students saying about this course?
"OMG! it was amazing!"
"I really enjoyed this exercise. When I read the initial problem, I came up with one idea that I really liked, but being forced to spend some time thinking, I came up with more ideas, some of which I like better!"
"In my opinion it's a good initiative that will help students like me to think creatively"