Vacation and Internship Fair
Launch your future career and take advantage of new employment opportunities at the Vacation and Internship Fair.
Attend the Fair to chat to employers about:
vacation work
graduate employment
internships
global placements
volunteering
Work Integrated Learning (WIL).
The Vacation and Internship Fair is a great opportunity to explore future career options for all year levels, backgrounds and professional interests.
Download the Careers Fair App
Be prepared for the Fair!
Search for 'RMIT Career Fair Plus' in the App Store, or Google Play.
Features
Complete company list
Interactive floorplan
Announcements
Career fair tips
(If you have downloaded the App for a previous Careers Fair, make sure you update to get the latest information.)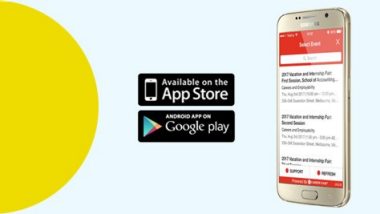 Download the Career Fair App!
First session 10am–12pm
School of Accounting Cooperative Education Fair
Exclusive event open to all second-year accounting students eligible to undertake the Cooperative Year in 2018.
First year accounting students will also attend to meet employers and plan future career opportunities.
Employers at the first session
Second session 1–3pm
Accounting
Business IT and Logistics
Economics, Finance and Marketing
Education
Business and Law
Management
Media and Communication
Social Work and Community Services
Justice and Legal
Employers at the second session
Third session 4–6pm
Architecture and Design
Art
Engineering
Fashion and Textiles
Health and Biomedical Sciences
Property, Construction and Project Management
Science
Environment, Planning and Urban Design
Employers at the third session
Entry requirements

Your RMIT student ID card is required for entry.
How can I prepare?
Employers receive thousands of applications for a small number of positions. You can impress potential employers at the fair through research and preparation.
To make sure you put your best foot forward at the Fair:
Check out the list of employers attending and research those that you want to target on the day.
Attend a Vacation and Internship Fair preparation workshop. Login to CareerHub for event details.
Prepare and ask questions that show you have researched the organisation.
Practise your elevator pitch and think about the best way to promote yourself.
Look over the Vacation and Internship Fair preparation quick tips (PDF 202Kb) for more advice and find out what employers are looking for in this video.