The Global Experience Office hosted an orientation in Shanghai for students taking part in the Young Australian Ambassador Delegation (YAAD).
YAAD is an exchange program which provides students a unique opportunity to study in mainland China.
A total of 20 students from across the University attended the two-day orientation in August this year, before going on to complete their exchange semester in China. Eligible students were supported with $7000 New Colombo Plan grants for the semester, with an additional $1000 for an optional internship.
Based on their study areas, the students were placed at one of three partner institutions: Nanjing University, Nanjing University of Aeronautics and Astronautics and Tianjin Normal University.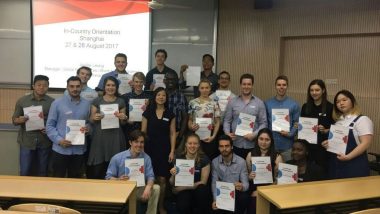 Students developed a range of skills to help them through their exchange including cultural intelligence skills and leadership skills. The orientation also helped students build on their local network.
After meeting with fellow students from Shanghai University of International Business and Economics (SUIBE), students had the opportunity to experience Shanghai's local culture and language through a martial arts
session. They also visited the iconic Oriental Pearl Tower and took an evening tour of the Huang Pu River.

The second day was tailored around leadership and working in China, with interactive sessions delivered by SUIBE academic staff. Guest speakers included Chris Pan (RMIT- SUIBE alumni/PTL Group), Daniel Zhan (Austrade) and Bronagh Marley (ACYA Shanghai) who spoke about their leadership journeys and shared practical tips with the group.

The group ended their second day with a visit to the Austrade Office and an engaging meeting with Shanghai-based Australian Trade Commissioner Karen Surmon. Ms Surmon shared the latest trade trends, and explained how Austrade can help connect the students to China's industry experts.

Two students were also generously sponsored by the Australian Consulate General in Shanghai to attend The Foundation for Australian Studies in China (FASIC) Conference.

Hosted annually, the FASIC Conference brings together more than 70 scholars from diverse backgrounds with the aim of enhancing the understanding between Australia and China.

The YAAD program will re-open applications in early 2018. If you would like to participate, please visit the YAAD webpage for more information or register for a YAAD Information Session in March 2018.