Join the Global Leader Experience this August
Did you know you can develop your leadership skills and build a global network without having to leave the comfort of Melbourne?
The Global Leader Experience (GLE) is a free four day event open to all RMIT students. The next GLE will be held during the mid-semester break on Melbourne City campus, from Monday 28 to Thursday 31 August.

Over the week, you will develop both professional and personal skills as you work with RMIT and industry mentors to develop a solution to this year's challenge "How do smart cities ensure they are inclusive?"

GLE alumni said the experience was one of their best university experiences.
"I met so many different, diverse, and unique people, none of whom I would have met otherwise, all with different opinions and perspectives," said Tristan, Bachelor of Design.

"GLE was an eye opening experience that helped me grow both personally and professionally. It allowed me to gain a deeper understanding of leadership, cultural intelligence, and diversity,"said Thea, Bachelor of Environment Engineering.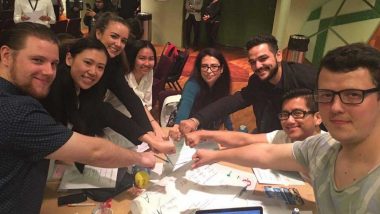 Global Leader Experience Melbourne April 2017.
So come along and meet visionary leaders from organisations such as:
Uber
Telstra
AECOM
PwC
City of Melbourne
Australia Red Cross
The GLE will challenge you to adapt and thrive in diverse situations, giving you the tools you need to lead change, now and in the future.

There is no minimum grade point average, age, study level or subject requirement. All GLE participants also receive Future Edge accreditation.
Apply now for your Global Leader Experience before the 31 July deadline.