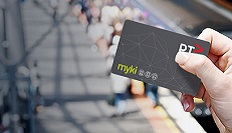 Topping up has never been easier at Bundoora
This means you can purchase or top up your Myki on campus. This also means no more jumping off the tram or bus in search for a 7/11 or Myki outlet nor anxiously waiting 24 hours for your online transaction to be processed.
To top up or to buy a pass, visit the Security Desk at the Bundoora campus from Monday to Friday 9.00am-5.00pm.