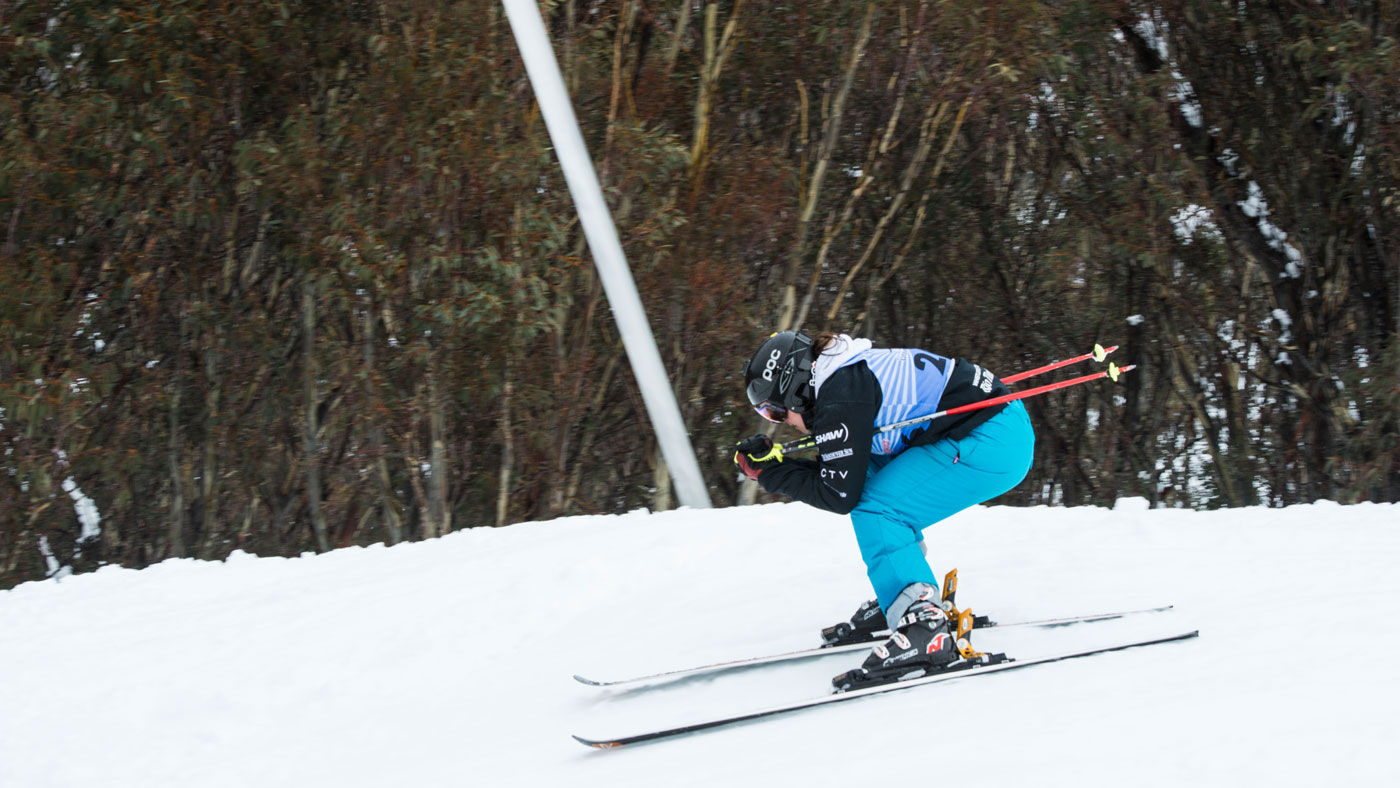 Student athletes take gold at RMIT Sport Awards
The 2017 RMIT Sport Awards celebrated the outstanding sporting achievements seen this year from students across the University.
Vice-Chancellor and President, Martin Bean CBE, presented the first award of the evening, the 'Vice Chancellor's Club of the Year' to the well-deserving RMIT Soccer Club.
"It has been a massive year for the club, both on and off the pitch," said Clubs Sport Officer Jack Arnold.
The RMIT Snow Sports Club took 2nd place with a 3rd place tie between RMIT Cycling and RMIT Ultimate Frisbee Clubs.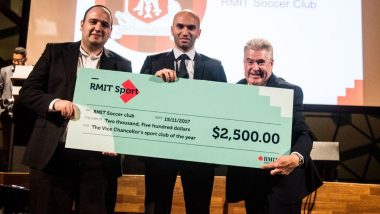 RMIT Soccer Club receiving the "Vice-Chancellors Club of the Year" from Martin Bean. Photo credit: Tori Hyland.
The winner of 'Outstanding Club Leader' was awarded to Amr Badawy. Badawy helped drive the Soccer Club through big changes while also increasing club membership and adding an additional women's team.
RMIT Redbacks' Ten Pin Bowling team won 'University Games Team of the Year' following another incredible showing in both the Southern University Games and Australian University games.
The team brought home pennants in both events and impressed with their overall spirit and encouragement of other students.
As a testament to his display of true leadership and the respect he has gained from his peers this year, Volleyball captain Marcus Vaiano was the recipient of the 'Outstanding University Games Team Leader' award.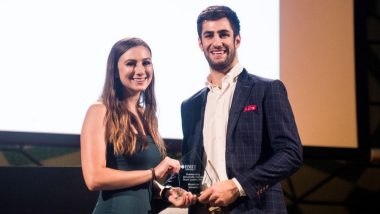 Marcus Vaiano pictured with the Outstanding University Games Team Leader award. Photo Credit: Tori Hyland.
'Ambassador of the Year' went to Emily Buckland who has been a phenomenal ambassador across multiple programs as an administrator, participant and competitor.
Rowing champion Liam Donald, RMIT's 'Male Athlete of the Year' celebrated some monumental achivements including winning Gold in the 'Men's Four' at the Under 23 World Championships in Plovdiv, Bulgaria, as well as setting a new record in the Semi Final.
Not to be outdone, Karen Paxman, RMIT's 'Female Athlete of the Year' was Runner Up at the AFLW Best & Fairest, as well as making the AFL Women's All Australian team.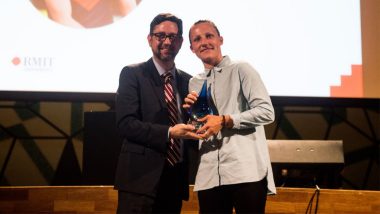 RMIT Elite Athlete & AFLW Champion Karen Paxman receives the Female Athlete of the Year award from Director of RMIT Connect & Student Life, Dene Cicci. Photo credit: Tori Hyland.