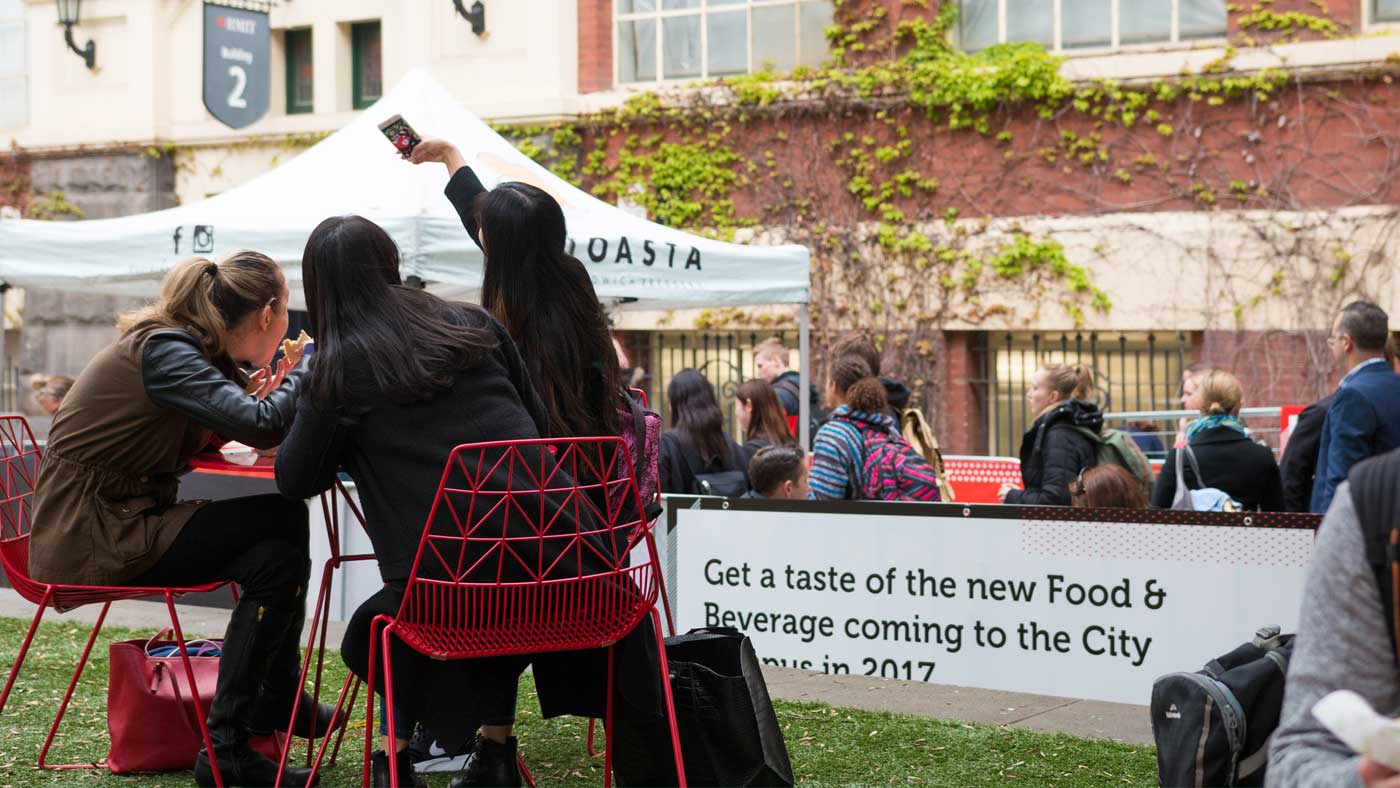 CelebrateRMIT event guide
If you don't already know, RMIT turns 130 this year - just as the New Academic Street (NAS) project comes to a long awaited close.
Thrilling milestones - but we've been left wondering, what do you get the Uni that has everything for its 130th birthday? Weirdly enough, there isn't that much etiquette info available about 130th birthday gifts. So we're throwing a massive party instead!
CelebrateRMIT is a huge event taking place Wednesday 20 September from midday to 2pm. There's going to be live music, food giveaways, performance art, a robot, a FERRIS WHEEL, multiple art exhibitions, a pop up skate alleyway, espresso martinis and more!
Read on for how to get the most out of the day (and refer to our CelebrateRMIT map for all the finer details).
CHOW DOWN ON FREE FOOD
Sweet
Little Bang will be giving away their beloved Butterbings, Cupcake Central will be serving free baked goods, Chill Bros will have their signature 'paletas' (frozen treats on a stick) and Let's Waffle & Shake will be both waffling and shaking.
Savoury
Stalls featuring the likes of Grill'd, Holy Guacamole, KIMU and Chippie will be spread across the event giving away heaps of tasty snacks.
Healthy
RMIT's health conscious community can rest assured that 20 September isn't all about Butterbings and booze. Between Boost, RUSU Realfoods, Good Brewing Co. & the Social Food Project, attendees can get stuck into juices, bliss balls and Kombucha! Refer to our CelebrateRMIT map for deets.

LIVE MUSIC
Bands on Bowen
There are going to be two stages set up on the day. The main stage featuring festival favs like RMIT Alumni Alice Ivy, and a submarine stage for dance tunes.
Yes, a literal submarine, implanted on Bowen st., where EDM DJ's will be "cutting absolutely sick on the decks" - Francis Ormond, the founding father of RMIT.
Line ups for Bowen St. stages below:
Main Stage

Kraken Sub Stage

11:30–11:45 Sky Thomas

11:45–12:15 Benny Walker

12:15–12:45 LINK Dance Spectacular

12:45–01:00 Student Parade

01:00–01:45 Alice Ivy

01:45–02:30 Ella Sweeney

11:30–12:00 DJ Georgia

01:00–01:30 Guest DJ

01:30–02:30 DJ Georgia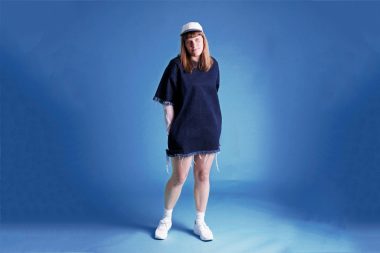 See Alice Ivy fresh off the Splendour circuit.
Jazz & DJs
A dedicated Jazz stage will be popping up in Building 8, and a whole gaggle of RMIT student DJs will be spread across different NAS entrances and balconies to give you cinematic background music as you move from spot to spot around campus. See the full line-up here.
DESIGN MARKET POP UP
Every day at RMIT we wake up and wonder - where can we fill our need for plastic wineglass earrings, emoji pins, a pillowcase with a sloth on it and handcrafted jewellery all at once?
For one golden moment in time this magical land of dreams will exist on campus, with the final RMIT Design Market pop up during CelebrateRMIT. Vendors will include Kontras Co, Dorkus Design, Bitsy, No Normal Girls, Orenda Magazine, Hayley Lauren Design, Hi Char and The Smiths. Catch them in the Building 10 laneway!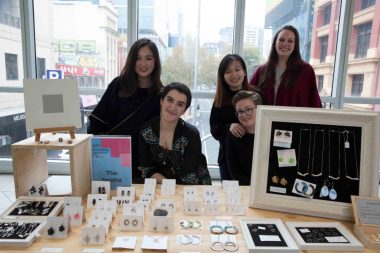 BEER BAO & BEATS
If the extensive cross campus lineup isn't enough for you/you're desperate to find the Zac Efron to your Vanessa Hudgens, then head to the Student Corner in Building 14, Level 4 for our pop up karaoke bar. Get in at midday to work up your courage with FREE beers and bao, before belting out an absolute banger with your buds *mic drop*.
DRANKS
Thirsty? We got you.
Hit up Bar Craft on Bowen for an open bar, Standing Room for espresso martinis, Boost for smoothies, Those Girls Iced Tea for - you guessed it - Iced Tea, the Activator coffee cart for fresh lattes and the Good Brewing Co. for Kombucha.
And *extreme mum voice* please make sure you drink lots of water/non-alcoholic drinks in between your spirited sips because water is the essence of life and hydration is key!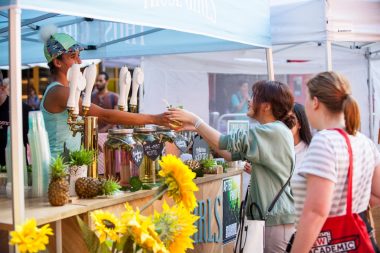 For a full list of what's happening on the day have a look at our
CelebrateRMIT
map.