The Rise of RMIT Esports and Games
RMIT's presence in the world of Esports has exploded in 2019, with over 6000 participants utilising the new spaces on campus since August. But that's just scratching the surface... We took a look at some of the accomplishments and impacts outlined below in this exciting space;

- Two dedicated spaces for Esports and Games on the city campus
- Huge growth in RMIT Esports and Games Club and community
- Inclusion in the RMIT Elite and Emerging Athlete Program
- Hosting of professional teams and live-streamers in RMIT facilities
- Dedicated 'Esports & Games' project manager appointed
RMIT Esports and Games Club president, Brendan (Far left), with members of CS:GO team at PAX
Photo: Hive Gaming Australia
On Sunday 12 October, RMIT Esports took home the Counter-Strike: Global Offensive (CS:GO) 'University Esports League' title at Australia's largest gaming convention, PAX Australia.
The UEL is a national esports tournament with 51 teams from 31 universities and TAFEs. The CS:GO grand final was held on stage, with live production and commentary at the Melbourne Convention Centre, which had over 70,000 attendees across its three days.
The team have also qualified to the AEL University Cup Finals at the upcoming Supanova convention in Brisbane. The games will be
streamed live here on Twitch
on November 10th.
It was a sign of the times in RMIT's growing presence and success in the space, fittingly against the university generally touted as the country's most active in the space, QUT.
The victory and novelty cheque that accompanied it was just another in a long list of 'wins' for RMIT in the world of Esports in 2019.
Redbacks team celebrate their University Esports League victory at PAX
Photo: Hive Gaming Australia

Dedicated people and strategy
Earlier this year saw appointment of Matt Joyce (a former professional player, now professional caster and event commentator) into the role of Project Manager – Esports & Games – and with that a strategy to build the profile and opportunities for the university and our students in the space, along with the Student Life and RMIT Sport team.

"It's been fantastic to help direct RMIT's push towards the forefront of esports in Australia," said Joyce.

"RMIT students are incredibly passionate about being involved with any opportunities related to esports, such as casual employment, student experiences, and high-performance coaching."

RMIT's Esports vision is to be an all-encompassing educational institution across four main objectives: Student Engagement & Inclusivity, Learning & Research, Work-Integrated Learning & Industry Partnerships, and High-Performance Facilities and Support.
"There have already been several instances of top-tier Australian organisations and influencers using our spaces and engaging with our students. (Including Sydney-based professional team Mindreak and professional Dota2 player QO streaming from our studio)
"In time, we hope to expand this pool of professionals to mentor and grow our students' capabilities in esports."
Professional dota2 player QO streaming from the RMIT Livestream Studio
Photo: Twitter.com/QOdota

Places and Spaces

Two dedicated professionally resourced spaces were launched this semester in prime locations on the city campus, the 'RMIT Community Games Space' (Building 12, level 4, room 108), open to all, but with dedicated training and usage time for the Esports Club, and 'Livestream Studio' (Building 8, level 4, room 35) with access provided for Esports team trainings, as well as hosting professional gamers and streamers.

Since August, these dedicated spaces have seen more than 6000 participants log-on and play.

RMIT Esports and Games Club

Increased opportunities and spaces for playing also saw a push towards growing the student-led club. With strong leadership and community already in place, hundreds more have since joined during semester two and found a welcoming Discord community.

RMIT Sport Officer Jack Arnold reported a near-300% increase in club members over the last year, to now rank second-largest among Student Life clubs at RMIT.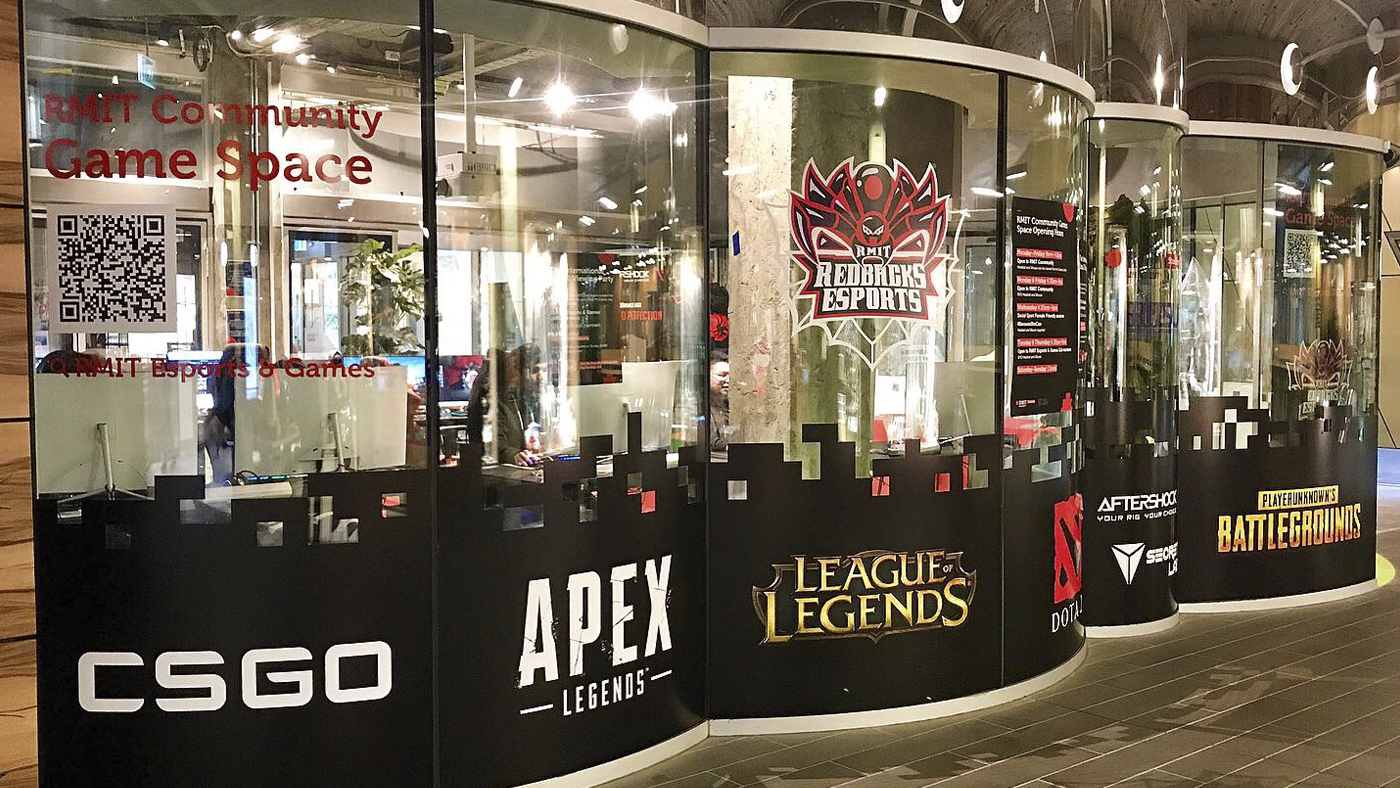 The exterior of RMIT's Community Games Space (opposite the Campus Store on city campus)
Photo: RMIT Sport
RMIT Esports and Games Club members in the RMIT Community Games Space
Photo: RMIT Student Life

RMIT Elite Athlete Program

Esports athletes were also recently added to the RMIT Elite Athlete Program, offering the most comprehensive criteria and opportunities for players of various games across the Australian university sector.

"It's an exciting area to be in, providing greater opportunities for more students to be part of this progressive space," said Miachelle Deverell, Coordinator of RMIT Elite Athlete Program.

"The range of console and PC multi-player games we include in REAP is far beyond what is offered in other university elite athlete programs."

Could you or someone you know qualify as an elite or emerging Esports athlete? Find out more here.
RMIT Redbacks team in action at PAX
Photo: Hive Gaming Australia