RMIT Esports claim UniSport National Championship
The Championships were held in conjunction with the Australian Esports League (AEL) and RMIT teams competed across three titles: Rocket League, FIFA and Super Smash Bros Ultimate.

The victory comes on the back of exploding popularity and interest in Esports across the university, with the student-run RMIT Esports and Games Club recently taking the title, for the first time, of the largest Student Life club, totalling 400 members.

Read a full competition wrap from UniSport Australia here.
Image courtesy UniSport Australia.
Matthew 'Sesto600' Sesto is a member of the RMIT Elite Athlete Program, and competed for the Redbacks in the championships.

"My experience with UAEC was one that I plan to use in the future, as it was my first FIFA tournament. A massive thanks to the club and my teammates for their support.

"Disappointed not to get the win (in FIFA) but the lads and I will be back here in 2021 to claim the title!"

RMIT Esports and Games Club President, and Nationals Team Manager Brendan Lu has led the charge in building a true community around the sport at RMIT – one that is not only inclusive of all, including beginners, but one that can compete and have success at the highest levels of competition.

"Since the formation of the club, we've been building momentum as one of the strongest university esports clubs around Australia," said Lu.

"This is coupled with our strong community totalling close to 2000 Discord members (with 400 official club members in 2020), our weekly events that are open to anyone and everyone, as well as our club volunteers who support us in the background."

Esports is truly on the rise at RMIT, well done to all team members and to congratulations to Griffith University and Monash University for rounding out the top three.

Find out more about Esports at RMIT here.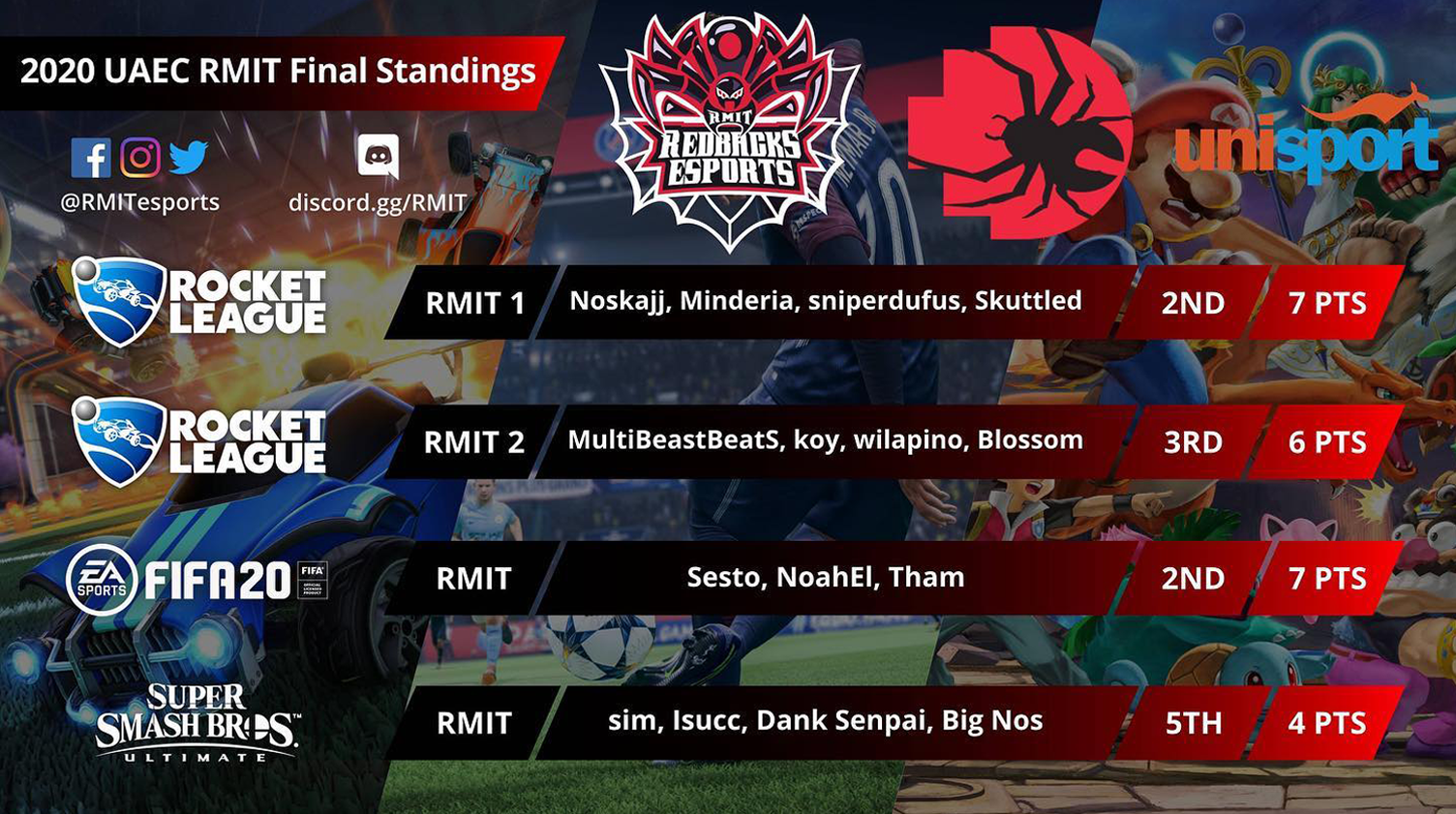 Image courtesy UniSport Australia.