2019 Business and Law Medal Recipient
Sam Quirke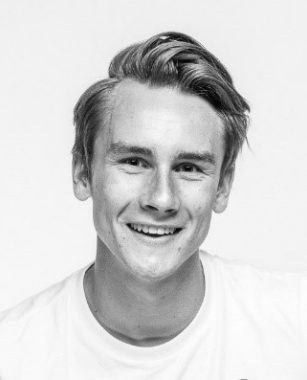 Business and Law Medal recipient Sam Quirke
Completing the Bachelor of Business (International Business), Sam leaves RMIT with a full spectrum of academic, community and sporting achievements. In 2018, Sam received the George Alexander Foundation Scholarship in recognition for his commitment and leadership at RMIT.
Sam has been involved in multiple initiatives during his time at RMIT. After completing his Co-op year in Germany and France, he volunteered his time as a public speaker to advocate for RMIT's global and industry opportunities. In 2017, Sam created the first 'How 2 Uni', a consolidation of academic and support tips for new students, which has since been adopted as a university-wide service. Sam also played an integral role in pitching and leading the development of tailored workshops guiding International Business students through potential career pathways.
With a passion for student community life and club engagement, Sam was both the president of the RMIT Touch Football Club and the RMIT Management and International Business Students Association (MIBSA). Sam represented RMIT at the UniSport Nationals Competition in Gold Coast and was Team Manager for the Touch Football contingent.
In five years, Sam hopes to work with emerging technologies to make a tangible impact on the climate crisis.
The 2019 College Business and Law Medal nominees:
Megan Hong
Xiaoyi Duan
Lee Zhao Xuan Kylynn
Phan Quoc Thinh
Sophie Burzacott
Anish Saha
Hao Guo
Shanil Rathore
Karina Bianca Andjani
Sam Quirke

Ngan Ha Ngo
Eryn Behan
Brent Donald Rooke
Nina Greig-Towers
Gabrielle Lauryn McMahon
Marina Witedja
Past College Business and Law Medal recipients
2018 Business and Law Medal Recipient
Uyen La
During her three years studying the Bachelor of Business (Economics and Finance), Uyen La led and organised over twenty projects both within RMIT University and the wider community.
A strong voice for Vietnamese youth and a passionate activist, Uyen went on to become the first RMIT Vietnam student to take home the prestigious Business and Law Medal (previously known as the Business Medal).
The list of Uyen's accomplishments are vast and include being a Regional Finalist for the Hult Prize – the largest international start-up competition supported by President Bill Clinton. Uyen also obtained a prestigious Fellowship for the Sponsors for Educational Opportunity in Vietnam – part of a globally-renowned network and assisted in the publication of prominent articles. Within the RMIT community Uyen founded the RMIT Vietnam Student Consulting Club Initiative, and led as the President, developing it to become the best new club in 2016. Uyen also created a publication in collaboration with the RMIT Vietnam Research Office, whilst acting as a Student Representative for RMIT Vietnam School of Business and Management.
Exemplary of the calibre of talent RMIT University fosters, Uyen is dedicated to making a difference, founding the first online tutoring program for rural high school students in Vietnam.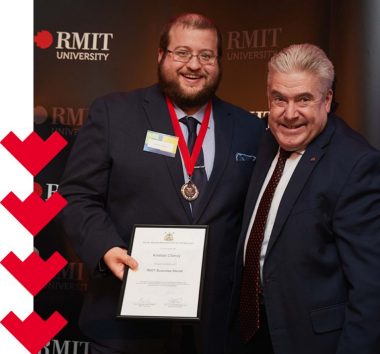 2017 Business and Law Medal Recipient
Kristian Clancy
After working as a primary school teacher for many years, in 2017 Kristian decided to change direction and pursue his passion for marketing and communications, enrolling in a Diploma of Marketing and Communications at RMIT.
With aspirations to one day start his own creative strategy marketing business, Kristian is continuing his studies at RMIT, completing an Advanced Diploma of Marketing and Communications this year to broaden his skills and expertise in this area. Excitingly, later this year, Kristian's studies are taking him to Vietnam for a client pitch as part of the Global WIL program.
Kristian says his biggest accomplishment has been seeing his hard work pay off, not only through his academic achievements, but through the valuable friendships he has formed during his time at RMIT. Kristian has volunteered with the RMIT Student Union and is a representative on the Student Staff Consultative Committee. He's also contributed to the community through volunteering his time to assist organisations such as Vision Australia and the Dandenong Heritage Society.
2016 Business and Law Medal Recipient
Mathew Mirabella
Mathew Mirabella came to the Juris Doctor from a technology career in Telstra with no experience in the law. Having now moved into the legal industry, he can say with certainty "that the RMIT Juris Doctor is a program that meets industry needs. The program certainly met my appetite for learning and gave me a great platform from which to commence a legal career".
Mat has worked as a seasonal clerk at a Melbourne law firm, a paralegal at ANZ bank and a Senior Associate to the Chief Justice of the Supreme Court. He noted that in all these roles he would refer to his comprehensive Juris Doctor notes to assist with the variety of legal research tasks he encountered. Mat will now be commencing a role with the Australian Competition and Consumer Commission later this year.
Perhaps his greatest preparation for real work was the opportunity to engage in practical learning and student placement. These opportunities broadened his knowledge and prepared him for real issues in the legal world.
2018 College Business and Law Medal nominees
Stephanie Badura
Uyen La
Michael (Qi Jun) Zhou
Lina Rasoli
Joshua Shaw
Maryam Masroor
Caroline Beatty
Alexander Zueck
2017 College Business and Law Medal nominees
Jennifer Pham
Kevin Ha
Kristian Clancy
Lachlan Geritz
Nadia Lennon
Sam Evans
Tammy Blyth
Timothy Joseph
Zachary Henderson