Our students, their stories
Anna Louise Debortoli
Recipient of the 2018 Deloitte Prize for Academic Excellence
Awarded to the most outstanding graduate of the Bachelor of Business (Entrepreneurship)
Georgina Butterworth and Luke Mitchell
Co-recipients of the 2018 Robert Masters and Associates Prize
Awarded to the most outstanding graduates of the Advanced Diploma of Business (Public Relations)
Recipient of the 2018 Robert Weller and Associates Prize
Rebecca Chiera
Looking to pursue a career in strategy and consulting within the international context, Rebecca firmly believes the Robert Weller and Associates Prize gives her a tangible link to industry networks that will open doors for her.
A huge drawcard for Rebecca when choosing to study business at RMIT was the opportunity to gain industry-based learning within her chosen discipline.
Throughout my time at RMIT I learnt the importance of being curious, agile and constantly questioning things. I left RMIT equipped with a tailored set of hard and soft skills that best propels me to be successful in a dynamic and rapidly changing workforce and broader global environment.
Since graduating from RMIT in 2018, Rebecca has been accepted into the graduate program at Australia Post.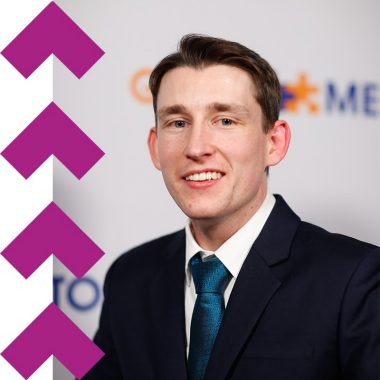 Recipient of the 2018 HLB Mann Judd Prize
Hayden Gray
After completing a double degree in Financial Planning and Accountancy, Hayden continued his academic success in the professional world. Diving straight into a working environment as an adviser assistant at a financial planning firm after graduating, Hayden has enjoyed applying his technical knowledge and analytical skills in the professional services industry.
Dedicated to following his interests, Hayden believes in "aiming for what you want in life, not letting anything get in your way and making sure everything has a positive impact on society."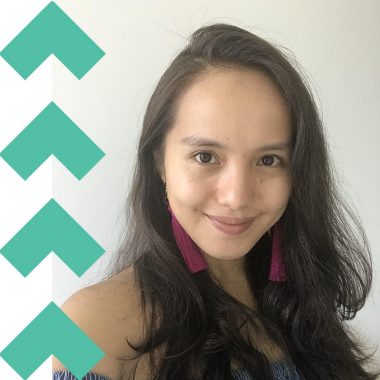 Recipient of the 2018 Dr Stewart Cameron Joy Prize
Shaira Azcuna
Shaira moved to Australia to pursue her passion in learning logistics after working in retail in Dubai for three years. Selecting the Master of Supply Chain and Logistics Management at RMIT, Shaira was Interested in developing leadership skills in a real-life Australian work setting.
"I am a firm believer of hard work and perseverance, be it at school or in the work place, and I believe this is best complimented with a passion for excellence. I strive to deliver nothing but the best in everything that I do. I see winning this award as inspiration that an extra dose of labour and commitment will bring fruit in the end."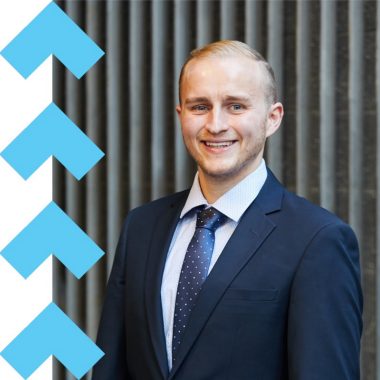 Recipient of the 2018 Refinitiv Prize
Alexander Zueck
Graduating with a Bachelor of Economics and Finance, Alexander holds not one but two academic achievements at RMIT. As a College Business Medal Nominee and with an impressive Refinitiv prize under his belt, Alexander demonstrated outstanding success in academia and community leadership. Taking this tradition beyond RMIT, today Alexander challenges himself to engage in extracurricular projects that create value and meaning for his own community.
Looking to explore the international public sector, Alexander credits Refinitiv for his ability to analyse the international market from an economic perspective. "The RMIT Refinitiv Behavioural Business Lab allowed me to trade FX and develop my skills in a simulated OTC market, interchangeable with a real-life dynamic market.
Rhiannon Brooks
Recipient of the 2017 Thomson Reuters Prize
Awarded to the most outstanding graduate of the Bachelor of Business (Economics and Finance) or Bachelor of Business (Economics and Finance) (Applied).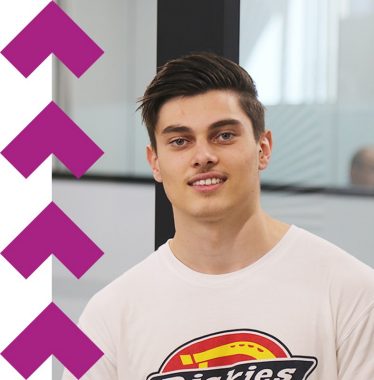 Recipient of the 2017 HLB Mann Judd Prize
Anthony Patamisi
RMIT's double degree is the only one in Australia that combines financial planning and accounting to develop graduate abilities to provide business, finance and wealth advice to individuals and organisations. Aspiring to work for a Financial Planning firm once he graduates in 2019, Anthony is looking forward to a career where he can help people manage their personal finances and achieve their long and short-term goals. "My goal is to become a top-performing employee for a well-established organisation, gain as much professional experience as possible, keep learning, enhance my skills and keep growing as a person".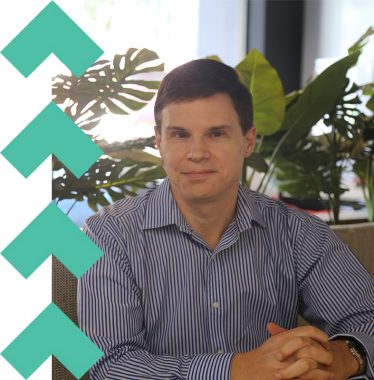 Recipient of the 2017 Master of Business Information Technology Prize
Scott Turton
Since graduating from RMIT in 2017, Scott has been exploring international work opportunities within the oil and gas industry. Currently undertaking further study in database management, Scott spends his spare time travelling and investing in the stock market.
"Completing the Master of Business Information Technology has demonstrated that you are never too old to learn new skills. We should all embrace the mantra of lifelong learning, work hard and never underestimate our potential to achieve our goals and dreams".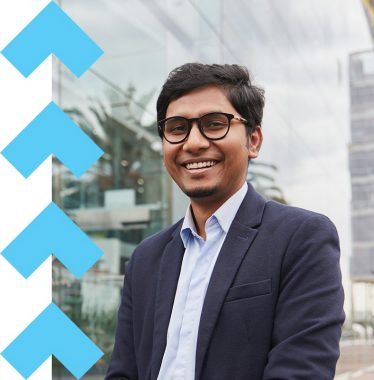 Recipient of the 2017 Refinitiv Prize
Fardin Humayun
Fardin completed a Master of Finance in 2016 and found his time at RMIT extremely beneficial in helping him find his feet in Australia. During his time at RMIT, Fardin values the recources that were made available to him to help him succeed at job interviews and balance the pressures of work and study. Passionate about learning new skills, Fardin is teaching himself how to program. "The business world is becoming obsessed with automation, so I feel this is one skill everyone should have". Fardin is working as a Credit Assessor for the broker division of National Australia Bank.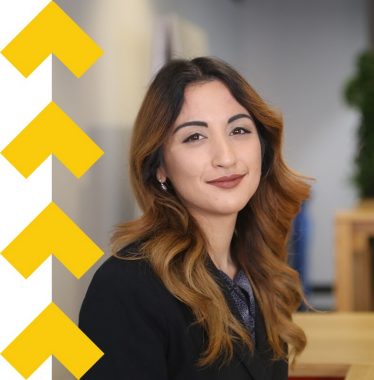 Recipient of the 2017 Michael Page Prize
Andrea Christie
Passionate about human rights, Andrea is currently pursuing a PhD in Blockchain Economics at RMIT, investigating the impact on charities as an institutional mechanism for coordinating economic activity. Graduating from the Master of International Business in 2017, Andrea credits the program with teaching her how to tackle real-world business problems using a unique fusion of cross-disciplinary and multi-cultural perspectives. As such, she advises
everyone to be brave and embrace new ideas, both in their professional and personal lives. Only then can we achieve true innovation".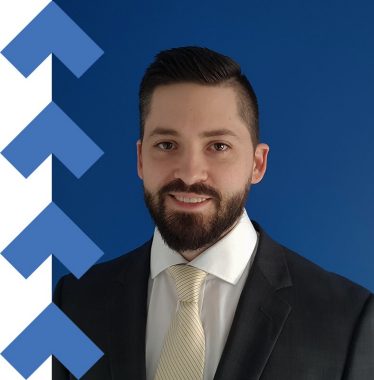 Recipient of the 2017 Graduate School of Business and Law Award (MBA)
Timothy Hutson
After graduating with an MBA in 2017, Timothy is currently employed by the Commonwealth Public Service. With a passion for reading and keeping up to date with global current affairs, in the future Timothy aspires to work with Australian regional partners in capacity building and strategic development in the areas of national security and economic growth.
Timothy is honoured to receive the prize for most outstanding graduate of the MBA and has learnt from his studies and career "that managing up is just as important as managing down, but not as important as managing yourself."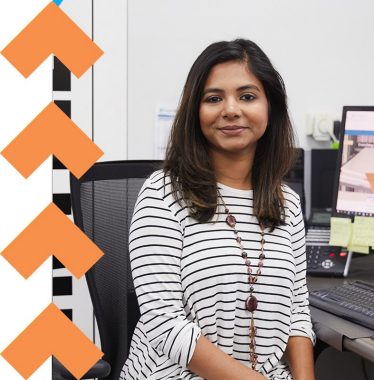 Customer Service & Operations Administrator, Formfile Records Management
Sara Shafi
After moving to Australia in 2015, Sara was finding it difficult to find a job due to a lack of local experience. With a background in Business Studies and Business Administration, Sara enrolled in the Diploma of Business Administration at RMIT. The program attracted Sara as it provided a qualification as well as Work Integrated Learning opportunities to gain valuable work experience. The Formfile Virtual Office provided Sara with a simulated, practical learning experience on campus, which led Sara to securing a 10 day practical placement with Formfile. As industry leaders in Records Management Solutions, Formfile provided Sara with hands-on experience in the administration field. The most satisfying moment for Sara was securing a full-time position at Formfile. Due to the support of her manager, Sara has continued to grow and has been promoted and given the autonomy to make a significant impact to the business. Where does Sara see herself in the next 5 years at Formfile? "Running the show of course!"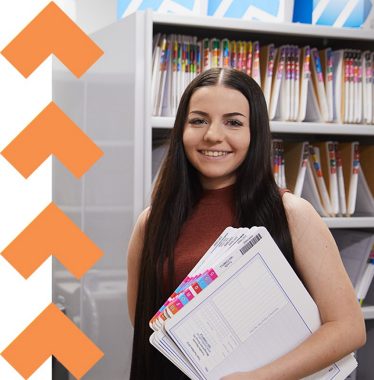 Casual Data Entry & Cataloguing Clerk, Formfile Records Management
Kelly Welsh
Kelly commenced working at Formfile after completing a Diploma of Business Administration. The role has exposed her to clients in the legal, accounting, medical, and aged care sectors and provded valuable administrative experience. The practical approach to learning has given Kelly insight into the real world of work and the opportunity to apply the skills and knowledge she acquired from her studies.
Continuing her studies at RMIT in the Bachelor of Business, majoring in Human Resource Management, Kelly hopes to have a successful career in Human Resouce Management. Her motto is to "aim high, and always perform your best. First impressions are so important, so make it known that you're here to succeed."