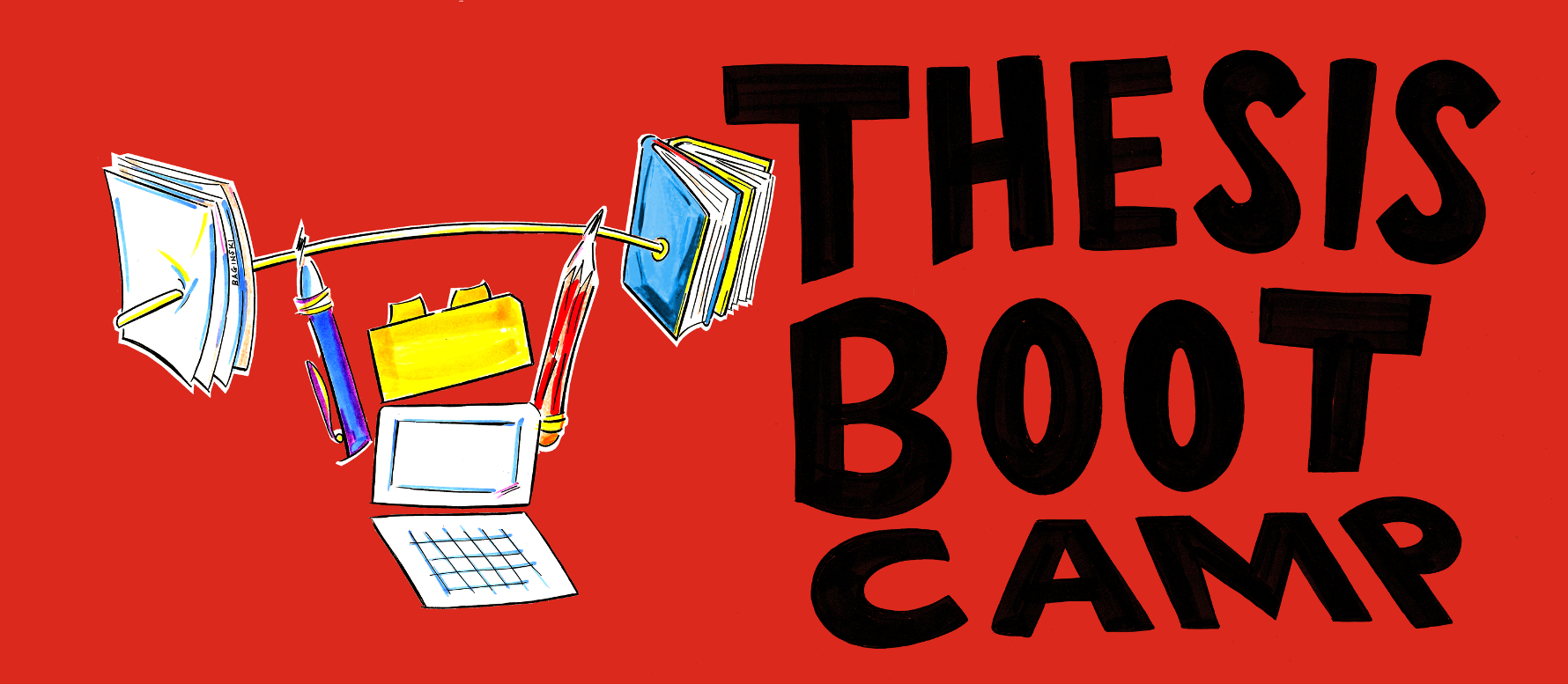 Thesis Boot Camp
Research candidates
The RMIT Thesis Boot Camp will be back in 2020. Stay tuned!
Thesis Boot Camp is a three-day intensive writing workshop for middle-to-final stage higher degree by research (HDR) candidates with a substantial research writing task ahead of them.
The Thesis Boot Camp workshop is about getting words "on paper" and is designed to help research candidates overcome hurdles in the final phase of their degree or to kick-start their writing progress if it has stalled.
Together, participants wrote over a quarter of a million words in the 2018 RMIT Thesis Boot Camp.
The workshop is based on the internationally recognised award-winning model created by Dr Peta Freestone and Dr Liam Connell. The aim of the workshop is to draft a substantial amount of written material for the thesis in a short amount of time. Participants are encouraged to set their own targets for the weekend writing workshop. The emphasis is on drafting new material for the thesis as opposed to editing, revising, or re-hashing existing content or preparing content for other purposes (presentations, conference papers etc.).
Our team of experienced facilitators are on hand to help Thesis Boot Camp recruits battle through writer's block, defeat thesis fatigue and defy analysis paralysis in achieving substantial progress on their manuscript. Sessions include motivational strategies, structured goal setting and 'insider tips' from experts on writing quickly and well.
Join HDR candidates from across RMIT for a challenging and rewarding weekend of intensive research writing. Catering is provided to ensure a supportive, productive and distraction-free environment.
Places are strictly limited. Participants are required to complete pre-program activities, meet eligibility criteria and commit to full participation for the entire weekend.
Participation in Thesis Boot Camp is supported by the RMIT School of Graduate Research (SGR). Applications are open to all RMIT HDR candidates who:
have not attended an RMIT Thesis Boot Camp before;
have successfully completed one or more of their candidature milestones (including Confirmation of Candidature);
have made substantial progress in (or have completed) evidence gathering for their project;
can identify clear goals for their participation in Thesis Boot Camp;
are able to commit to full participation in the workshop program for the entire weekend and to the ethos of dedicated writing required at Thesis Boot Camp; and can provide details of an academic referee to support their application (e.g. a supervisor, HDR Coordinator or other academic referee from RMIT).
The workshop is limited to 30 participants and we expect to receive more applications than there are places available. We cannot guarantee participation in the workshop for all eligible applicants.
Priority will be given to applicants for whom participation will yield the greatest contribution toward successful completion of their degree.
The opportunity to take part in RMIT's Thesis Boot Camp is greatly valued by participants. If you are confirmed for the event and need to cancel please do so as soon as possible so that we may open the opportunity to other candidates.
Cancellation within 5 business days of the event require evidence of extenuating circumstances (e.g. medical certificate, etc.) to ensure eligibility for any future SGR Thesis Boot Camps.
The RMIT Thesis Boot Camp will be back in 2020. Stay tuned!
Please contact research.ed@rmit.edu.au for further information.