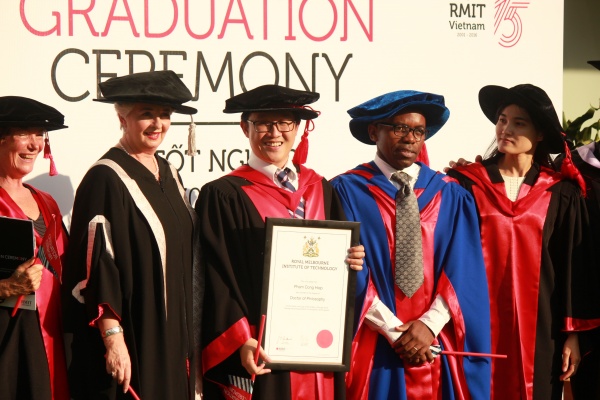 Why do a PhD or Masters by research?
Nine reasons to study for a Higher Degree by Research.
1. Write your own future
It's your project; you decide what to research, so you can follow your passion or interest and make your contribution to knowledge in your area.
2. Great value
It costs less than you'd think to do a research degree and if you're from Australia, New Zealand, or are an Australian Permanent Resident, you won't have to pay fees.
And you may be eligible for a scholarship - we'll pay you to do your project!
3. Flexibility
You decide when and how you study; you manage your project with expert supervision and specialised support every step of the way.
4. Make a difference

Completing a research degree is all about creating or discovering fresh knowledge, developing new ideas or ways of doing things, challenging convention and making a real impact.
Graduate researchers are an essential part of the knowledge economy and your discovery, invention or theory could change people's lives.
5. Work with industry partners
At RMIT you're encouraged to take short-term internships or research projects developed with industry partners.
Working with industry can create lasting relationships and collaborations that sustain you throughout your career.
6. Wider career options
Research degrees also pave your way into a range of industries centred on research and innovation. It's a great way to make yourself globally employable, as your research qualification is recognised and sought after worldwide.
7. Transferable skills

The very nature of research degrees prepares candidates to be team players and problem solvers, with great presentation and communication skills, an analytical mind and perseverance.
8. You're special!
In becoming a graduate research student, you're joining an elite group - it's estimated that in the UK and US only about 1% of the population hold a PhD. Completing a research degree proves your patience, perseverance and strength of character, as well as demonstrating your expertise in a given field.
9. Making the most of the 'down time'

While coronavirus is set to disrupt the way we live and work for some time to come, this could be your best chance to spend extended time on a meaningful research project that will also make you more employable when the down time is all over.
Research programs at RMIT
Check out your research options at RMIT and see how your passion can have a global impact.
A year in the life of a higher degree researcher
Watch this short documentary to discover what a year in the life of a PhD candidate is like!
In Joe La Delfa's second year of his PhD research he explored the use of drones for Tai Chi meditation by developing an interactive, human-drone experience called DroneChi, blurring the lines between healthcare and technology!
Check out the full length video about Joe's drones research on RMIT's YouTube channel.