Cancel your program enrolment for students in partner institutions
Before you cancel
You may cancel from your program at any time during the teaching period, but you may be liable for financial and/or academic penalties if your cancellation is submitted after the relevant census date or academic penalty date.
Check the Important dates page to find out your census date and academic penalty date or speak to your local partner contact for more information.
You may also want to consider taking a leave of absence rather than withdrawing completely.
If you're studying at Singapore Institute of Management, submit your cancellation through SIMConnect. For other partners, you can withdraw from your program completely by logging into Enrolment Online and completing the following steps:
Cancelling your program enrolment
1. From the welcome page, click on My Student Record.
2. Under the Enrolment details, click Cancel program.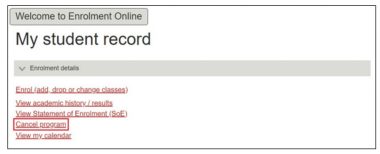 3. Read the instructions provided on the next page and click Continue.
4. Complete the details of your cancellation, read and agree to the declaration and click Submit.
Once you've submitted your cancellation, all your active enrolments will be dropped from your record and your program will be discontinued. You'll receive an email confirming you've cancelled your program successfully.

You will lose access to all RMIT systems immediately after you cancel your program, unless you are enrolled in another program.