UniSport Nationals
Become a Redback and represent RMIT at Australia's premier university sports events
Dates for 2022 UniSport Nationals competitions will be released soon, in the meantime you can email sport@rmit.edu.au if you have any questions about representative sport at RMIT!
Join the Redbacks team at upcoming Nationals!
Despite a number of events being cancelled in 2020 due to Covid-19, we're full steam ahead and excited for the upcoming UniSport Australia Nationals events in 2021!

Compete against students from all across Australia and enjoy representing the RMIT Redbacks at one of the various national University sporting events. Building on a hugely successful 2019, the Redbacks will be lining up at the following events in 2021.
26 September - 2 October, 2021 Gold Coast QLD
Sports Offered
AFL
Badminton
Baseball
Basketball
Beach Volleyball
Cheer and Dance

Cycling
Football
Futsal
Golf
Hockey
Lacrosse
Lawn Bowls
Netball
Rowing
Sailing
Softball
Tennis
Tenpin
Touch Football
Ultimate Frisbee
Volleyball
29 August - 3 September, 2021 Thredbo NSW
Sports Offered
Freestyle: Moguls, Skier Cross, Slopestyle, Rails
Alpine: Slalom, Giant Slalom, Super G
Snowboard: Giant Slalom, Super G, Boarder Cross, Slopestyle, Rails
Cross Country: Individual, Team
Various dates and locations
Sports Offered
3x3 Basketball
Athletics
Cross Country
Distance Running
Indigenous Nationals
League of Legends
Swimming
Surfing
T20 Cricket
Triathlon
Funding for High Performance Athletes
'High Performance Athlete' funding is available for students who have excelled in their sport or are classified as elite athletes.
50% and 100% sponsorships are available to successful candidates representing RMIT at the 2021 Nationals Div 1 and Nationals Snow.
Email sport@rmit.edu.au to find out more.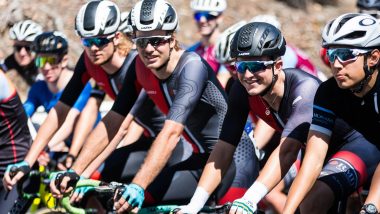 Now recruiting: Off the field!
Other ways you can support and lead
The Redbacks don't just need players, they need support and leadership off the field too - and your skills could be the key to Redbacks success.
Don't sweat it - you don't have to play a sport to get involved!
Check out some of the other ways you can help your team compete, without kicking, catching, running or jumping.
In 2019 the Redbacks were once again named the John White Spirit Trophy winners of the entire Division 1 Nationals competition, the second-straight year.
The only overall award given at Division 1 it's awarded to the university whose team has displayed exemplary behaviour, excellent team spirit and fair competition.
RMIT Nationals Team Manager Eliza Goulding said she was delighted to once again win the Spirit Award.
"It has come as a real surprise to us because we didn't think it would be possible two years in a row. It's something we have really been working on," she said.
"We are lucky that we have a good group of students that just get it, they come for the right reasons, they come to play sport, but they also come to have a really fun time, make lots of friends and make the most of the experience."
Tyson Lingham, one of our Redbacks team captains and mixed-netball athletes, said he was thrilled.
"We have put in so much hard work for this," he said.
"We have focused on building the team values and morals so when students start in their first year it can just keep getting passed on and on and on.
"It's amazing to see other universities noticing how much we care about it because developing a great team culture is really important to us."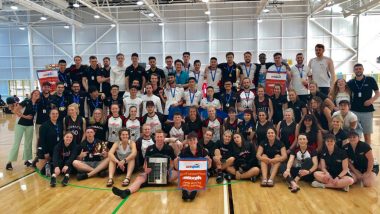 RMIT take home back-to-back UniSport Nationals Spirit Award in 2018 and 2019