Everybody benefits when regular exercise becomes a part of everyday life.

At RMIT Sports Centre we make it easy for you to take that important first step to an active, healthier you. Simply send us an email with your details and we'll send an email with your Free 10 Day Guest Pass within 48 hours.

Enjoy working out in the health club or why not try an energising BodyPump, Yoga or Pilate's class. There's something for everybody.

Conditions Apply: Please note you must be 18 years of age or older and be a first-time user of the facility. Only one pass per person per calendar year.
Please email RMIT Sports Centre at admin.rmitsportscentre@rmit.edu.au with the following details to organise your free pass: First name, Surname, Address, Email address.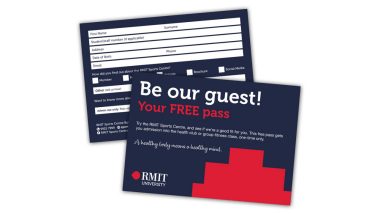 Phone: 9925 7999

Email:
Enquire about a health club membership: sportscentre@rmit.edu.au
Book a room or court: programs@rmit.edu.au
Location:
RMIT University, Building 203, McKimmies Road, Bundoora.
Opening hours:
Monday to Friday: 6.30am – 10pm
Saturday and Sunday: 8am – 6pm
Find us on Facebook: RMIT Sports Centre

RMIT Sports Centre
Building 203, McKimmies Rd, Bundoora VIC 3083