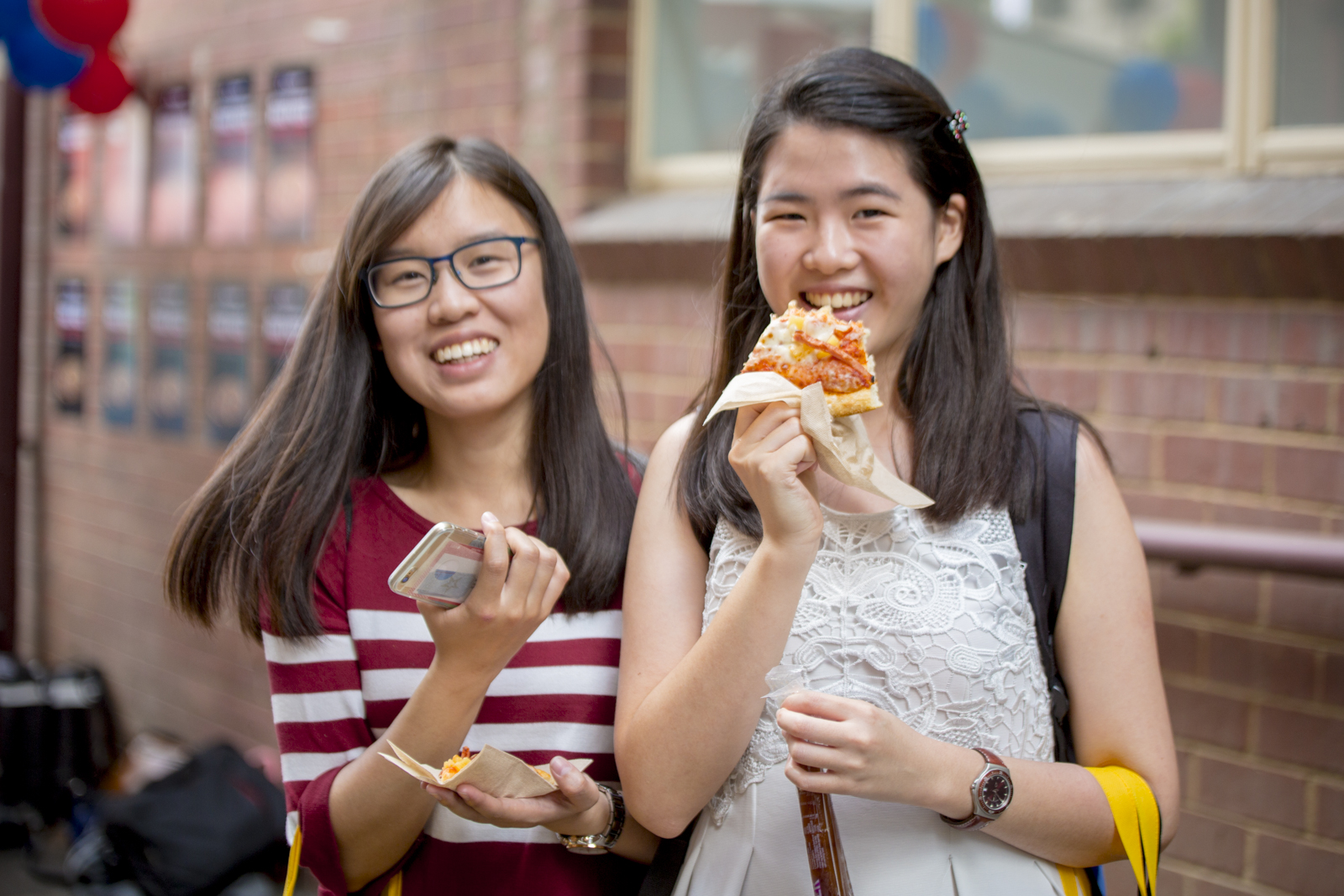 Food and drink at Melbourne City campus
The City campus is in easy walking distance to a large number of cafes and restaurants and major food courts in QV, Melbourne Central, Emporium and the Queen Victoria Market.
On-campus you'll find microwaves, free drinking water stations and the following food outlets: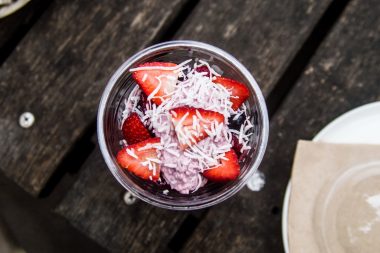 Looking for some of the best Melbourne coffee, or a light snack to get you through the day? Below are a list of cafes on offer at RMIT, catering for all levels of hunger:
*denotes outlets with Halal options available
| Name | Description | Location |
| --- | --- | --- |
| Boost Juice | Mad about juice? On a cleanse? RMIT has got you covered! Boost Juice is now trading below Building 10, on Swanston Street. | Building 10, Level 2 |
| The Bean Project | Yet another high-quality coffee stop available around the City Campus. Be assured that should you find yourself in Building 80, you'll be well looked after! Serving coffees, sweets, wraps, sandwiches, salads, and cold drinks available. | Building 80 (SAB): A café on Level 7 (at the portal) and Level 2 (at the main entrance) |
| Café @ 57 | Conveniently located in the Building 57 common space. With everything from pies and sandwiches, to Chiko Rolls and ice-creams, this is your one-stop tuckshop to satisfy everyone's tastes. | Building 57, Level 4 |
| Chippie* | A pie and chip outlet that's sure to satisfy your cravings. The loaded fries are a must-try! | Building 12, Level 4 |
| Coffee on Cardigan | Café serving wraps, focaccias, bureks, selection of teas and coffee. Outdoor seating available. | Building 94, 23-27 Cardigan St |
| Coffee Nomad | Serving coffee, music, good vibes and quick bites, all from a Jeep. | Near entrance to Building 28. |
| The Drum* | Need a snack between lectures, but don't want to go downstairs? Make sure you stop off at The Drum for all your keep-yourself-going needs. | Building 10, Level 7 |
| Level 7 Café | Takeaway counter serving coffees and fresh bites such as wraps, salads, sandwiches, sweet and savory treats. | Building 80 (SAB), Level 7 |
| Little Croque* | A great little pick-me-up that will warm your heart too! Serving coffee and toasted sandwiches. | Building 10, Level 4 |
| Pearson & Murphy's | One of the oldest cafés at RMIT, and one of the best. From coffee, to light snacks, all the way to full meals (with sides!), Person and Murphy's has the most wide-ranging, tasty variety at RMIT. Enjoy sit down tables or food to go! | Building 1, Level 1 (across from University Lawn) |
| Little Bang Espresso | With its stunning, handcrafted carts and devilishly charming baristas, Little Bang Espresso offers a boutique and intimate mobile coffee experience which is perfect for any occasion. | Building 12 (NAS), Level 2 |
| RUSU Real Foods* | Café run by RMIT Student Union volunteers, serving fair trade, organic, vegetarian, vegan, gluten-free and raw options for snacks, meals and drinks. | Building 8, Level 4 |
| Side Order* | Serving everything great about our Yankee neighbours! Foods include burgers and sauces, hot dogs and shakes, and a whole lot of other tasty options! | Building 14, Level 4 |
| Standing Room Coffee | Fast becoming an institution on City Campus, and one of the jewels of the extensive café options at RMIT. Coffee and treats in the most Melburnian style. | Building 12, Level 4 |
| STREAT | STREAT is a not-for-profit social enterprise tackling the problem of youth disadvantage and homelessness by using a network of cafes, roasteries and bakeries to provide training and employment for people under 25. Oh, and the coffee's pretty good too! | Bowen St (Outside the NAS Building) |
| The Vine | Serving healthy breakfast options, burgers, juices, coffee and organic teas. | Building 80 (SAB), Level 2 |
Hungry? Of course you are! Below are a list of restaurants, catering to a large number of different cuisines and cultures. They all have one thing in common though: they're all absolutely delicious!
*denotes outlets with Halal options available
| Name | Description | Location |
| --- | --- | --- |
| Canto* | Italy: a country famous for its beautiful food. Experience this at Canto, RMIT's very own Italian cusiune outlet! Serving all the classics, with some interesting takes on modern Italian, Canto is a delight for Italian-lovers. | Building 14, Level 4 |
| Holy Guacamole | Holy Guacamole dares you to think of a cuisine packed with more colours or more lime! They've got all the fresh herbs and spices with tender marinated meats. Selling tacos, nachos, burritos, quesadillas, and fajitas. | Building 12, Level 4 |
| Kaki Lima | A cracking Indonesian restaurant situated in the wonderful and diverse Building 80, sample their beautiful white meats, or try the "Crazy Rice". We'll leave that one up to you! | Building 80 (Stewart St) |
| Open Standard* | There's no more classic lunch than a sandwich, and Open Standard have some great ideas, ready to go between two bits of bread, or wrapped in one! | Building 12, Level 4 |
| Suzy Lee* | Fancy a taste of Asia. Look no further than Suzy Lee. All your favourites from across the continent, like dumplings, Banh Mi, and Bubble Tea. | Building 14, Level 4 |
| Tam Tam | Vietnamese restaurant located on the corner of Lygon and Victoria Streets. Their new 'Student Menu' is a must-try. With classic Vietnamese Vermicelli noodle salads and pork belly, this is RMIT's go-to for Asian food. | Building 40, Level 1 (Corner of Victoria and Lygon Streets) |
Other Food & Beverage Outlets Available
| Name | Location |
| --- | --- |
| Realfood Vending | Various Locations |
| Coca-Cola Vending | Various Locations |
| Altavend Vending | Various Locations |
| Commonwealth Bank ATMs | Various Locations |