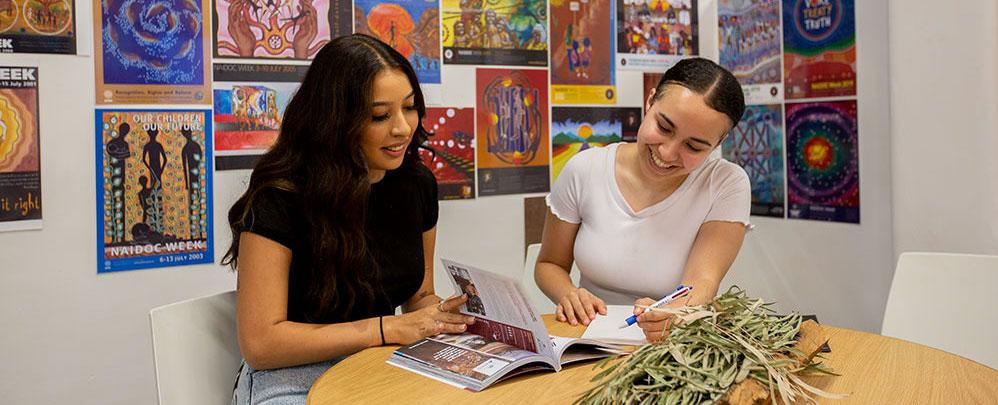 What is the Ngarara Willim Tutoring Program?
The Ngarara Willim Tutoring Program is a specialised tutorial program funded by the Australian Government to improve the education of Aboriginal and Torres Strait Islander students.

Students can apply for:
two hours per week per course/subject during semester (a minimum of three hours of tutoring per fortnight is required)
an additional five hours of tutoring for exam preparation
Tutoring sessions are free, tailored to your needs and can be individual or in a group of students studying the same program.

Who should apply
All Aboriginal and Torres Strait Islander RMIT students can apply for tutoring, whether you are doing well in your program and just want to keep ahead, or you are looking to improve your grades. New students are particularly encouraged to apply.
Full eligibility requirements
To be eligible for this program, you must be:
an Aboriginal or Torres Strait Islander student enrolled in a study program with RMIT University. Please note, you must be able to confirm your Indigenous eligibility
seeking tuition for courses (subjects) in your study program or seeking skills needed to complete your study program
able to demonstrate the likely benefits of the tutoring
have no other forms of assistance available to you

How to apply
To apply for tutoring, complete and submit the Student Application form.
Please read the application carefully and ensure you include ALL the required information.
Once you have submitted your application, you will be contacted by the Indigenous Student Engagement Coordinator and may need to attend an appointment to discuss your tutoring application and requirements.
Applications take up to two weeks to process.
Students must submit a new application every semester to access tutoring for new courses.
For more information about being tutored, please email ngararawillim.tutoring@rmit.edu.au.

Other study support
A range of free study support services are available to all RMIT students. Higher degree by research (HDR) students can access additional study and training support.
Become a tutor
Who can become a Ngarara Willim tutor?
Tutors must be:
qualified in a relevant discipline, trade or profession. For more information, please refer to the Selection Criteria and Position Description (PDF, 2p)
OR a student with a sound record of academic progress in the courses they propose to tutor and meets additional requirements
AND be eligible to work in Australia
AND have a current Working with Children Check (or equivalent).
Tutors cannot:
be the immediate teacher or lecturer of the student they are tutoring
be a member of the potential student's immediate or de facto family
have a business or employment relationship with the student

How to apply to be a tutor
Please email ngararawillim.tutoring@rmit.edu.au with an expression of interest.
If you are matched with a student, you will be employed as a casual tutor with RMIT University. This tutoring role is a paid position.