Beyond the Binary
Thursday 14 November 2019
We were proud to host 'Beyond the Binary' for Trans Awareness Week at RMIT University's city campus. For this event, we teamed up with Minus 18 and Transgender Victoria for a keynote presentation to share stories and learn together how to stand up to discrimination and be a better trans ally. The event provided the basics of inclusive language, terminology and shared the experience of trans and gender diverse young people.
The panel members included RMIT's very own Dr Emily Gray, who provided an academic perspective sharing views on gender and sexuality and with how understandings these identity categories are lived by individuals and experienced within social institutions. Panel members also included representatives from Minus 18 and Transgender Victoria and provided a platform for trans and gender diverse voices to share their stories.
The event concluded with helpful tips and takeaways for the wider community and was a nice reminder that the rainbow community is made up of many different identities worth celebrating, sharing and standing up for.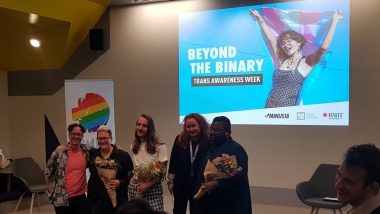 A Nightmare on Queer Street
Saturday 2 November 2019
Just last month, RMIT teamed up with Minus 18 to host a Hallowen Party for LGBTQIA+ young people. It was a true highlight seeing so many young people able to be themselves and share spooky and sweet moments on campus.
Halloween has long been a day for the rainbow community to 'come out' and experiment with their sexual and gender expression and a time to protest against gender norms. From costume parties to pride parades and drag shows, Halloween has become a celebration of self expression for many and for our youth and an opportunity to experiment. Enjoy some wonderful feedback from attendees of the event:
"I am so incredibly happy I went and met such amazing people. The energy there is like no other and I'm still at a loss for words. It was just so wonderful and I felt so welcomed the moment I walked in."
"Overall, I think the atmosphere was unforgettably amazing. I've never felt so included and supported in my life I mean, all you had to do was stand in the dance circle and people would cheer. I met some new friends and generally had an amazing time."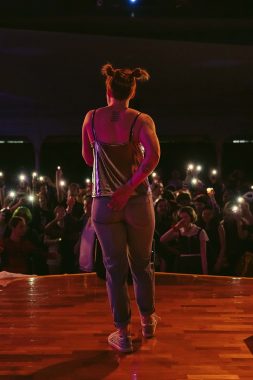 Creative Womxn
Monday 9 - Thursday 12 September 2019
A student-led series of events at RMIT Student Life Pop-up Space aimed to tackle powerful conversations, reconceptualise femme identities and challenge heteronormative expectations. Supported by the Equity & Diversity Unit and RMIT Creative, students and alumni in film studies, creative writing, visual arts and performance curated a series of four powerful events. This included brave and vulnerable spoken word performances and strong femmes performing hilarious comedy works to stunning but also delicate visual art installations followed by touching film screenings to bring the space to a close. These events not only gave femmes and womxn a space to share and connect but addressed femme invisibility within queer spaces whilst welcoming gender non-conforming folk. Guests shared insights into the collaborative process, creative expression intersecting with identity and going beyond the binary in cis-normative working environments.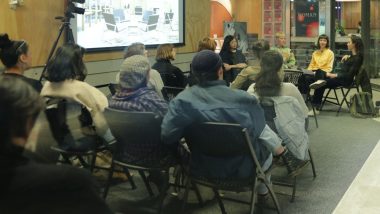 Sharing Views on Religious Exemptions
Tuesday 17 September 2019
At the time of this event, a bill was being prepared in federal parliament that relates to religious exemptions to anti-discrimination laws in Australia. Seen by some as protecting the rights of religious groups and communities and by others as potentially legally enshrining the right to discriminate, the bill has sparked debate.
This event at RMIT featured speakers from various sectors of the community to discuss the proposed bill and related issues.
So what does the proposed bill relate to? The Australian Law Reform Commission (ALRC) is currently undertaking a comprehensive review of the framework of religious exemptions in anti-discrimination legislation across Australia.
The ALRC review will consider what reforms to Commonwealth, state and territory law, the Fair Work Act 2009 (Cth) and any other Australian laws should be made in order to:
limit or remove altogether (if practicable) religious exemptions to prohibitions on discrimination, while also guaranteeing the right of religious institutions to conduct their affairs in a way consistent with their religious ethos, and
remove any legal impediments to the expression of a view of marriage as it was defined in the Marriage Act 1961 (Cth) before it was amended by the Marriage Amendment (Definition and Religious Freedoms) Act 2017 (Cth), whether such impediments are imposed by a provision analogous to section 18C of the Racial Discrimination Act 1975 (Cth) or otherwise.
The Marriage Amendment Act changed the wording of the Marriage Act that removed reference to sex or gender to redefine marriage as 'the union of 2 people to the exclusion of all others, voluntarily entered into for life'. Therefore, the ALRC review is seen by LGBTIQ communities and allies as potentially legally enshrining the right to discriminate against people in same sex marriages on the grounds of religious freedom.
RMIT Pride Cup Party and Redbacks Pledge of Pride
Thursday 19 September 2019

To celebrate LGBTQIA+ inclusion in sport for all, RMIT Sport hosted their very first RMIT Pride Cup Party on A'Beckett Square along with Transgender Victoria, Proud2Play, Pride Cup and Pride in Sport.

Over 150 students gathered to play netball, basketball, ping pong and futsall. There were food trucks, rainbows (of course) and information stalls, hosted by the fabulous Dani Boi with tunes thanks to DJ Ruth BBG and glitter face painting by a very talented RMIT alumni TelTel.

50+ individuals signed our Redbacks Pledge of Pride showing their commitment to DGSS inclusion in sport and we were lucky to hear from AFL and Handball athlete and activist, Hannah Mouncey who shared her story and a special good luck message for our Redbacks athletes who are on their way to the Gold Coast to compete in UniSport Nationals.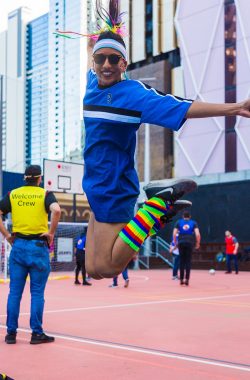 Staff Expo and our 'diversity' cat
For the Staff Expo this year, the Diversity & Inclusion team wanted to share their passion and commitment for wellbeing and inclusion with the whole university. Along with the School of Art Diversity and Inclusion Working Group, a number of staff and students worked together to ask our community "What does inclusion mean to you?" on specially printed post cards which would eventually become the pixels to our 'diversity cat displayed along Academic Way between building 10 and 12. There are still a few blank post cards so if you get a moment while walking by, stop to share a message and read those others have left for you.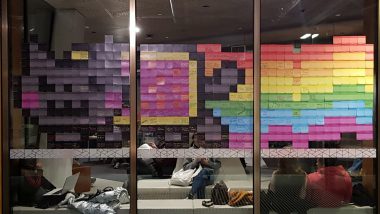 RMIT Wears it Purple
Friday 30 August 2019
RMIT staff and students wore purple, shared purple cupcakes, crafted badges and hosted morning teas to show their support for DGSS young people in our community. Wear it Purple is an annual day of awareness raising where individuals can use the visual cue of wearing purple to signal their support for rainbow young people and celebrate their contributions.
This year, we joined forces with RUSU Queer to create a space where staff and students mingled, taking a break from their studies and work to share creativity.
Whilst the event was light-hearted, Wear it Purple is also an important reminder that DGSS youth are some of the most at risk of bullying and harassment without support from the community to be themselves. A key message that was shared throughout the afternoon on posters, information sheets and in conversation focused on how to respond to bullying and harassment, whether it's knowing who to speak to, how to report an incident and how to identify inappropriate or concerning behaviour. Raising awareness provides opportunities for young people to feel empowered and included and, regardless of how that message is shared (on purple cupcakes or purple badges), a small show of support can have a huge impact on those around us.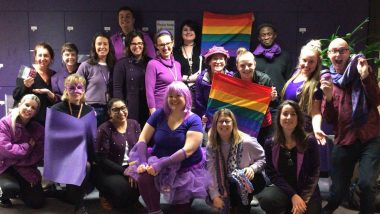 Queer Collaborations 2019
July 2019
In July RMIT and RUSU provided support for 7 students to attend Australia's largest national queer and LGBTQIA+ student conference, Queer Collaborations, which was held on Deakins Warrnambool Campus.
Across the six-day conference we were involved in a variety of workshops, lectures and interactive discussions covering topics from mental health, neurodivergence, disability, self-care and so much more. A number of these workshops were facilitated by RMIT delegates.
As well as running workshops, the majority of the RMIT delegates stepped into informal support roles throughout the conference, from assisting with the conferences grievance system, through to informal support of other conference goers.
The conference provided many networking opportunities through both learning and social events, including a NAIDOC Week event with the broader Deakin University community. Spaces were also provided for each state to gather and discuss any issues that may be present as well as an opportunity to talk about social events and plans moving forward. As a result of this, the RMIT Queer Officers are working closely on some cross-university events for the RMIT Queer students to be involved in.
Each year at QC, a bid is put forward to run Querelle. Querelle is a National Student Magazine made by queer students that is generally launched at Queer Collaborations each year. RMIT delegates put forward and were successful in securing the bid for 2020 and have already hit the ground running and added new exciting elements including a newsletter component. Congratulations to all involved in the bidding process! If you want to be involved and/or subscribe to the newsletter – check out their Facebook page 'Querelle Magazine'.
One of our delegates, Ray Adcock was also successful in stepping into a 12 month voluntary position on the Australian Queer Students Network (AQSN) as a general executive, congratulations Ray!
Thank you to both the RMIT Equity and Inclusion team and RUSU for the financial support to attend Queer Collaborations, so much has been taken away from the experience and the learnings are being implemented in so many different ways.
Melbourne university won the bid to host the Queer Collaborations Conference for 2020. We look forward to sending another group of students to experience the amazingness that is Queer Collaborations.
Caitlin Frost, RUSU Queer Officer
Collaborating with Pride Mentoring
22 – 24 July 2019
Over the past three lunchtimes, RMIT Mentoring has been collaborating closely with RMIT Equity & Diversity as part of the New Academic Street, Sticky Campus activity week. We promoted the range of Career Mentoring programs available to students, with a particular focus on the Pride Mentoring and Women@RMIT Mentoring programs. We collected positive affirmations, received lots of interest and had a total number of 133 new sign-ups!
LGBT STEMM Day Symposium
Friday 5 July 2019
RMIT participated in the LGBT STEMM Symposium at the Florey Institute of Neuroscience and Mental Health. It was the first of its kind and welcomed a diverse group of academics, researchers and practitioners in STEMM identifying as LGBTAQIA+ and allies. Such a wonderful atmosphere and energy, and we hope this will be a catalyst for more DGSS initiatives in the STEMM field; featuring our friends over at Pride Mentoring as well as Mohammad Taha who spoke at the event.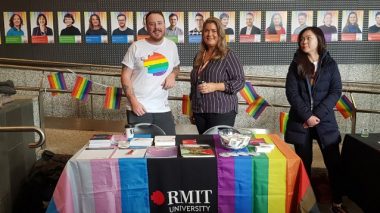 RMIT recognised as Employer of the Year for LGBTI inclusion
Friday 24 May 2019
RMIT won the top honour - Employer of the Year - at the Australian LGBTI Inclusion Awards, which recognise organisations around the country fostering and supporting diverse communities.
The Awards, based on the Australian Workplace Equality Index (AWEI) run by Pride in Diversity, are the national benchmark on LGBTI inclusion.
RMIT is a member of Pride in Diversity, a national not-for-profit employer support program for all aspects of LGBTI inclusion.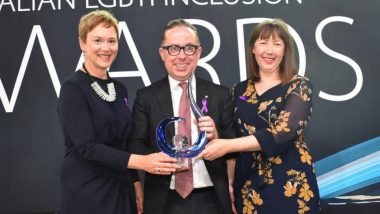 Minus 18 Queer Formal
Saturday 6 April 2019
As part of our ongoing support for Minus 18, RMIT activated the 'chill out zone' at their annual Melbourne Queer Formal event. 500 young people attended to dance and socialise and in between they took some time to wind down in the RMIT chill out zone. They shared notes on the positive affirmation wall, made pronoun badges, watched a movie and painted together at the nail polish station.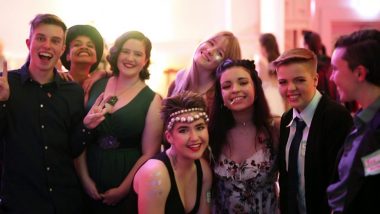 Welcome Day stalls with Minus 18
Tuesday 26 to Thursday 28 February 2019
In partnership with minus18, we welcomed students at each welcome day event across all three campus' providing an opportunity for RMIT staff and students to participate in showing their support for matters of gender and sexual diversity.
The stall included glitter face paint and temporary tattoos, in turn promoting DGSS visibility, initiatives, support and activities on behalf of the university.