Transform hearts. Embrace diversity.
This positive project encouraged students to draw what 'respect' looks like and asked what 'respect' meant to them on campus.
Racism experienced by young people can influence physical and mental health outcomes throughout life (VicHealth). How do you play a part in making our society a respectful one?

As a result of this project, over 180 cards were collected, displaying powerful and moving drawings by students of what respect looked like to them. During this campaign, it also found that:
71% of participants experienced a form of racism on campus
70% of participants said there needed to be more awareness raising on campus.
Postcards with drawings that represent 'respect', completed by student participants.
11 Minutes – anti-smoking campaign
The aim of the 11 Minutes project was to raise awareness of the statistic that every cigarette smoked shortens your life by 11 minutes.

Funded by a Healthy Communities Project Grant.

"Every cigarette you smoke takes 11 minutes off your life"
This statistic, published in the British Medical Journal1 prompted six final-year multi -disciplinary communication students to develop an on-campus campaign. They wanted to raise awareness about the smoking statistic and convince as many current smokers as possible to quit.
Their concept was simple: ask smokers on campus for one of their cigarettes and in return, give them 11 minutes of their life back. The smokers also received a Quit information card and a stick of chewing gum (proven to help some smokers quit).

The students collected 486 cigarettes from smokers on the City, Bundoora and Brunswick campuses. They mounted the cigarettes on a framed poster alongside a sheet of canvas on which smokers wrote about how they would spend their last 11 minutes.
The students made a video about the project:
Shaw M, Mitchel R, Dorling D. Time for a smoke? One cigarette reduces your life by 11 minutes. 2000 January 1; 320(7226): 53.
Giant cigarettes
This project was created by a Master of Arts student who wanted to support the RMIT smoke-free initiative. Their project was inspired by many factors, mainly the impact of smoking on the community and the environment.

As I stood outside my studio space smoking I started looking around the ground where I stood and noticed smoke butts around a tree, in the gutter, on the road, all around the space and beyond. I thought to myself the butts are really small within the wider environment, but how would I feel if they were a larger scale? Would I want to dispose of them everywhere? The smoke butts would be so large and alien so you couldn't just leave them there! Maybe it's time to make a statement for all to see how these smoke butts are invading our environment.

Gayle, Masters of Arts student, creator.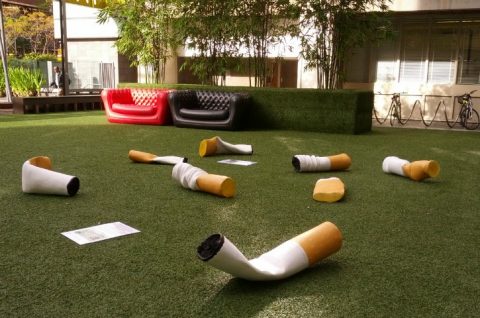 Giant cigarette-butt art installations on Casey Plaza lawn.
Unilyf: Don't blow it
This straight-to-the-point campaign highlighted how quintessential uni-life student experiences can be improved if you stop smoking.

Funded by a Healthy Communities Project Grant.

A group of final year advertising students developed a smoke-free campaign to target students. This assisted RMIT to implement its smoke-free initiative on World No Tobacco Day 2014.
Posters were displayed on campus and social media messaging was used in a humorous and witty manner, while relaying the serious effects of smoking to students on campus.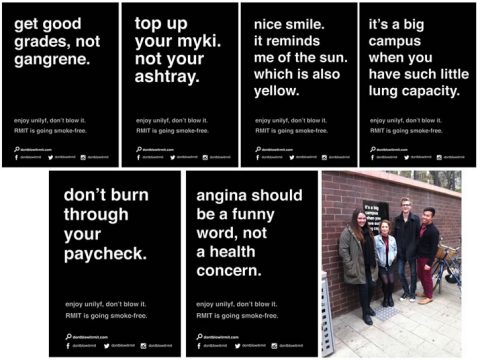 Smoke-free campaign posters and the project team. Image credit: Jessie O'Bien.
Gratitude cards
The aim of the gratitude cards project was to improve the mental health and wellbeing of students studying at Bundoora campus by focusing on gratitude.

During the first semester 2013, a group of five Master of Psychology students developed a pilot intervention project to improve the mental health and wellbeing of students studying at Bundoora campus by focusing on gratitude.

As a result of their research and literature review on the positive psychology principle of gratitude, the students developed an effective intervention by asking students to write three things on a Gratitude Card for which they were grateful.

Liaising with RMIT University's Student Union (RUSU), the Psychology students distributed and collected over 100 cards from RMIT staff at a free RUSU lunch event.
Positive anecdotal evidence recorded that participants had also requested extra gratitude cards to take home to their family members.
Due to the success of the students' pilot project, Student Services has adopted the concept and implemented the Gratitude Project on a larger-scale, where 2000 students were invited to participate as part of improving the mental health and wellbeing landscape at RMIT.
Students were encouraged to strengthen their social connections by sharing positive experiences, such as showing gratitude on campus and within the wider community.
Merry go round happiness project
This student-run campaign encouraged students to find happiness in their day and to share it with the student community.

The project had both a social media and outreach presence on City campus and promoted positive mental health messages. They also invited students to interact with the Happiness Maypole, constructed by the project team themselves.

Over 300 students took part, writing down things that made them happy and hanging them on the Happiness Maypole. Responses received included 'dancing', 'friends' and 'sunshine'.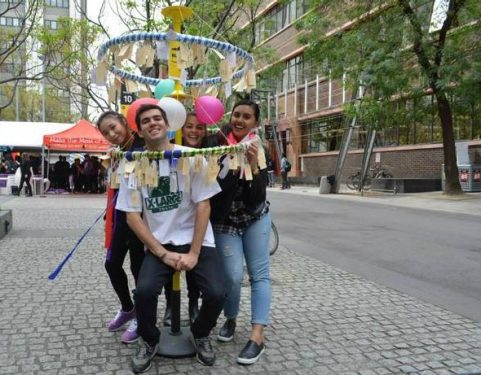 'Merry go round happiness' project team. Image credit: Sophie Nettlefold.
Quit body bashin' … try compassion

This project was created by a group of Master of Psychology students that aimed to address body image issues in university students.
Body image refers to perceptions and attitudes about one's own body, including thoughts, beliefs, feelings and behaviours. Body image has been consistently reported as a top concern amongst Australian secondary and tertiary students, aged 11–24 years.

The project activity had taken place at RUSU Wednesday BBQs at the Bundoora campus and students were asked to write or draw three things they like about their body.
A total of 163 students participated in the project of which 93% reported the activity to be a positive experience. Some of the feedback received from participants included:
'It was actually quite hard to think of positive things, I'm so used to being hard on myself.'
'This was good, it gave me a different perspective.'
'Forces you to change your point of view—not as hard as I thought it would be.'
'It made me think that I don't have to try and change myself.'
'I always complain about my weight but overall this made me realise I actually love my body.'
'Gave me a new perspective about what I think of myself.'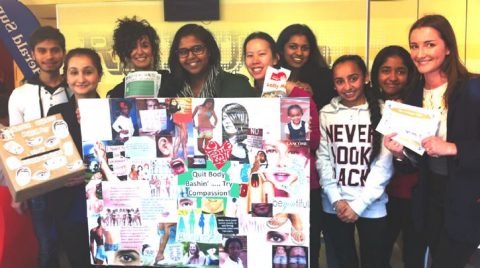 Master of Psychology project team engaging with their participants.
R U OK? Day at RMIT
R U OK? Day is an annual day of action to promote mental wellbeing by encouraging open and honest conversations to stop small problems from turning into big ones.

Every year we mark R U OK? Day with events and activities across our campuses. Check back at the beginning of September to find out about ways to get involved either as a volunteer or as a participant in an event.

About
Being socially connected to friends, family and classmates is one of the strongest ways of measuring how good you're feeling – that's why RMIT supports R U OK? Day every year. R U OK? Day aims to:
empower you to reach out to someone you care about and ask 'are you OK?'
show compassion and help stop little problems turning into big ones
improve mental health and strengthen community connections
In the time it takes to have a coffee, you can start a conversation that could change a life.
More information
Dream vending
The aim of the dream vending project was to promote the benefits of dreams and encourage good sleeping habits.

Funded by a Healthy Communities Project Grant.

This creative project was developed by a group of Interdisciplinary Communications Project students that focused on the 'joys of dreaming' and sleep hygiene - an aspect of health and wellbeing that is rarely touched on.
The students created a social media campaign and built curiosity and interest by encouraging dream submissions from Twitter followers. They sourced a 'dream vending machine' that distributed the collected dreams to inspire and share sleep tips to RMIT City campus staff and students.
A Healthy Communities Project Grant funded their materials to produce posters, plush toys and a vending machine.
We are currently working with the students to create more engaging videos focusing on other areas of mental health and wellbeing to achieve academic and personal success.
You are not an animal
Did you know that one in every three students don't get enough sleep?

This sleep-health campaign challenged students to identify their 'sleep species' and encouraged healthy sleep practices to get the required human-hours of sleep.

Creative and colourful posters were developed and their message was further communicated with an 'owl' who encouraged students to improve their sleep health. As a result of their campaign, they reached a total of 300 students face-to-face and another 3000 via social media.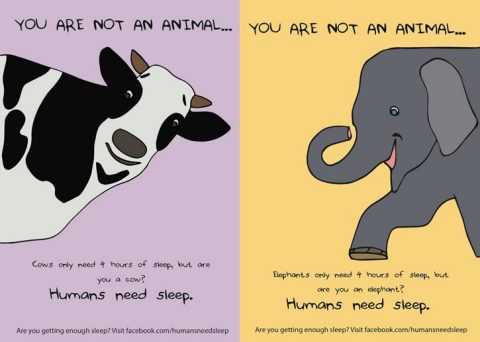 'You are not an animal' campaign posters. Image credit: Katelyn Gillam.
Safety of belongings
The aim of this project was to encourage students to consider the safety of their belongings on campus.

Funded by a Healthy Communities Project Grant.

Every year, dozens of people have their property stolen on campus. Libraries, work, study and leisure areas are all potential targets for theft.
The aim of this project was to encourage students to consider the safety of their belongings on campus. The project was developed by final year advertising students who created emotive stickers and stuck them to belongings left behind by their owners.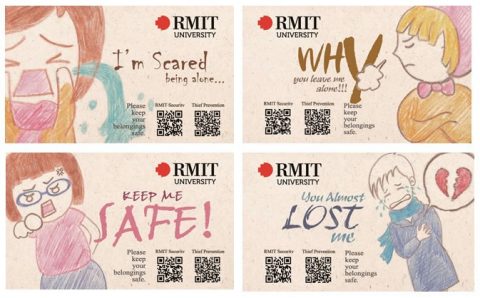 Stickers created to remind students to keep their belongings safe.