Ebony | University of Alberta | Exchange | Canada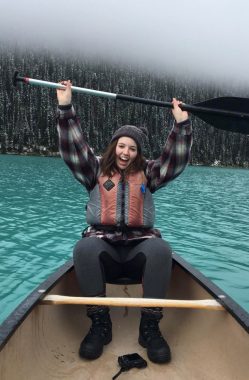 Ebony Corless
Ebony Corless studied in Canada at the University of Alberta for her semester exchange in 2018.
'Okay, so you know how to use bear spray right?' is the beginning of just one of many stories that I will remember forever from my time in Canada.
In 2018, I went to the University of Alberta for a semester exchange to study psychology. I had always wanted to experience the beauty of Canada first hand and live in a country where it snows (yes, it was very cold and got to -20 degrees), but I returned home with so much more than that.
Whilst in Canada, I lived for four months with three other girls I had never met. We were all from different countries, including Austria, Germany and Italy. However, that didn't stop us from becoming very close friends.
We travelled together to places, including Montreal, Ottawa, Toronto, Niagara Falls and of course, the national Parks: Banff and Jasper. We learnt so much about Canada together but also about one another's culture through shared activities like cooking for each other every Sunday night. All the other exchange students were so friendly, which allowed me to have friends for life and have an amazing experience.
Furthermore, after doing Be CQ Ready course by RMIT, I can understand now that being in a different environment also allows you to find out more about who you are and what your core values are, which is very important for creating future relationships, especially cross-culturally. I also got to participate as a Global Leader Experience which allowed me to continue my global experience through engaging and making friends with new people across the world.
Despite all these wonderful things, when you step in the plane, you might have a moment of panic and wonder what you're doing, or how it will all work. But let me share one piece of advice: just go for it. Be open to new experiences and challenges because it's a once in a lifetime opportunity to be able to immerse yourself in a completely new culture.