Edward | Study tour | Exchange | Singapore/Korea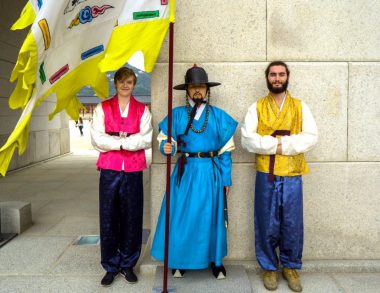 Edward Bennison
Edward undertook the Enabled Futures study tour in Singapore and a semester exchange to KAIST University in Korea.
"What I liked best about my experience in Singapore was being able to mix with locals in a way that is completely unique to if I were there traveling as a tourist. The Enabled Futures study tour was an experiential trip where I spent four days in a wheelchair around Singapore which was an incredible experience to allow me to develop empathy for those who do have to be in a wheelchair.

What I am enjoying best about my current experience abroad at KAIST University is the learning of a new language and being able to explore and experience Korea's rich culture. Having the opportunity to learn a new language and have my Korean friends be able to help me and use it daily has been a struggle and something I have really enjoyed.
It's a unique opportunity to be able to study overseas in another country. It is an amazing way to create new connections and helps you to develop as a person. It provides opportunities that otherwise would not come your way. I feel that every university student should strive to study abroad for one semester at least to be able to experience a different way of life to expand their opportunities outside of Australia.
Through the New Colombo Plan instead of looking to do an exchange in Europe I switched my focus and looked more at Asian universities. Through this research and consultation with one of my professors I ended up learning a lot more about the Indo-Pacific region and what they had to offer in terms of education. Through my study tour to Singapore I was able to learn about the history and culture of Singapore and meet some truly inspiring people.
Receiving the New Colombo Plan scholarship and partaking in a study tour and exchange in Asia has opened my eyes to the possibility having a career based in Asia. Through these two trips I have been exposed to the potential opportunities of what a career in either country would be like."