Sarah | Global Leader Experience | Global Leadership Programs | Melbourne
"As I steer through the final phases of my master's program, I feel GLE has prepared me for the world and challenges outside the University. "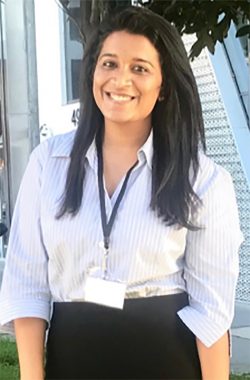 Sarah Ali Baig
As a Masters of Energy Efficient and Sustainable Buildings student, Sarah Ali Baig had a global experience in Melbourne through her participation in Global Leader Experience (GLE) held in April 2018 across 4 days.
As a full-time international student, I have always wanted to upgrade my skills and knowledge and RMIT has given me several opportunities to do that. Global Leader Experience among many, was one of the life-changing ones.
More than 150 RMIT students from 38 different cultural backgrounds participated in the GLE program. Utilizing their diverse perspectives and experiences, the teams worked together intensively, to find solutions to that one important question "How our city, Melbourne, ensures being inclusive?"
The exposure I got during this program was phenomenal. Not only did I witness guest lectures from the current leaders of many profit/non-profit organizations and leading companies, but I also had the opportunity to visit their workplaces. This gave me an insight into how they tackle and overcome global challenges in their daily lives. Vital issues like depression, gender equality, racism, abortion, emotional and cultural battles which are generally not addressed, were also taken into the fold of global challenges and discussed on an open platform.
This valuable experience has widened my perspective of tackling global challenges. It has given me an insight into how one can resolve complex situations, working in diverse team, debating, negotiating and then finally collaborating to conclude in wider interests. Towards the conclusion's session, I saw new leaders evolve!
My biggest takeaways:
GLE has exposed me to situations/aspects of life which I have neither aware of nor had the confidence to address them openly.
GLE has given me an opportunity to learn and value about working collaboratively across boundaries and becoming a global leader.
GLE has strengthened my network. I am now connected to the leaders of many diverse organizations, students and others who I would have otherwise never met.
GLE has exposed me to like-minded fellow students who wanted to make a difference in their own lives as well as in the people around them.
As I steer through the final phases of my master's program, I feel GLE has prepared me for the world and challenges outside the University.
GLE has sensitized me the most important but neglected ingredient of success, 'The human component'. I am sure Global Leader Experience shall take me a long way in ensuring a perfect work-life balance.
As I walked out of the program, I discovered a new 'ME' enriched with a new 'World of Experience'.
My suggestion to all RMIT students: Take this opportunity to understand what is really happening out there, and how prepared you need to be to take on challenges (both personal and professional) to be successful.
This opportunity will bring you very important networks and corporate connections. GLE gave me friends that I will always cherish for life, and I am sure it won't be any different for you. It is an experience that every student should partake and maximize the opportunities that Global Experience provides.