Associate Degree in Fashion and Textile Merchandising

Career
Sorry, this program is not available for local students.
Please contact Info Corner for more information.
Sorry, this program is not available for international students intending to study on a student visa.
Please contact us for more information.
Influence retail businesses' purchasing, advertising and financial decisions, and deliver fashion from around the world to the local retail market.
Career outlook
As a fashion and textiles merchandiser, you will bring fashion from the designer to the consumer. Your understanding of and connection to the end consumer helps dictate the direction of design, product development, promotion and delivery.
The program's international focus allows you to explore a global career in buying, product development, fashion marketing, retail management, retail planning and allocation
Graduates of this program are currently employed by major companies including Hugo Boss, French Connection, Calvin Klein, David Jones, Myer, Country Road, Sussan, Jockey Australia, Mitch Dowd, Kmart, Sportsgirl, Diana Ferrari, Target, Just Jeans, Jag and Spotlight.
You may find employment as a:
product developer
assistant buyer
sales representative
range coordinator
store manager
merchandise planner
visual merchandiser
marketer
design assistant
quality assurance officer
production assistant.
Some graduates have also developed their own fashion labels and boutique businesses.
How industry experience is shaping my career path
RMIT alumnus Eliza McNab has secured a role in fashion and marketing at an international start-up label after completing an internship in Sri Lanka.

Read more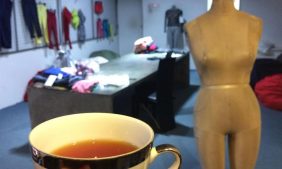 Industry connections
RMIT connects you with a network of industry professionals. You'll be taught by experienced and industry-connected teachers and extend your networks through industry projects, where you'll work with major retailers. A major project in your second year will give you the opportunity to create a capsule collection while you work with fashion retailers, including Myer, Target, Country Road and Supré.
In state-of-the-art facilities at RMIT's Brunswick campus, you will study with experienced teachers who are connected with major industry players such as Hugo Boss, David Jones, Myer and Country Road.
Domestic,International