Bachelor of Arts (Fine Art)

Program details
Sorry, this program is not available for local students.
Please contact Info Corner for more information.
Sorry, this program is not available for international students intending to study on a student visa.
Please contact us for more information.
Duration: Full-time 3 years
Duration: Full-time 3 years
There's no better way to learn about art than by making it.
At RMIT you'll be immersed in fine art studios, where you'll gain the confidence and the tools to understand and interpret the world around you through art. Studio courses are taught by high-profile practising artists who exhibit locally and internationally, so you can connect with what's happening in the art world.
RMIT's teaching style is centered around you as an individual. You'll receive personal mentoring that challenges and pushes you to discover and form your own art practice or specialisation.
Studios are complemented by studies in art history, theories and cultures, and in the professional skills you'll need to succeed in the arts and creative industries.
This degree is also delivered in Hong Kong. Visit the Hong Kong Art School for information and to apply for this option.

Studio specialisations
Artists no longer work in single mediums. RMIT has a structure that allows breadth through multidisciplinary studio access, but also allowing you to focus on a particular craft.
Studio specialisations include:
How you will learn
The degree is designed so that the majority of your time at RMIT is spent in immersive studio experiences that relate to the creative practices and expertise of teaching staff and visiting artists. These six hour blocks of intensified face-to-face learning allow you more focused time to create and exhibit personal works.
Dedicated studio spaces with after-hours access facilitate your practice alongside other artists and encourage you to share ideas and be exposed to a wide range of approaches.

Workshop courses will further develop your technical skills using state-of-the-art equipment, materials and technology relating to your craft.
Staff, alumni and industry professionals contribute quality online content about contemporary and historical art practices, theories, cultures and contexts that you can access via the online RMIT Art School platform .

You'll also have the opportunity to make global connections with art students in the Hong Kong Art School program, and through study tours to places like New York, Germany, Europe and China.
Assessment is through a combination of folio presentation, project responses, written reflections and critical theory essays.
Full-time students are expected to attend approximately 12 hours of classes and undertake approximately 24 hours of independent study and research weekly. The majority of classes are delivered during the day.
Classes are delivered primarily in English.
Ari Sharp – Bachelor of Arts (Fine Art)
I fell in love with the studio, the space and the teachers at RMIT. I felt like I belonged from the first instant.
Read Ari's story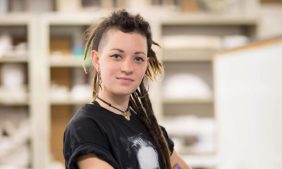 Structure
Fine art studio courses are the backbone of the learning experience, enabling you to develop an individual fine art practice. You'll navigate these studio courses over six semesters to establish a sustained practice.
Multiple studio options are offered each semester. These studio options are thematic and/or focused on a specific studio specialisation, allowing a variety of ways for you to discover and develop your own individual art practice. You will ballot for your first three studio preferences based on your personal interests.
Year 1
Discover and develop your skills to assist in the investigation of ideas and creative interpretations.
In first semester you'll participate in an independent introductory studio, to create a smooth transition for first year students.
In second semester you will enrol in vertical classes that combine first and second year students for studios, workshops and art history, theory and cultures.
Year 2
Experiment within a framework of self-directed projects, supported by courses designed to further your conceptual, technical and critical thinking skills. Student exchange opportunities are available to students in this year.
Your studio, workshop and art theory subjects will be delivered in vertical classes, alongside first, second or third year students. You'll have an opportunity to enrol in a University Elective in second semester to add breadth to your study.
Year 3
Your third year will primarily focus on an advanced capstone studio project, where you'll consolidate your learning and develop a body of work at a professional level.
Parallel with your individual studio project, you'll gain an understanding of professional and business practices that relate to being a contemporary artist through the Art Enterprise Workshop. You'll be introduced to enterprise formation opportunities and arts industry networks to establish yourself as an independent art practitioner.
You'll have an opportunity to enrol in a University Elective in first semester.
Domestic,International
Experience the vibrant world of art
Develop conceptual and specialised technical skills to discover your own style and develop your artistic practice.