Bachelor of Arts (Fine Art)

Career
Sorry, this program is not available for local students.
Please contact Info Corner for more information.
Sorry, this program is not available for international students intending to study on a student visa.
Please contact us for more information.
Art is the tool for innovation that can create real-life impact, and is essential to the new creative economy.
Career outlook
Creativity and innovation are now the core tools in a global economy dependent on growth. The booming art and design industry in Victoria alone confirms this – creative industries contribute around seven billion dollars annually to the state's economy.
Progressive, collaborative thinking is in demand across major professional fields, like education, health, and entertainment, and artists are playing important roles in shaping creative endeavour in these areas. RMIT's Fine Art graduates continue to make significant contributions to contemporary art and culture, nationally and internationally as artists, craftspeople, visual thinkers and cultural managers.
Many graduates enter careers as:
professional artists
arts managers, gallery directors or curators
sound engineers

teachers or academics
art technicians

filmmakers

The arts and creative industries continue to grow. Established institutions in Melbourne, including Federation Square, Australian Centre for Contemporary Art (ACCA) and the National Gallery of Victoria (NGV), and an increasing number of commercial and artist-run spaces, provide exciting opportunities for graduates.
7 reasons why a career in art is for you
With the digital boom, the global push towards innovation, and a growing cultural economy, creativity is capital and design is at the forefront.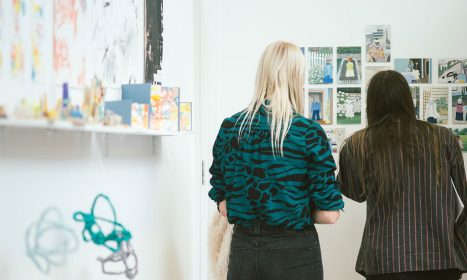 Industry connections
RMIT operates multiple public galleries and exhibition spaces that provide formal opportunities for you to integrate hands-on experience into your studies.
In your final year Art Enterprise Workshop, you'll be introduced to employment practices, enterprise formation opportunities and arts industry networks to establish yourself as an independent art practitioner.
International opportunities
As a result of RMIT's international connections, students have access to study tours to New York, China, Germany and Europe. International academics and artists feature as guest lecturers and artists-in-residence throughout the year.

You'll also be able to apply for international artist-in-residency programs through RMIT's creative projects managed by RMIT:ART:INTERSECT.
RMIT's Global Experience Office (GEO) supports students to undertake exchange or short-term mobility activities with over 165 partner universities worldwide.
Domestic,International