×
C-19 study: Learn online now and on campus later
Find out how we're helping you continue to go to uni during COVID-19. Learn about our
online enabled options.
Certificate IV in Screen and Media - CUA41215
Work in film and TV, studio and camera operation, graphics and editing.
Quick facts
Student type:
Student type:
Quick facts
Duration

Full-time 1 year

Fees

Fees

Next intake

Not applicable
Domestic
Sorry, this program is not available for local students.
Please contact us for more information.
Sorry, this program is not available for international students intending to study on a student visa.
If you hold a different visa type, you may be eligible. Please contact us for more information.
Connect with industry
Gain practical experience and build real-world connections with Work Integrated Learning (WIL) activities with major industry organisations, like NEP, ABC News, ABC/RMIT Fact Check, Chanel 9 News, JAMTV, and more.
Work collaboratively
Throughout your course, you'll work with screenwriting and journalism students to collaborate on exciting, industry-relevant projects, including drama productions, live news, produce a gameshow, and special broadcasts that are streamed on community television C31.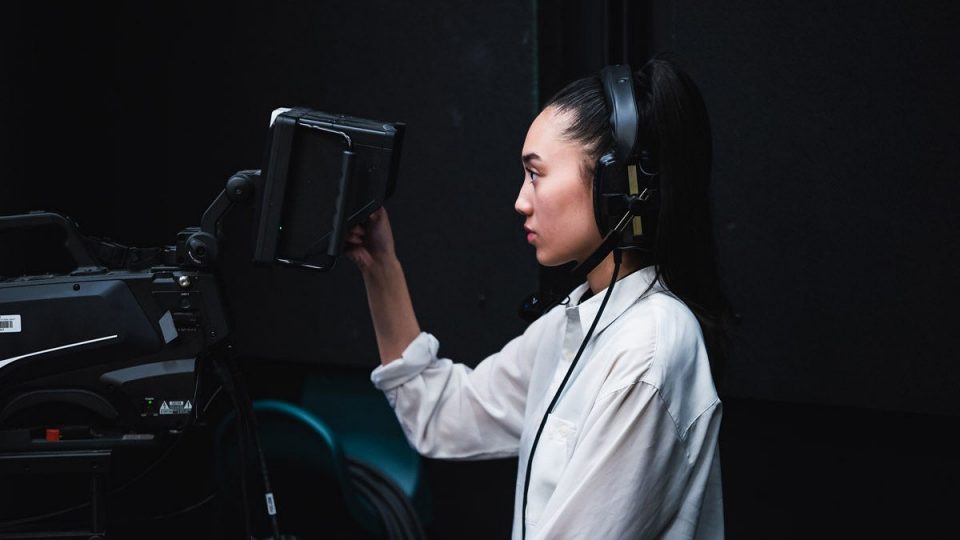 Work in film and TV, studio and camera operation, graphics and editing.
The television industry requires skilled graduates with strong technical and production skills. The Certificate IV in Screen and Media is where industry professionals look to fill that demand. This one-year, intensely practical course will prepare you to enter the industry with the experience you need to succeed.
Our teaching staff includes world-class industry experts who work in broadcast production, allowing students to gain industry-level skills and prepare for employment upon graduation. Close links with community television, such as RMITV, gives you the opportunity to gain practical knowledge and experience while completing your qualification.

Through your studies you'll explore:
audio and video production
vision mixing systems and equipment
studio & location television production
computer graphics and editing
studio and location camera operation.
This certificate course also offers further study opportunities for students interested in advancing their skills through to diploma, advanced diploma and associate degree level.
Explore Vocational Screen & Media
Are you interested in a career in screen and media?
At RMIT, there are so many paths to choose from. Explore live production and technical services, music industry and sound production, and screen and media qualifications at several levels of study.
This course is taught via a combination of studio-based sessions, on-location filming and post-production learning.
Throughout one year of intense learning, you will gain an understanding of and ability the fundamental skills required to work in the television industry.
In the studio, you will be taught skills required to work on day-to-day television productions including how to bump in and bump out, how to shoot for television using multiple cameras and other fundamentals of production. You will learn how to install lighting and how to record sound efficiently on location shoots out of the studio. These skills will prepare you to enter the television industry competent to work across a variety of productions and roles. You'll also learn post-production skills in editing, and be able to edit vision and audio, as well as other required techniques and visual effects used in television production.
These classes are supported by core units which will help further develop a comprehensive understanding of how to work individually and as part of a team in the screen and media industry.
Some of your classes will be taught in RMIT's media precinct, which embraces cutting edge technology. You'll learn on industry-grade equipment, including:
4 x broadcast studios for television and livestreaming in 4K
a purpose-built green screen studio space with EVS facilities
Sony and Ross vision mixers
Yamaha audio mixers
Ross Xpression graphics
industry-standard camera, lighting and audio equipment.
Productions you work on will be streamed live-to-the-web (giving a global audience) and some collaborative productions will be broadcast on free-to-air television via Melbourne Community TV Channel 31.
All academic staff are professionally qualified teachers with substantial industry experience. You will be challenged to refine and practise your skills through industry projects.
All courses are delivered in English. You can access online resources through the myRMIT student portal.
You'll be encouraged to do part-time, casual, workplace experience or volunteer work in the media and television industries. This will help you to further develop your skills and apply your knowledge.
You'll also have access to industry-based guest lecturers and have the opportunity to network throughout your studies, increasing your employment opportunities upon graduation.
RMIT University is committed to providing you with an education that strongly links formal learning with professional or vocational practice.
This program includes a suite of production-based classes clustered into 3 main disciplines - Studio, Location and Post-production - where you'll learn:
Studio
bump in bump out productions
shoot television in a multi camera environment
vision-mix television productions
realise productions.
Location
shoot a range of television material
implement lighting designs
record sound on location.
Post-production
edit vision and audio
create digital visual effects
colour grade moving images.
These classes are supported by core units such as occupational health and safety, critical thinking and working in the screen and media industry.
Choose a program structure
Program code: C4374
National curriculum code: CUA41215
Title
Location
Duration
Plan code
CRICOS
Certificate IV in Screen and Media
City Campus

1 Year - Full Time

1 Year - Full Time

C4374
Choose a program structure
Program code: C4374
National curriculum code: CUA41215
Certificate IV in Screen and Media
Duration
1 Year - Full Time
1 Year - Full Time
VTAC Code
If you are eligible to apply via VTAC, copy and paste the below code into VTAC search.
Please ensure that you have checked the admissions requirements and apply page before applying.
The screen and media environment is constantly evolving. These changes are reflected in our up-to-date course content, ensuring graduates are equipped with the skills needed to work in industry. Advancements in technology have increased the size of the industry, from TV to online, resulting in the creation of new job roles.
Graduate positions and titles vary across sectors. Possible job titles include:
assistant director
camera assistant or operator
grips
lighting assistant or designer
production assistant or coordinator
studio operator
sound editor
technical assistant
video split editor
vision editor.
RMIT offers a range of careers resources to help improve your employment prospects after graduation.
Participate in the Future Edge program and visit the Job Shop to build up job-ready and soft skills, and seek out casual and volunteer work on Career Hub to gain industry experience.
Begin building your professional network through student and professional associations, including RMITV, the Australian Screen Association, and Film Victoria. You can also take advantage of the RMIT Mentoring program, where you'll be matched with an industry professional for guidance and advice.
Those interested in further study and specialisation can progress into the Diploma of Screen and Media, or the Diploma of Live Production and Technical Services.
There are no minimum academic requirements. 
You must attend an interview.

All applications must be submitted by the dates noted below for each VTAC round:
Early round (Non year 12 only): 30 September 2020
Main round (All applicants): 6 November 2020
All subsequent rounds (if places are available): 29 January 2021
Direct applicants, including RMIT current or recent students, must submit their application by 11 December 2020. Tasks received after this date will be assessed in the order they are received until 5 February 2021, unless places are filled prior.

Interviews will be held in October (VTAC Early round) and December (VTAC main round). For all subsequent rounds and direct applicants, interviews will be arranged after you have submitted your application.

Overseas or interstate applicants unable to attend must email svdsc.mac@rmit.edu.au for arrangements.

Advisory letters will be sent in late October (Early round) and late December (Main round).
You are now viewing content in a pop-up style. Click escape to return to the page
Close
/