Anna Karina gives an extraordinary performance in Jacques Rivette's second feature film.
Jacques Rivette's bold second feature is a controversial adaptation of Denis Diderot's late 18th-century novel of the same name detailing the virtual incarceration of a young woman forced to enter a convent.
Initially condemned by the Catholic Church, partly for its critical and honest portrayal of various high officials, Rivette's characteristically precise, formally adventurous, devastatingly affective and physically palpable portrait of the sad fate of Suzanne Simonin (featuring an extraordinary incarnation by Anna Karina) is also "one of the greatest prison movies ever made" (Justin Chang).
Restored in 4K from the original film negative by L'Immagine Ritrovata, under the supervision of Studiocanal and Mrs. Véronique Manniez-Rivette, with the support of the Centre National du Cinématographie (CNC), La Cinématheque Française, and the Franco-American Cultural Fund-DGA-MPA-SACEM-WGAW.
Presented by the Melbourne Cinémathèque and ACMI.
Melbourne Cinémathèque is the largest and longest-running film society in Australia.

Admission to Melbourne Cinémathèque sessions is open to Cinémathèque members only. After a membership is purchased, admission to sessions is free and no additional tickets are required. Memberships are available for three consecutive Wednesdays or for a full year. For further details and to buy a membership head to ACMI here.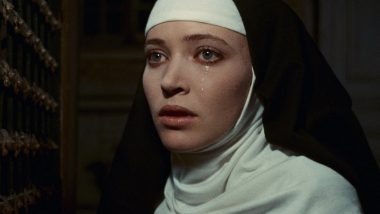 1966 | 140 min | France

Director: Jacques Rivette
Language: French with English subtitles
Rating: CTC