History
Find out more about the history of The Capitol
Originally built in 1924, and reopened in 2019, The Capitol has a spectacular architectural and cinematic history, and is recognised as a true Melbourne icon.
To discover more of The Capitol's rich history, take our Virtual Tour at thecapitol.tv.
Video: Transforming The Capitol
For ninety years The Capitol was known as Melbourne's most beloved cinema and one of its most treasured architectural icons.
Designed by celebrated architects Marion Mahony Griffin and Walter Burley Griffin, the 1924 venue originally known as the Capitol Theatre is considered to be one of their finest interior design works.
The Capitol's renowned Chicago Gothic-architectural style features intricate lead-lighting details, elaborate salons, a richly decorative carpet motif in orange, carmine and green, and a spectacular geometric ceiling designed to evoke a crystalline cave.
The theatre was the first large and extravagant 'picture palace' to be built in Victoria, seating a 2000+ audience and providing Melbourne with blockbuster movies and live performances.
By the early 60s the theatre faced demolition. A public outcry resulted in a campaign to 'Save The Capitol' which was organised by the Royal Victorian Institute of Architects and The National Trust of Australia (Victoria).
The seating capacity was reduced to 800 and the original stalls and street level entrance made way for the current shopping arcade that now extends under the theatre to Howey Place.
With the rise of the multiplex in the 1980s The Capitol fell into disrepair and was purchased by RMIT in 1999. By day it was used it as a conference theatre for the University and at night it housed some of Melbourne's favourite festivals including Melbourne International Film Festival (MIFF) and Melbourne International Comedy Festival (MICF). By 2014, the work required to keep the Capitol Theatre open become so substantial that the building closed to the public.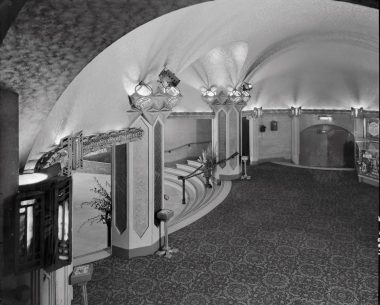 Capitol Theatre, designed by Walter Burley Griffin, showing stalls foyer.
The RMIT Capitol Theatre Appeal was launched in November 2017 to raise the required funds to refurbish this iconic landmark and return it to the people of Melbourne.
In June 2019 the iconic theatre was reopened with a new name ­– The Capitol – and a visionary transformation.
RMIT and Six Degrees Architects have reimagined The Capitol as a contemporary destination for culture, education and innovation, and lovingly restored many of the theatre's original features.
The Capitol now offers cinema, video, new digital media, VR, AR, gaming, video art and animation.
There is an extended stage to host live talks and lectures, a 7.1 Dolby sound system, 4K laser digital projection, coffee and wine bars, and a direct link to RMIT's Media Precinct, enabling remote broadcasting capabilities.
It will continue to inspire and delight patrons as it has for almost a centenary, but The Capitol is now equipped to educate, collaborate and connect with the future of Melbourne's creative community.