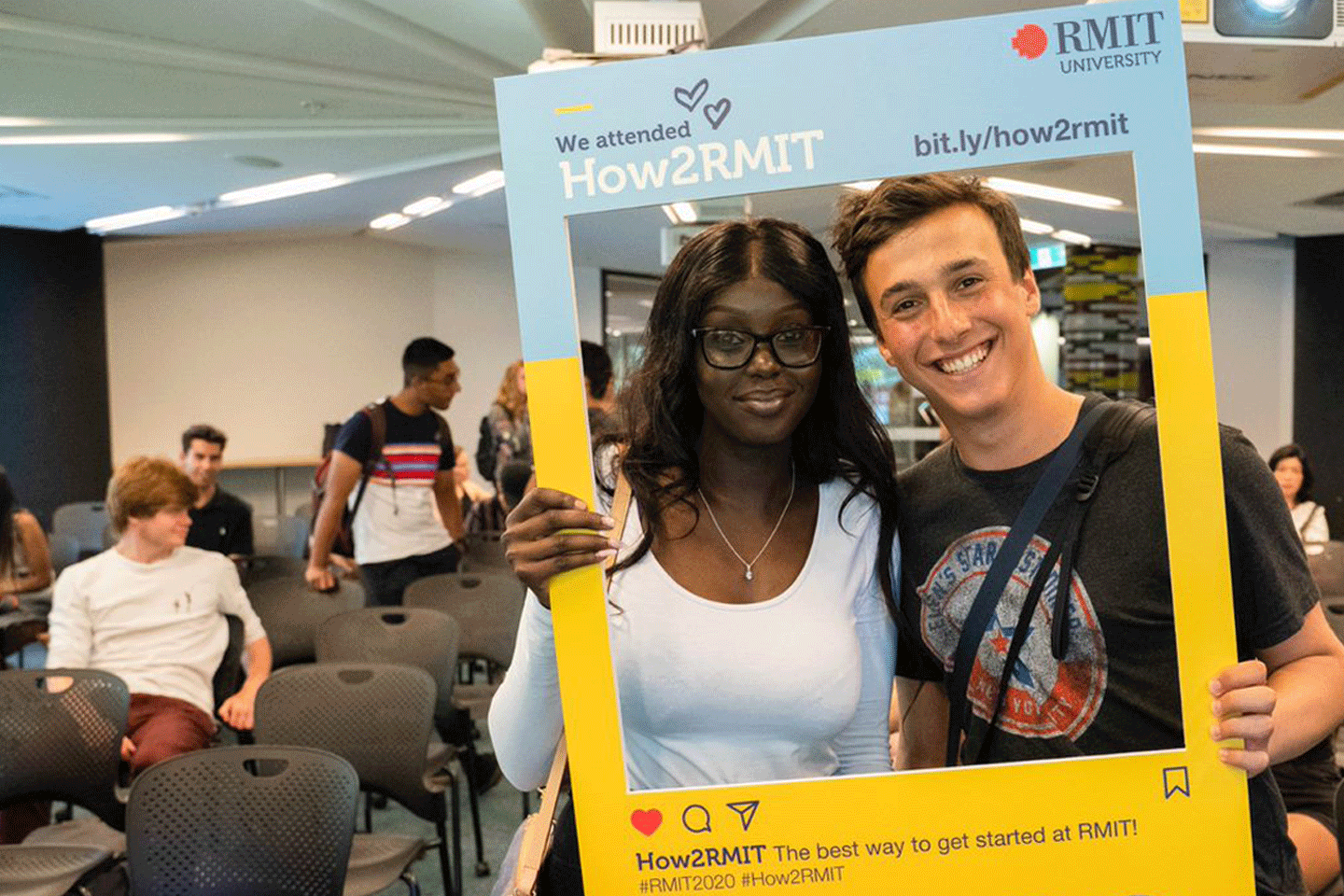 How2RMIT sessions are packed with essential information that will help new and returning students get ready and organised to make a smooth start to the semester and succeed at RMIT.

Over two sessions, experienced students explain everything - from timetabling, fees and loans, to studying successfully, making friends, getting involved in the RMIT community, free support services, and lots more.
Two sessions
How2RMIT is made up of two sessions: How2GetStarted and How2GetAhead, which are currently run online via Microsoft Teams.
How2GetStarted, 1 hour
In How2GetStarted, experienced students will show you everything you'll need to know and do before classes begin.
Get Organised: Learn about timetabling, classes, student card, fees, loans, and other 2021 student admin essentials
Navigating RMIT: Find out how to get your questions answered at RMIT, find your way around online and on campus and learn about COVIDsafe campus protocols.
How2GetAhead, 1 hour
In How2GetAhead, experienced students will tell you what they wish they knew when starting at RMIT, so you can get the most out of your time at RMIT and set yourself up for success.
Study Support: Find out about all the assessments and study support available
Get involved: Learn about clubs, activities and other ways to meet new people
Reach Out: Understand the range of confidential guidance and support services
Get Job Ready: Discover all the career support services available at RMIT to help you get job ready
All students! Whether you are new to RMIT or returning, you're guaranteed to discover something new and useful from attending How2RMIT sessions.

Are you an international student aged under 18? During How2RMIT sessions you'll find out about your rights and responsibilities, support services and accommodation options.
Did you miss your orientation week? How2RMIT keeps running after classes start so you can attend and get the key information you need.
How2RMIT sessions how now ended for Semester 2 2021. Please check back for more sessions in February 2022, or
watch recorded sessions
(log in with your RMIT student email and password).
What students say about How2RMIT
It was a fantastic introduction to university life at RMIT and a great opportunity to get questions answered.
It is a really big help knowing the university has tonnes of support and does not allow you to feel alone.
The presentation provided lots of much needed information on facilities and services in RMIT.
It provided with me with an insight into uni life and made me feel welcome and prepared. The current students providing the presentation were down to earth, creating a good atmosphere where you feel safe while giving tips and details into beginning uni and how to go about it.
This session was engaging and made me feel reassured that, if I get stuck and don't know where to go, I can always reach out for help.