COVID-19: Most RMIT learning and teaching activities are currently operating online. RMIT's Australian campuses are only accessible to students and staff with approved on-campus activities. See the RMIT coronavirus webpages for more information.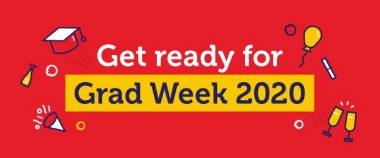 Congratulations to our graduating Class of 2020! Now it's time to take a breather, enjoy post-lockdown life – and get ready for Grad Week 2020!
All students are invited to join the party at Grad Live: Class of 2020 on 17 December.
Find the latest coronavirus (COVID-19) information for students, FAQs and contact details on the RMIT Coronavirus webpages.
Acknowledgement of Country
RMIT University acknowledges the people of the Woi wurrung and Boon wurrung language groups of the eastern Kulin Nation on whose unceded lands we conduct the business of the University. RMIT University respectfully acknowledges their Ancestors and Elders, past and present. RMIT also acknowledges the Traditional Custodians and their Ancestors of the lands and waters across Australia where we conduct our business. - Artwork created by Louisa Bloomer