What are the benefits of becoming a peer mentor?
Develop your communication skills
Gain leadership skills and a sense of satisfaction as you see mentees grow in confidence
Consolidate your own knowledge of the subject
Make your resume more attractive - peer mentoring helps you develop key skills employers are looking for
Enjoy being part of the peer mentoring community
Build your social network and make new friends
What are the requirements of becoming a peer mentor?
To become a peer mentor you must:
Achieve a 75 or above for the course you wish to mentor in
Attend a training session
How do I become a peer mentor?
If you achieved a 75 or above in a peer mentoring supported course, you'll receive an invite via your student email several months before semester starts. If you haven't received an invite, please contact us via peer.mentoring@rmit.edu.au. After registering, you'll be invited to training and other peer mentoring social activities.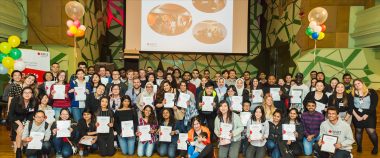 Mentors receiving their certificates