Become a volunteer peer mentor
Becoming a volunteer peer mentor is a great way to consolidate your knowledge of courses you've previously completed while developing your communication skills and gaining experience in leadership and facilitation. It is also a great opportunity to become a part of the RMIT community, make new friends and expand your networks.
Volunteering as a peer mentor contributes toward the RMIT Future Edge program.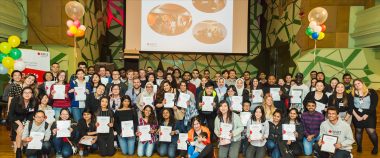 Mentors receiving their certificates
RMIT Peer Mentoring at SIM (YouTube, 2:27 mins)
Short interviews with students reflecting on the benefits of becoming peer mentors.