Student Learning Adviser Mentors (SLAMs)
What is SLAMs?
SLAMs is a volunteer, academic mentoring program, where students who have achieved an HD or DI from your course, offer two hours per week to support your learning.
SLAMs is a learning community where mentors support you to improve your study habits, develop interpersonal and communication skills, and make new friends and networks.
SLAMs is a high quality student academic support service for students based on integrity, ethics and mutual respect.
What can SLAMs do for you?
Assist you to understand any aspects of your course work that you find challenging
Assist you to understand the requirements of assessment tasks and how to go about answering assessment tasks
Share strategies and their experiences with you about how they tackled their courses
Benefits of coming to SLAMs
SLAMs is for everybody – mentors will assist you to improve your academic results and achieve your goals
Mentors will assist you to learn at your own pace in a safe and friendly environment
Develop knowledge and understanding of course content with mentors who have already achieved a HD or DI in your course
Studying with highly motivated and successful mentors will improve your motivation and you will become more engaged in your studies which increases your opportunities for success
SLAMs builds a sense of belonging, where students engage with their peers (local and international) and make new friends
SLAMs is FREE for all students
Where is SLAMs?
City campus
College of Business students: Building 80, Level 3, Room 18 (weeks 2 - 11)
College of Science Engineering & Health students: Building 8, Level 7, Rooms 51 & 153 (weeks 4 - 11)
College of Design & Social Context (School of GUSS, Media & Communications and Education) students: Building 8, Level 7, Rooms 51 & 153 (weeks 4 - 11)
Opening hours: Monday to Friday, 9:30 am - 5:30 pm
Bundoora campus
College of Science Engineering & Health and Education students:
Bundoora Library, Building 210, Level 3, Room 15 (weeks 4 - 11)
Opening hours: Tuesday to Thursday, 9:30 am - 5:00 pm
Brunswick campus
Building 511, Level 1, Room 2 - Activator Space (weeks 4 - 11)
Opening hours: Tuesdays and Wednesdays, 9:30 am - 5:00 pm
Timetables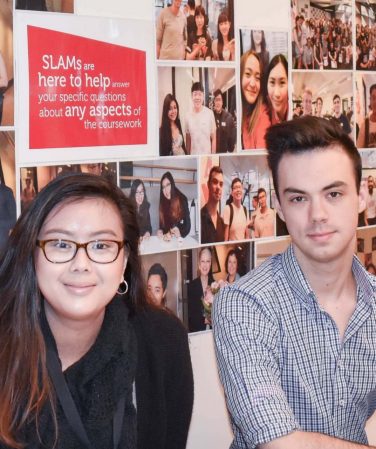 Students at a SLAMs study session