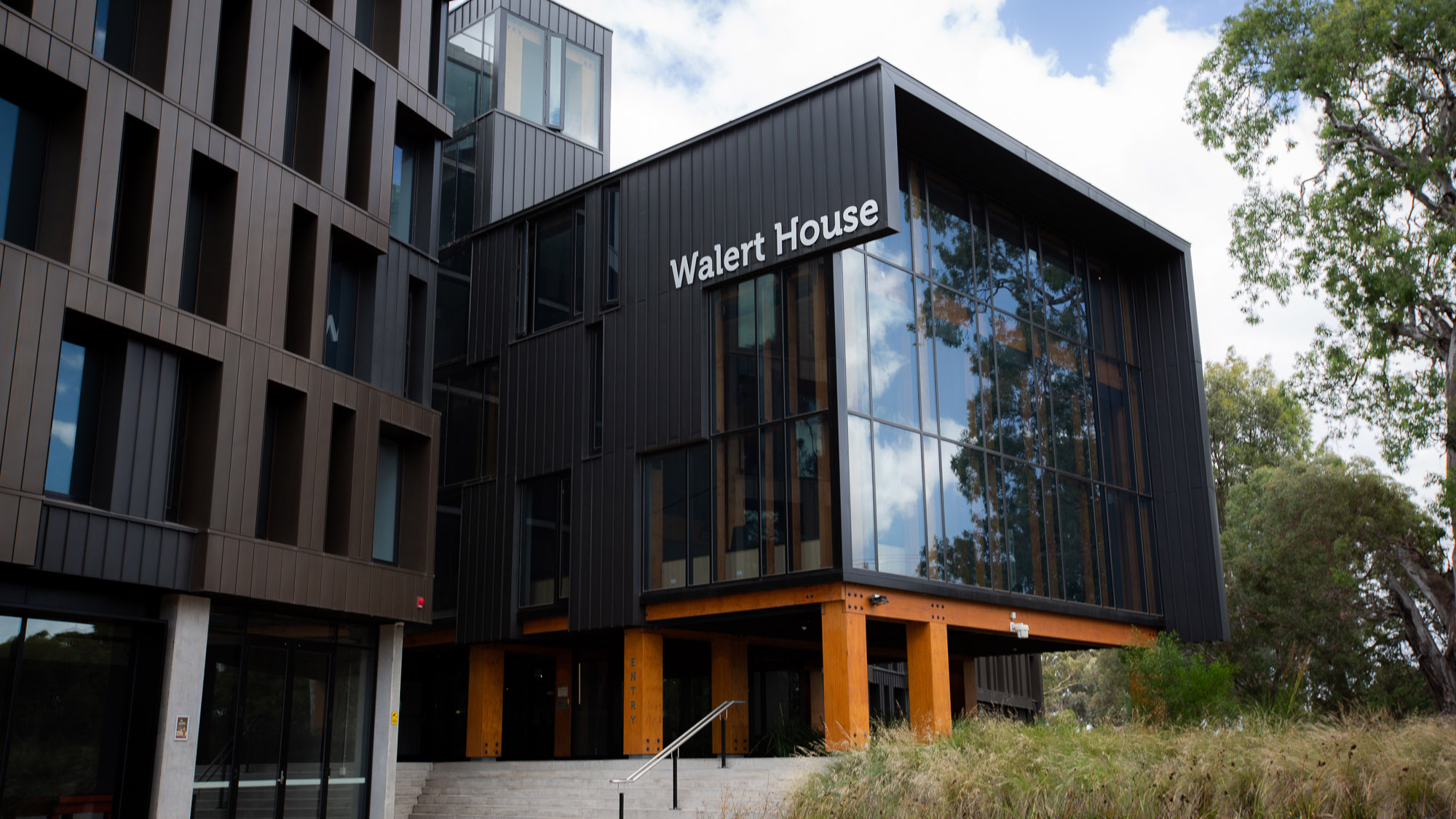 Purpose-built student accommodation
RMIT has carefully selected these purpose-built apartment complexes, designed specifically for you, and located close to our City, Bundoora and Brunswick campuses.
The following accommodation all meet RMIT's quality standards, and offer:
a variety of furnished room types from studios to shared apartments at reasonable prices
great communal facilities
clear, transparent rental rates and agreements
a respectful, inclusive and safe culture, and
strong links to the university to support students in need.
Check out our accommodation options close to the City and Brunswick campuses, or at Bundoora campus.
Near City and Brunswick campuses
Atira shaped by Scape: La Trobe
50 La Trobe Street, Melbourne
Distance to campus

300m to City campus
5.3km to Brunswick campus

Trams, trains and buses nearby
763 beds

1-bed studios
Twin-share rooms
2, 4, 6 and 7-bed apartments
Journal Uni Place
18 Leicester Street, Carlton
Distance to campus

550m to City campus
4.2km to Brunswick campus

Trams and buses nearby
804 beds

1-bed studios
Twin-share studios
4 and 6-bed apartments
RMIT Village
5-17 Flemington Road, North Melbourne
Distance to campus

1.3km to City campus
3.6km to Brunswick campus

Trams and buses nearby
616 beds

1-bed studios or apartments
Twin-share studios
2, 4 or 5-bed apartments
UniLodge Royal Melbourne
15 Wreckyn Street, North Melbourne
Distance to campus

1.5km to City campus
3.8km to Brunswick campus

Trams and buses nearby
411 beds

1-bed studios
5-bed apartments
Iglu Melbourne City
229 Franklin St, Melbourne
Distance to city campus

600m to City campus
4.6km to Brunswick campus

Trams, trains and buses nearby
594 beds

1-bed studios
5 and 6-bed apartments
Atira shaped by Scape: Peel
247 Peel Street, North Melbourne
Distance to campus

1.3km to City campus
3.6km to Brunswick campus

Trams and buses nearby
576 beds

1-bed studios
Twin-share rooms
3, 4 and 5-bed apartments
Scape Swanston
5 Little Latrobe Street, Melbourne
Distance to campus

75m to city campus
4.7km to Brunswick campus

Trams, trains and buses nearby
754 bedrooms

1 bedroom studios
Twin-share rooms
The Student Housing Company – Infinity Place
145 Berkeley St, Carlton
Distance to campus

1km to City campus
3.7km to Brunswick campus

Trams and buses nearby
335 beds

1-bed studios or apartments
3 or 6-bed apartments

Short-term agreements available (for RMIT English Worldwide students)
The Student Housing Company – University Square
85 Barry St, Carlton
Distance to campus

1km to City campus
3.8km to Brunswick campus

Trams and buses nearby
346 beds

1-bed studios or apartments
Twin-share studio
2, 3, 4 and 6-bed apartments
The Student Housing Company – Park Ave
8 Leonard Street, Parkville
Distance to campus

2.8km to City campus
2.2km to Brunswick campus

Trams and buses nearby
333 beds

1-bed studios and apartments
2 and 3-bed apartments
Urbanest Swanston St
599 Swanston Street, Carlton
Distance to campus

550m to City campus
4.2km to Brunswick campus

Trams and buses nearby
582 beds

1 bed studios or apartments
2, 4, 5, or 6-bed apartments

Short-term agreements available (for RMIT English Worldwide students)
Urbanest Melbourne Central
316 La Trobe St, Melbourne
Distance to campus

500m to City campus
4.7km to Brunswick campus

Trams, trains and buses nearby
461 beds

1-bed studios
Twin-share rooms
2, 3, 4 and 8-bed apartments
Urbanest Carlton
105 Berkeley Street, Carlton
Distance to campus

900m to City campus
3.8km to Brunswick campus

Trams and buses nearby
272 beds

1-bed studios
Twin-share studios
2-bed apartments
Yarra House
Yarra Bend Road, Fairfield
Distance to campus

6.2km to City campus
6km to Brunswick campus

Buses nearby
153 beds

1-bedroom (ensuite or shared facilities)
Twin-share rooms
UniLodge @ RMIT Bundoora – Walert House
Located on campus at RMIT Bundoora West
Trams and buses nearby

367 beds

1-bed studios
3 and 4-bed apartments

Short stays for Academics available
Journal Central
(opening mid-2020)
Distance to campus

450m to City campus
4.2km to Brunswick campus

Trams and buses nearby
587 beds
Scape Carlton
(Due in 2020) 557 Swanston Street, Carlton
Distance to campus

600m to City campus
3.8km to Brunswick campus

Trams, trains and buses nearby
719 beds

1-bed studios
2, 4 & 6-bed apartments
The Student Housing Company – Queensberry
(opening January 2020)
Distance to campus

600m to City campus
4.2km to Brunswick campus

Trams and buses nearby
234 beds
Scape Franklin
(Due in 2021) 97 Franklin Street, Melbourne
Distance to campus

300m to City campus
4.1km to Brunswick campus

Trams, trains and buses nearby
750 beds

1-bed studios
4 and 6-bed apartments