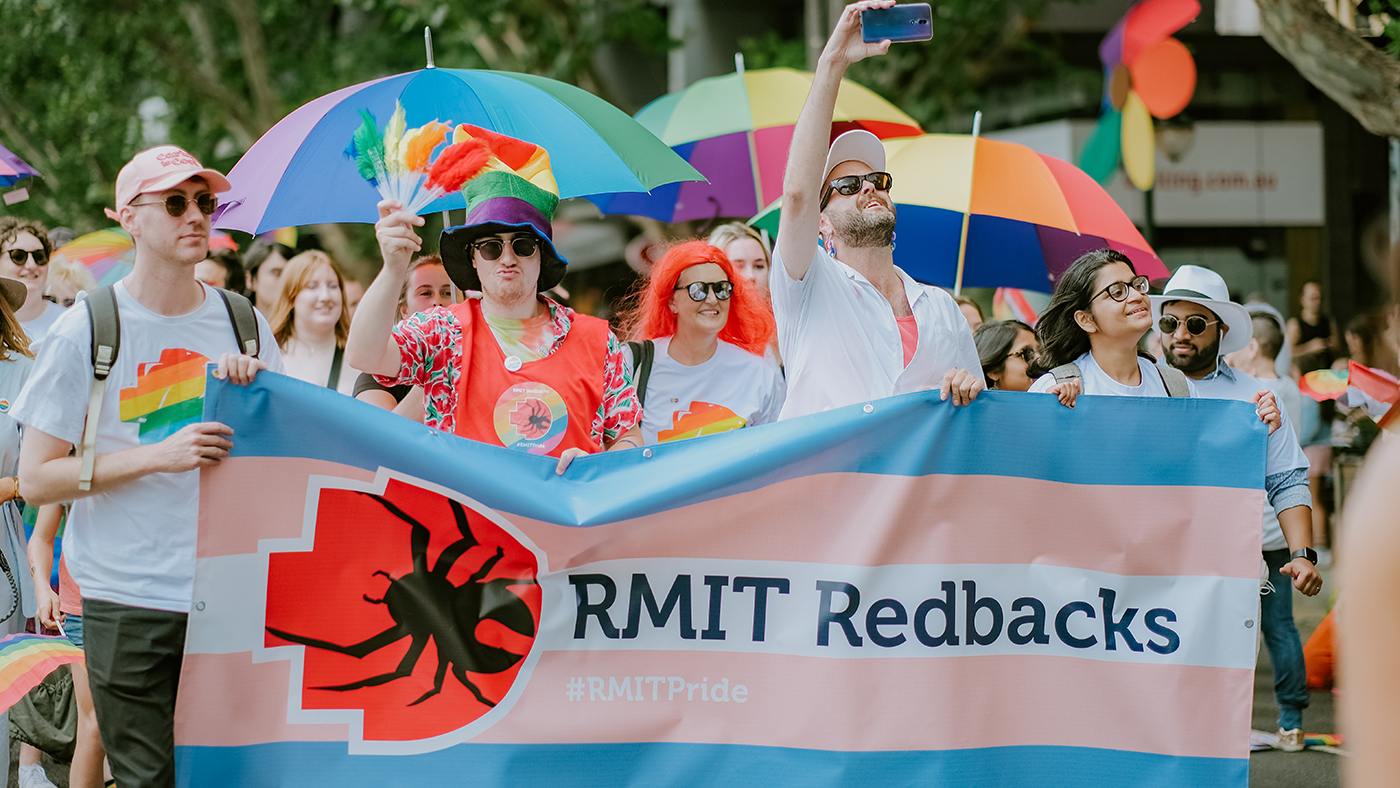 Trans and Gender Diverse at RMIT
Since 2016, we have committed to the Diversity and Inclusion Framework and Action Plans, including the Diverse Genders, Sexes and Sexualities (DGSS) Action Plan. Our main objectives have been to raise awareness of issues that impact DGSS inclusion, increase student participation in events, and celebrate diversity through strong role modelling. Our student-focused work over the last few years, supporting the trans and gender diverse community includes:
developing the Gender Affirmation Guide
launching a dedicated Trans and Gender Diverse at RMIT webpage
publishing guides, including the Trans Ally Guide, Inclusive Language and Events Guide
celebrating days of significance, such as Trans Week of Awareness and Trans Day of Visibility
This page is regularly updated by RMIT's Diversity and Inclusion team. If you have feedback, would like to recommend an update, or just want to connect, get in touch with a Diversity and Inclusion Advisor.
Changing your name
Changing your name can be an exciting and overwhelming process. If you do choose to change your name legally an Advisor can help you find the right paperwork, budget for costs involved and help you apply for financial support if needed. Once you've changed your name legally, you'll want to consider updating your personal details elsewhere:
RMIT student system (including obtaining a new student card)
Driver's License
Centrelink and Medicare
RMIT Medical Hub or with your General Practitioner
Australian Tax Office
Electoral Roll
Banks and superannuation
Place of work
Landlord or Real Estate (if you're renting)
Electricity, gas and water providers
Mobile phone and internet provider
Insurance cover including medical, home insurance and ambulance cover
Supporting your chosen name at RMIT:
You can now manually request to change your known as name in:

Microsoft O365 Services (Teams, OneDrive, Outlook - student email etc.)
Active Directory (RMIT computer sign-on)
Google Services (Gmail, Google Drive etc.)
To request support for a name that affirms your gender, please book an appointment with a Student Welfare Advisor or make a request via the RMIT Connect portal to the Student Welfare team including:
known as name in full
pronouns
gender marker (M, F or X)
preferred email address
You can submit an online enquiry to a Student Welfare Advisor online here.
An advisor will be in touch, so keep an eye on your emails for updates.
Your name will remain unchanged in the following areas (internal systems):
myRMIT
Enrolment Online
myTimetable
Viewing financial and academic records
Assignment submissions
Collaborate Ultra
Canvas
CareerHub
Collaborate Ultra allows for guests to join with an entered name where a guest link is provided. So where possible, please request or use this functionality to avoid dead-naming.
Canvas: You can change your 'display name' that displays to teachers and fellow students via Canvas manually:
From the Canvas homepage, click 'Account' on the left hand side.
Select 'Settings' from the menu that opens.
On the right of the settings page, select 'Edit settings'.
You will now be able to change your 'Display name'. Once you choose the name you want, click 'update settings' to finalise the choice.
CareerHub: You can manually update your profile name in CareerHub:
From the CareerHub homepage, click on the 'Profile' tab
Click on 'edit' next to name
Click on 'update your details'
Update your name and click 'save'
Your RMIT Trans Ally Pack
Email signature template (copy the banner at the bottom as an image to paste it into your signature)
Your Name
My pronouns are they/them
Your contact number
your website (if you have one)

Diversity and Inclusion Advisors and TGD Peer Support
RMIT's Diversity and Inclusion Advisors are here to support you whether you work or study at RMIT. If you would like support as a trans or gender diverse person or an ally, please get in touch.
Here are some ways we can support you and the members of your community:
Training, education and raising awareness for your colleagues and peers
Recommendations to improve RMIT provisions, policies and practice
Support affirming your gender
Coming out to your teachers or colleagues
Connecting with the DGSS community
Support with a legal name change and a using a known as name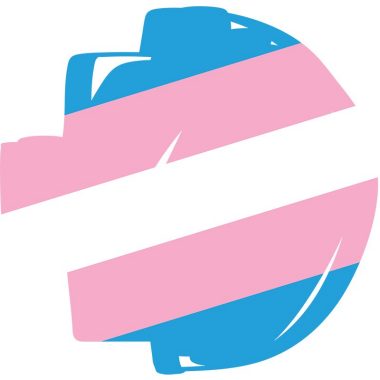 Maci Hamdorf (she/her), Diversity and Inclusion Advisor – People Team
As a Diversity and Inclusion Advisor within RMIT's People Team, and co-chair of the RMIT Ally Network, Maci's role is to support the University's value of inclusion.
Maci is a passionate ally for the DGSS community and aims to provide support to those going through gender affirmation, questioning their identity or looking to learn more about DGSS inclusion at RMIT.
On a personal note, Maci is an American-Australian with a love of burritos, dad-jokes and Carlton AFLW.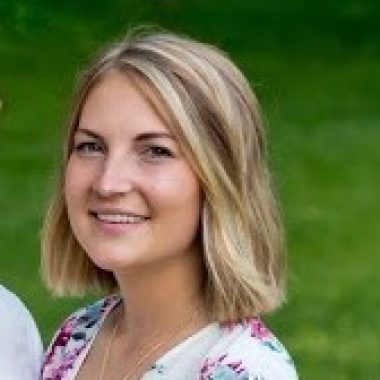 Join the Trans and Gender Diverse Peer Support Network
While being a part of the broader DGSS community can feel like you've finally found your chosen family, we understand that being a trans and gender diverse person can have its own set of challenges that may be difficult for others to understand. Especially during times where so much of our social connection relies on technology and digital communication, supporting our peers is more important than ever.
Whether you're at an early stage of navigating the gender spectrum or you've been marching in the front row of the trans pride march for years, we all have something to share. This network is open to both staff and students of RMIT. Your details will not be shared with anyone else without prior consent and your level of involvement is entirely up to you.
If you would like to join the Trans and Gender Diverse Peer Support Network at RMIT, please contact a Diversity and Inclusion Advisor and express your interest.
Gender affirmation at RMIT
RMIT is committed to supporting all staff and students to bring their whole selves to work and study. In recognition of the International Day of Transgender Visibility, our RMIT Gender Affirmation Guide has been revised and updated.
The guide is a toolkit for staff and students who wish to affirm their gender.
It is also designed to help allies, managers and student-facing staff to support their colleagues or students with guidance on processes, templates and emails, and links to internal supports and external organizations that can provide further assistance.
If you have legally changed your name, you can update your name in RMIT systems at RMIT Connect. You will need to bring your original ID including any change of name certificates and the Variation to Personal Details form.
You do not need to provide any evidence to change your gender in RMIT systems, which currently support gender identifiers F, M and X.
Agender: A term which can be literally translated as 'without gender,' typically used for someone who identifies are being genderless or gender neutral.
Bi-gender: A person who fluctuates between the binary "woman" and "man" gender-based behavior and identities, identifying with two genders.
Cis or cisgender: Someone who's gender identity corresponds with that which they were assigned at birth. So a person who is assigned female at birth and identifies as a women may identify as a cisgender woman. A person who was assigned male at birth and identifies as a woman may identify as a trans woman.
Dysphoria: A feeling of discomfort and distress someone feels in regard to their gender identity and sex assigned at birth. A person does not need to feel gender dysphoria to be trans and in contract the term 'gender euphoria' can be used to describe a feeling of joy that comes from embracing ones gender identity.
Gender affirmation: Associated with gender diversity or transgender identities, gender affirmation is an individual process someone goes through to affirm and express their identified gender.
Gender diverse: A frequently used umbrella term to describe a diverse range of identities within the gender spectrum.
Gender fluid: A gender identity best described as a dynamic mix of gender identities. A person may identify with a different gender throughout their life.
Misgender: To misgender someone means using pronouns to refer to someone that does not correctly reflect the gender they identify with or the pronoun they have chosen for themselves.
Misname or deadname: To deadname of misname is when a trans person is referred to by their birth name and a name they no longer use. Intentionally using a deadname is harassment, bullying and a display of transphobic behavior.
Non-binary: A person whose gender identity lies outside the binary of man or woman.
Pronouns: A pronoun is a word used to refer to a person or object being talked about. The English language consists of he/him/his and she/her/hers or they/them/theirs. It's worth noting that other pronoun options do exist and our definitions are always evolving. Some individuals may choose to use a variety of pronouns for example, she/they and others may choose to change their pronouns as it relates to their identity as different points in their life.
Trans or Transgender: Someone who does not exclusively identify with the gender they were assigned at birth. Trans and transgender are both accepted terms.
Sex, gender and gender presentation are often terms that are confused or commonly understood to be one and the same. While an infant who is assigned male at birth may present masculine and grow up to identify as a man, we know that this is not always the case. To challenge the limited and incorrect assumptions of gender as only ever 'man' or 'woman', we must begin by understanding the distinction between sex, gender and gender presentation and how they are linked but not equivalent.
Sex is about the body and often based on a person's reproductive anatomy and functions. While often the binary understanding of sex as male and female is taught, intersex variations demonstrate a diverse range of sex characteristics and traits beyond the binary concept.
Gender identity is about how we as individuals experience our gender and show it to others. A personal conception of self within the gender spectrum often influencing our outward expression.
Gender presentation often refers to personal style including clothing, jewelry, make up, accessories and hairstyle. What we choose to wear and use may reference a mix of masculine, feminine or androgynous elements. A person's outward gender presentation can also reflect in vocal inflection, body language and how our body relates to the physical environment.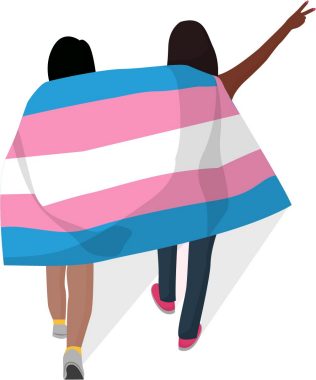 RMIT's Trans and Gender Diverse Archive (as recommended by our community)
Watching
A growing list of films focusing on trans and gender diverse themes as recommended by our community. Access https://rmit.kanopy.com/ via your staff and student account to stream thousands of movies online.
The Adventures of Pricilla Queen of the Desert (1994) directed by Stephan Elliott
All About My Mother (1999) directed by Pedro Almodovar
Boys Don't Cry (1999) directed by Kimberly Peirce
The Crying Game (1992) directed by Neil Jordan
Dallas Buyer's Club (2013) directed by Jean-Marc Vallee
The Danish Girl (2015) directed by Tom Hooper
A Fantastic Woman (2017) directed by Sebastian Lelio
Girl (2018) directed by Lukas Dhont
Hedwig and the Angry Inch (2001) directed by John Cameron Mitchell
In the Year of 13 Moons (1978) directed by Rainer Wener Fassbinder
Ma Vie en Rose (1997) directed by Alain Berliner
Paris is Burning (1990) directed by Jennie Livingston
Romeos (2011) directed by Sabine Bernardi
Tangerine (2015) directed by Sean Baker
Tomboy (2011) directed by Celine Sciamma
Transamerica (2005) directed by Duncan Tucker
Transfinite (2019) directed by Neelu Bhuman
Reading + Listening
We're still in the process of building our reading and listening archive. If you have a recommendations, we would love to hear from you! Submit through our online form.