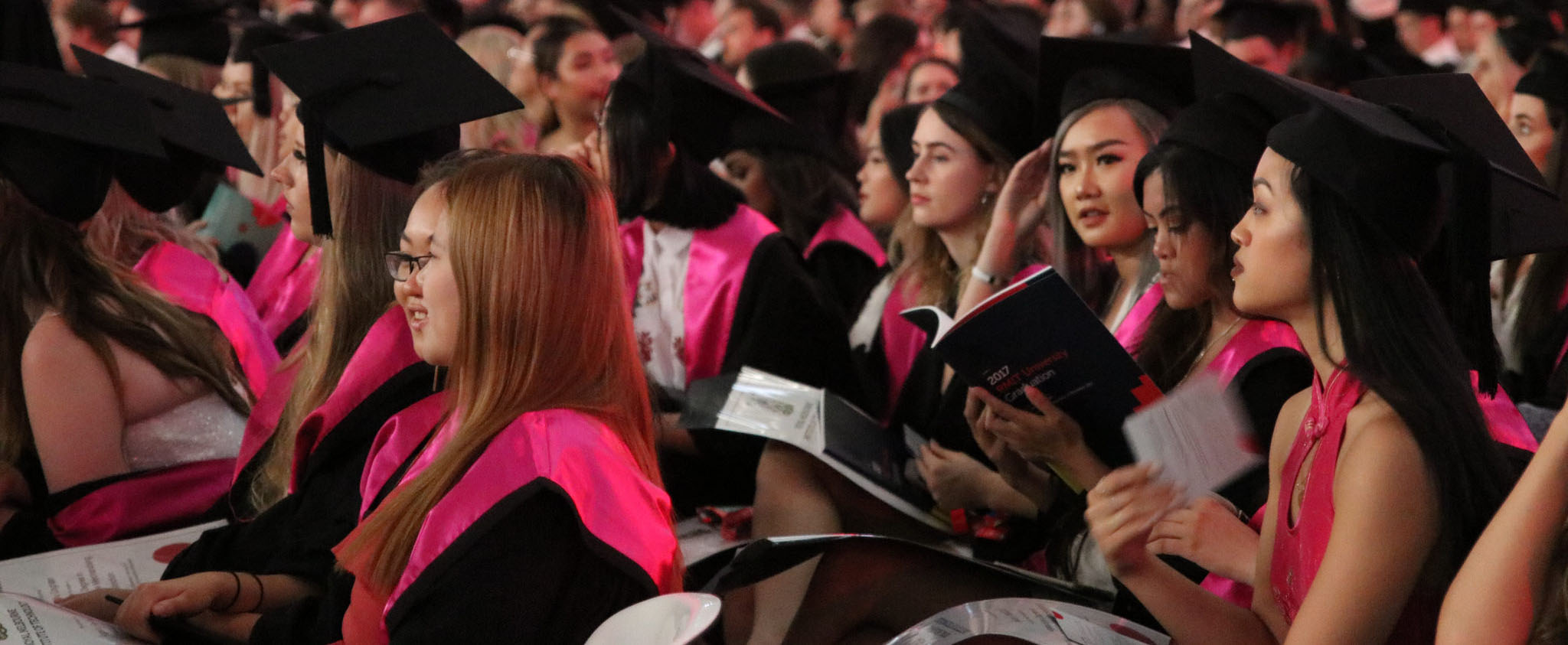 Step 1. Check your eligibility.

There are different eligibility requirements depending on your program, where you're studying and whether you want to attend a ceremony.
OUA student? Read this first.

Step 2. Choose your graduation option
Decide whether you want to graduate at a ceremony or in absentia.

Step 3. Log in and apply
There are two dfferent Graduation systems - one for current students, and one for past and RMIT Vietnam
students.
Need help with your login? See bottom of page for details.

Once logged in:
Go to My Student Record > Graduation details > Apply to graduate/Change graduation option.
Follow the instructions to select your graduation option and complete your application.
After you've applied you can continue to log in to:
confirm your attendance at a ceremony, if required
change your graduation option if desired
update your contact details (address, email, telephone)
There are deadlines to complete most of these activities. If you can't see a specific link when you log in, it means that you're unable to complete that activity at that time. For further clarification, contact RMIT Connect.

Step 4. Check your details are up-to-date
Check that your contact details are correct, including your personal email adress. We'll use this to keep you up-to-date about all things graduation. See Step 5 for more information about why your personal email address is important.

You can update your details in the myDetails tab in myRMIT.
Step 5. Check your email for Next Steps
We'll send you a confirmation email with Next Steps once you've applied to graduate.
Important: Transfer your emails and course materials from RMIT systems when you complete your program

Up to 48 hours after you're conferred, you'll lose access to student email account and all systems such as Canvas and myRMIT. This is a legal requirement for RMIT.

Before then, make sure you transfer the content of RMIT student emails to your personal email account, and download any course materials or other important information stored on RMIT systems.
Make sure that your personal email account is up to date so you continue to get communications about your graduation, as well as your digital academic statement via My eQuals.

Important: Supporting Documentation for International Student Guest Visa
If you have guests visiting from outside Australia, they may need evidence of your graduation attendance to apply for a visa. The email you received confirming your application to graduate is sufficient for this purpose. You will have received this email after applying to graduate in the Melbourne Ceremony.
Need help with your login?
If you can't remember your student number, contact RMIT Connect.
If you stopped studying at RMIT:
less than 6 months ago - you can use your current password. If you can't remember your password, go to Password assistance to reset it or contact RMIT Connect.

more than 6 months ago - your password will most likely be expired. Go to Password assistance to reset it or contact RMIT Connect.
prior to 2012 - log in using an initial password which is the letter 'p' followed by your date of birth backwards, with an exclamation mark '!' at the end. Go to Password assistance if you need further details about your initial password and how to change it.

If you're having issues logging into or using the system, contact RMIT Connect for help.
If you don't apply to graduate....
We strongly recommend that you apply to graduate in order to attend a ceremony and/or get your testamur as soon as possible.
But if you don't, it's OK. Within three months from the day your school confirms your completion, you'll automatically be conferred in absentia and receive your testamur (certificate) by registered post. It's worth noting, however, that if you don't apply to graduate, you'll be unable to attend a future graduation ceremony for that program.