RMIT Sport emphasises an inclusive and accessible environment for all of our sports programs and events, working closely with Equitable Learning Services to provide sport and recreational opportunities for all students. For enquiries on accessible sport options please email socialsport@rmit.edu.au
On the latest episode of
Healthy Habits
, 2020 Redbacks Captain & secretary of the RMIT Hockey Club, Dana Tieman, on how sport clubs can benefit from being inclusive.
Dana was awarded RMIT Sport ambassador of the year in 2019 for her contributions to sport and for consistently demonstrating the values of the RMIT Redbacks.
RMIT Sport is proud to support the staff and students within our community who identify as lesbian, gay, bisexual, transgender, intersex, queer/questioning or asexual/agender (LGBTIQA+).
Reflecting the diversity of our community beyond the 'LGBTIQA+' label, RMIT refers to people of 'diverse genders, sexes, and sexualities' (DGSS).
At RMIT, building a culture of inclusion and diversity for all staff and students is one of our key organisational values. In 2016, RMIT committed to the Diversity and Inclusion framework, including six action plans, with the Diverse Genders, Sexes and Sexualities (DGSS) Action Plan as a primary organisational strategy. This Action Plan clearly articulates goals, plans and actions as well as accountability and is inclusive of anyone who plays, coaches, works, volunteers or participates in RMIT Sports projects, initiatives and events.
Expression of Interest - RMIT Sport Pride Ambassador
What are we looking for in a RMIT Sport Pride Ambassadors?
-A Current RMIT students
-Someone who is passionate about LGBTQIA+ inclusion in Sport
-Currently involved in RMIT Sport
-Someone keen to represent RMIT Sport in Pride events and activities
(You must have at least 12 months remaining in your studies to apply)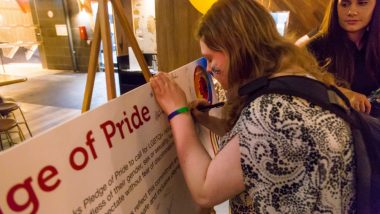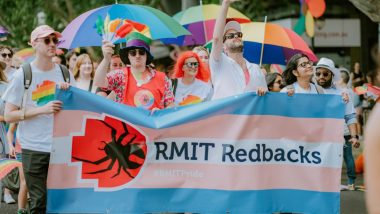 RMIT Sport works closely with the Student Wellbeing and Inclusion team to ensure our project, initiatives and events are DGSS inclusive. Whether you want to find out more about RMIT Pride in Sport events, ask about support services available for DGSS related issues or would like to speak with someone regarding homophobia/transphobia/biphobia/interphobia specific bullying, harassment and/or vilification you can contact any of the following:
Sarah McKenna (she/her), Sport Participation Officer and RMIT Pride in Sport Ambassador. sarah.mckenna@rmit.edu.au, 03 9925 9626

RMIT Pride in Sport Ambassador

Sally Tanner (she/her) Manager, Sport Development & Partnerships, RMIT Sport, RMIT Student Life.
RMIT Pride in Sport Ambassador and Champion

"My name is Dana Tieman and I am currently completing a Bachelor of Business, with a major in Marketing and I'm a proud queer woman. I am passionate about sport and its inclusion within the LGBTIQIA+ community.

Alongside my studies, I have also been heavily involved with the RMIT Hockey Club since moving from NSW in 2017. From knowing no one to having a whole community on my side within months was amazing. I have also been lucky enough to be on the executive committee for the club since 2018 as secretary, now coming into my third year being involved.

I have used this executive position to advocate for the LGBTI+ community, in my opinion visibility is everything so I have been using my platform to get the Hockey Club involved in whichever way we can. From organizing pride rounds, to acknowledging days such as IDAHOBIT and Pride Week over our social media.
Over the past few months I have also been volunteering my time to a local not for profit organisations, Proud 2 Play, which works with making the LGBTI+ community more included within the sporting space through workshops, education sessions and events. My work within this organisation has been crucial to the development of my employable skills as well as providing a valuable insight into the benefits of when individuals are encouraged to be themselves.

To further my involvement with the RMIT community, in 2019 I managed a Hockey team to compete in the UniSport Nationals competition on the Gold Coast. Fostering a positive environment and using sport as platform for personal growth and mateship between students."
How else might I get involved?
Join our Women's Football Academy/Club
Join a Sport Club
Represent RMIT against other universities at UniSport Nationals (Students Only)
Get a Gym membership at one of our campus facilities
Support our initiatives - get involved by helping (non active)
Work or Volunteer with RMIT Sport
Join the RMIT Redbacks Community