Vision
We will be dynamic and innovative in the co-creation of knowledge.
We will lead where required, partner as needed and collaborate with all those who seek to build academic success for our students and impact for our researchers.
We will think globally and act bravely in our delivery of quality information, learning and research services.
We will put our students and staff at the centre of everything we do.
There are four Library sites in Melbourne and two Library sites in Vietnam. Each Library provides a range of study environments, including flexible group study areas and silent individual study spaces. All our libraries have extensive computer facilities, wi-fi access and long opening hours.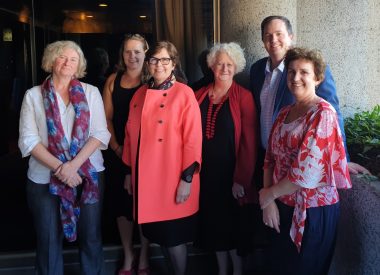 In the photo, from left to right: Alison Bates, Katherine Jarvie, Leanne McCann, Deborah Wright, David Howard, Anne Lennox. (Rex Steiner not present).
Director, Library Services David Howard
Melbourne
Learning team
Associate Director, Library Services (Learning): Leanne McCann

Manager, Mentoring and Academic Services: Sarah George
Manager, Library Services (Learning): Tanya Bramley
Project Manager, VE CSF: Eddie Gibbons
What we do:
Ask the Library
Orientation
English Language Development
Literacy writing
Information literacy
Peer mentoring
Study Support Hub
Maths and English Ready Quizzes
VE CSF Project.
Teaching and Research team
Associate Director, Library Services (Teaching and Research): Anne Lennox

Manager, Library Services (Teaching): Frank Ponte
Manager, Library Services (Research): Gary Pearce
Senior Coordinator, Copyright: Rebecca Rata
What we do:
Copyright services

Reading List services
Canvas Uplift
Library Creds
Micro-Credentials
Open Educational Resources (OER)
Research writing support
Publishing services
Research Data Management (RDM)
Research training
Quality Engagement team
Associate Director, Quality and Engagement: Katherine Jarvie

Manager, Library Infrastructure: Guy Wilson
Senior Coordinator, Internet Services: Mike Brooks
Senior Coordinator, Flexible Delivery: Lyn Bond
Coordinator, Administrative Services: Mirella Basile
Coordinator, Promotions and Engagement: Miranda Vanags
What we do:
Administration
Facilities and equipment
Communications
Promotions
Web services
Flexible Learning Delivery
Library Makerspace
Business improvement
Business intelligence and reporting
Internal audit compliance
Excellence and innovation.
Collections team
Associate Director, Collections: Alison Bates

Manager, Acquisitions and Access: Tory Sheehy
Senior Coordinator, Collection Development: Alice Fahey
Senior Coordinator, Discovery Systems: Amelia Rowe
Coordinator, Acquisitions Services: Emily Wagner
Archivist, Michelle Novacco.
What we do:
Archives
Collection development
Digital collections
Library systems
Acquisitions
Cataloging
Collection maintenance
Document delivery
Library Strategic Projects
Associate Director, Library Strategic Projects: Deborah Wright

Library Business Partner, SEH: Lauren Dunstan
Library Business Partner, DSC: Charles Barnett
Library Business Partner, BUS: Lenny de Vries
What we do:
PMO function
Strategic projects
Library transformational projects
Vietnam
Library Services team (Vietnam)

Senior Manager, Library Services (Vietnam): Rex Steiner

Senior Campus Librarian, Beanland Library: Thi Nguyen (Acting)
Senior Campus Librarian, Hanoi Library: Trinh Thu Ha
Digital Services Librarian: Chau Do.
What we do:
Beanland Library (SGS)
Hanoi Library
Research support
Teaching support
Liaison librarians
Administration
Facilities and equipment
Library systems.