Vision
We will be dynamic and innovative in the co-creation of knowledge.
We will lead where required, partner as needed and collaborate with all those who seek to build academic success for our students and impact for our researchers.
We will think globally and act bravely in our delivery of quality information, learning and research services.
We will put our students and staff at the centre of everything we do.
There are four Library sites in Melbourne and two Library sites in Vietnam. Each Library provides a range of study environments, including flexible group study areas and silent individual study spaces. All our libraries have extensive computer facilities, wi-fi access and long opening hours.
Our senior management team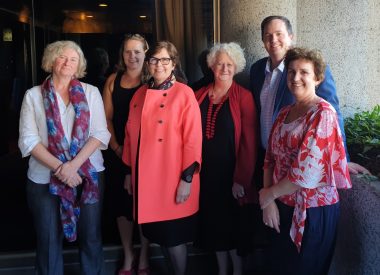 L-R Alison Bates, Katherine Jarvie, Leanne McCann, Deborah Wright, David Howard, Anne Lennox. (Van Pham not present)
Acknowledgement of Country
RMIT University acknowledges the people of the Woi wurrung and Boon wurrung language groups of the eastern Kulin Nation on whose unceded lands we conduct the business of the University. RMIT University respectfully acknowledges their Ancestors and Elders, past and present. RMIT also acknowledges the Traditional Custodians and their Ancestors of the lands and waters across Australia where we conduct our business.