Bust a Groove is back! In 2020, the competition moved online and went global, as students from RMIT Melbourne and Vietnam battled it out for dance glory in a Melbourne x Vietnam Special Edition.
There are two categories to choose from; Learn and upload or Freestyle.
Students, staff, friends and fans voted for the shortlist of entries via the RMIT Dance Instagram to help choose a winner!
See the winners' announcement video below!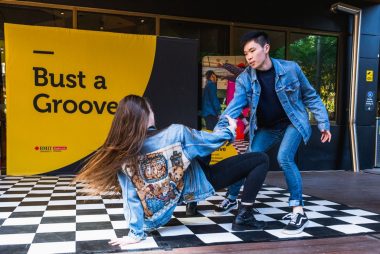 Bust a Groove 2020 winners
Freestyle category
Saigon South
Learn & Upload category
Hip Hop - Saigon South
Salsa - Melbourne
Kpop - Hanoi
Competition rules
Choose from two divisions in this year's competition: learn and upload or freestyle.
Learn and Upload Division
Choose from three choreographies, provided by our professional teachers at RMIT dance. The choreography videos will be released on 7 September via the RMIT Dance instagram (@rmitdance) and competitors have until 30 September to submit their video.
Students must register first to receive access to music files
Competitors must learn and upload a video to one out of the three choreographic options. Competitors are welcome to submit up to three times but only one submission per choreographic work.
Submissions must be clear and show the full body of the competitor.
Must be filmed in landscape mode.
Music must be loud
Must show all choreography taught in its entirety
Competitors must be RMIT students or alumni
The submissions will initially be voted by a public vote to create a top video shortlist from both Vietnam and Melbourne with the final outcome assessed by the three choreographers and one Vietnam judge.
Melbourne submissions must register here and then send video submissions as a direct message to @rmitdance on Instagram
If registering as a RMIT Vietnam student, enter here
Freestyle Division
Students must register first to receive access to music files
Competitors will be able to choose from a variety of music provided by RMIT dance
Submissions must be clear and show the full body of the competitor
Must be filmed in landscape mode.
Music must be loud
Competitors must be RMIT students or alumni
Must freestyle to full length of music provided
Submissions will be voted by the public
Length of video: is the same as the audio track provided, approx. 40 seconds
Melbourne submissions must register via this link bit.ly/bustagroove and then send video submissions as a direct message to @rmitdance on Instagram
File submission format: S-number_Category_song's name
If registering as a RMIT Vietnam student, enter here
Additional rules
No additional props allowed. For example, chair and table props
No disrobing in a suggestive manner. No excessively revealing clothing
Only one dancer can dance in the video submitted
Must submit by the due date
Must have fun! This is a competition that celebrates dance at RMIT