Open Educational Resources
About OERs
Open Educational Resources (OERs) are freely accessible and openly licensed teaching and learning materials that can be reused, shared, revised and remixed. OERs include textbooks, quizzes, games, videos and other course materials.
Use Open Educational Resources to:
Remove economic barriers for your students
Enhance their learning experience
Increase success rates.
Find OERs
We have curated a list of collections and search tools to help you find OERs:
Adopt, adapt or create OERs
The OER team will help you adopt, adapt and create open textbooks. Email us and we will:
curate OER content for your course,
identify key resources
advise on embedding OER content in Canvas
help you understand open licensing.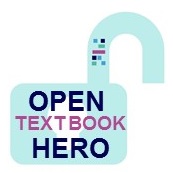 Are you an open textbook hero?
Are you already using an open textbook in your course? We would like to acknowledge your contribution to saving students' money.
To become one of our textbook heroes, just fill out the textbook adoption form.
Open education at RMIT
RMIT University Library developed the Australian and New Zealand Open Textbook Initiative to encourage the use and adoption of open educational textbooks as an alternative to paid resources. As part of this initiative, we partner with RMIT learning and teaching staff to curate open course resources and facilitate the adoption of OER textbooks.
The Library is a member of the Open Educational Practice Special Interest Group advocating for open education in Australia. We are also contributing to the Australian Open Textbooks as Social Justice scoping study to raise awareness of the social inclusion benefits for students.
Ed Talks: Open Educational Resources
James Glapa-Grossklag, the Dean of Educational Technology from the College of the Canyons in Southern California talks about the importance of Open Educational Resources during his visit to RMIT. (3:14 mins)