Statement of Academic Completion
Results: Completing and graduating students receive digital academic statements (not including Statement of Academic Completion) automatically and free of charge. See below for when to order your SAC. Please wait for your grades to be officially released before ordering a transcript, so that these results are included.
Hard copy statement delivery times: There may be a delay in delivery times due to disrupted mailing services. Thank you for your patience and understanding.
What is a Statement of Academic Completion?
The Statement of Academic Completion (SAC) is an optional completion document. It is available in hard copy only and is different to a testamur (graduation certificate).
Useful for
Proving your study dates for visa requirements. For most other purposes we highly recommend using your academic transcript, which also includes completion and conferral dates (where applicable).
When to order
When you have the option to purchase a Statement of Academic Completion in Student Forms.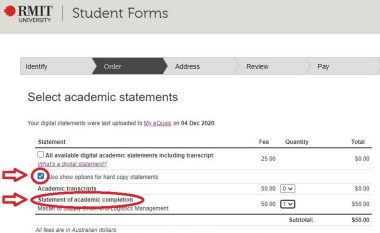 This will be approximately two weeks after the release of the final result for your program. Following the result release, your School must assess and confirm you have completed your program as this is not an automatic process.
Once your School has confirmed and processed your 'completion', an email notification from My eQuals will be sent to your personal email account giving you access to your completion transcript. You can then order your SAC.
Available to
Students who completed their program from 2005 onwards.
Certificate I-IV Students
SACs for these students are issued by schools. For more information, contact RMIT Student Connect.
How to order your Statement of Academic Completion