International students - higher education enrolment guide
COVIDsafe campus protocols:
If you're coming onto campus in 2021, you must complete mandatory COVIDsafe protocols beforehand. These include having a student card and completing the COVIDsafe training module.
Find out more
.
It can take some time to complete all enrolment steps. We recommend you start your enrolment as soon as possible.
Remember to log in to your RMIT student email for important enrolment communications.

Online learning during COVID
Based on current information, we expect most Semester 1 2021 courses will have a mix of face-to-face and online learning activities.
All lectures and seminars will be delivered online only. Facilitated learning, such as tutorials, workshops, labs, studios, practicals and lectorials, will be delivered face-to-face on campus, where possible, with safety measures in place.
If you are not be able to attend campus due to travel restrictions or legitimate personal circumstances you will either be offered the option to take equivalent online activities or complete activities on campus at a future date.
While RMIT will make every effort to ensure students who cannot attend campus in Semester 1 2021 are not disadvantaged, it may result in delays to progression and program completion.
How to enrol
Follow these steps to enrol in your classes.
1. Use a desktop or laptop
Use a desktop or laptop computer, and enable pop-ups in your browser settings.
2. Log in to the Enrolment Online system
Please note: All steps in this section are completed in Enrolment Online.
3. Find your login details
RMIT ID
Your RMIT ID (username) is the letter 's' followed by your student number (excluding any additional letters), eg: s1234567.
Password
New students
Your temporary password is the letter 'p' followed by your date of birth backwards and an exclamation mark (example: p19920428!)
You should change your temporary password as soon as possible to make sure your student account is secure. You can use your new password to access all RMIT systems, including your student email account.
Returning students
Your password is the last password you set while studying at RMIT. We recommend you reset your password if it no longer works or you do not remember that password.
4. Select the Enrol button next to your program

In Enrolment Online you will now be asked to:
1. Accept RMIT's terms and conditions
2. Fill in your personal details
Preferred name: At RMIT we recognise that some students may choose to use a name that affirms their gender. Although some University processes may require you to use the name on your legal documentation, we can support you to ensure that you're addressed by the correct pronouns and name while studying at RMIT. Please contact a Diversity and Inclusion Advisor at inclusion@rmit.edu.au for advice.
3. Provide statistical information
Important: Provide three types of addresses
To enrol you are required to provide three types of address:
Home - this must be an address in your home country
Mailing - this is where you would like any mail sent. Your mailing address must be an Australian address to receive your student card.

Australian residence - if you are in Australia it is a requirement of your student visa that you provide a correct Australian residential address. If you are enrolling before you arrive in Australia and you do not have an address in Australia confirmed, you can use RMIT's street address: 124 La Trobe Street Melbourne VIC 3000. It is a requirement of your student visa that you update this address within 7 days of arriving in Australia, and within 7 days of any change.
4. Provide your Unique Student Identifier (USI)
The Australian Government requires higher education students to create and provide a Unique Student Identifier (USI) as part of enrolment for 2021.
If you've not already done so, go to the Government's USI website to create your USI. If you have already provided your USI to RMIT you don't need to do this again.
Note: you will not be able to create a USI until you have a valid student visa.
You may enrol without providing a verified USI by clicking 'Continue' on the USI page. If you enrol without providing your USI, you will continue to see this page in future logins until you create and provide this to RMIT.
1. Have you been granted credit exceptions?
If your offer letter states that you've been granted credit exemptions for some classes, you don't need to add these to your enrolment.
2. Select 'Show classes'
If your classes are pre-selected for you, go to 3. Add selected classes. Otherwise, follow the instructions to select your classes for each Semester.


The Status column indicates the availability of classes. These will change as you enrol. See the key below.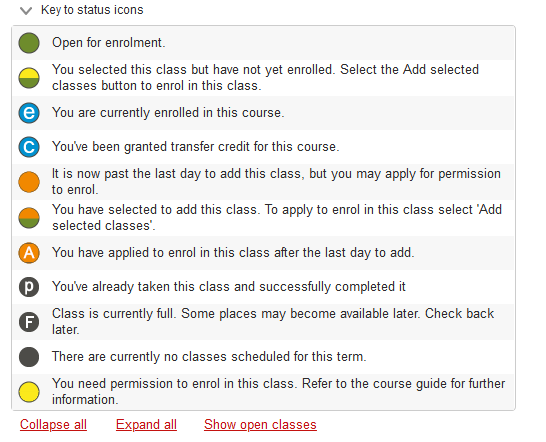 3. Select 'Add selected classes'

The classes you're enrolled in will now be displayed.

4. Finished enrolling?
Select Exit and check the pop-up summary of your enrolment to ensure all details are correct.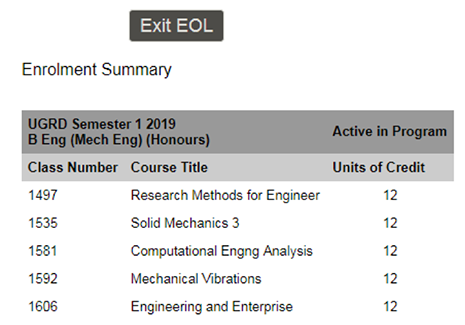 You can change your enrolment in Enrolment Online up until the last day to add or drop a class. See Important dates for details.

Congratulations! You're now officially an RMIT student!

What's next?
Now you're enrolled, it's time to get set for study and life at RMIT. Access the info, systems and resources you'll need to be ready for first semester.
Extended wait times at RMIT Student Connect: RMIT Student Connect is currently experiencing a very high volume of enquiries. This has led to a significant increase in wait times across all channels.
Please read your enrolment guide carefully before contacting Connect at this time. You may be able to resolve your query and save yourself a significant wait.
Course and program advice
For academic advice and information about your program and courses, contact your college via RMIT Connect.
Technical issues
If you have technical problems with Enrolment Online or password queries, contact the IT Service and Support Centre.

Enrolment queries
If you have any questions about the enrolment process, contact RMIT Connect.